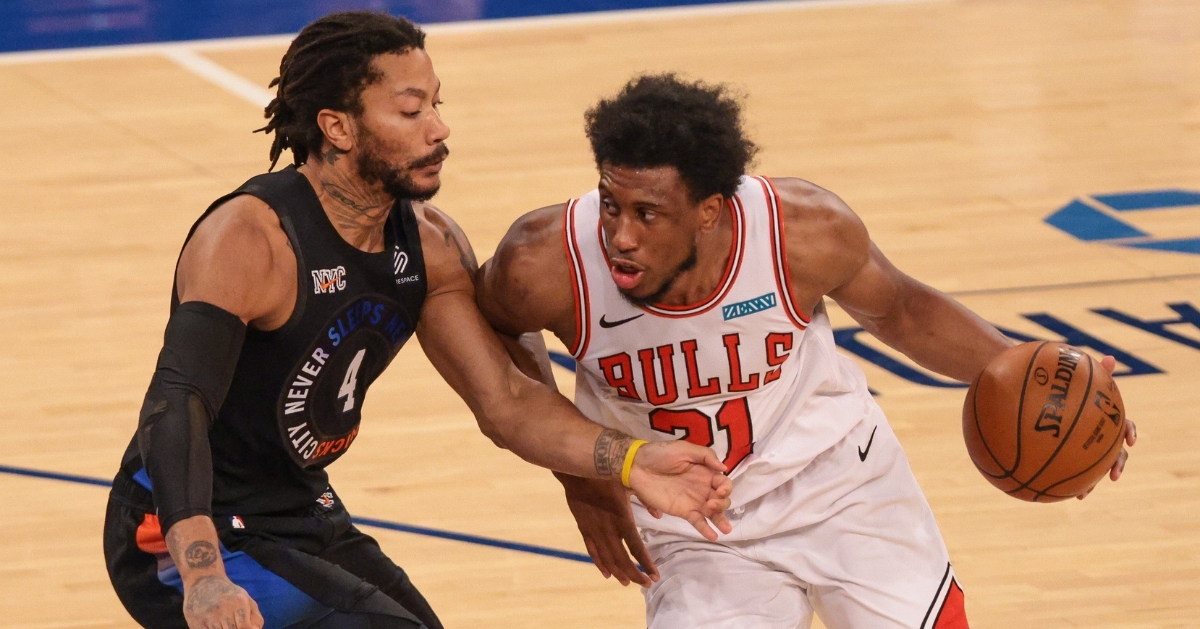 | | |
| --- | --- |
| Takeaways from Bulls loss to Knicks | |
---
| | | |
| --- | --- | --- |
| Thursday, April 29, 2021, 9:39 AM | | |
The Bulls are not making it easy on themselves as they can't string together a stretch of wins. With every win Chicago gets, a loss follows, and playing .500 basketball isn't going to work this time of year. That is especially the case when you have a Washington Wizards team who beat the Lakers at home last night and has now won 9 of 10 to move two games ahead of Chicago for the final playoff spot.
With only two weeks left in the regular season, the Bulls need to win as many games as possible, and things are not looking good right now. Against one of the hotter teams in the East, the New York Knicks, the Bulls got off to one of their worst starts possible, trailing by as many as 15 points early on and 13 by the end of the first quarter.
Led by Nikola Vucevic and his 26-point 18 rebound performance, the Bulls offense not only started to get gong but their defense out Thibodeau, Tom Thibodeau to bring themselves back in the game. Add in 14 points for Lauri Markkanen off the bench and 12 points from both Coby White and Garrett Temple; the Bulls controlled the next two quarters and had the deficit down to one after three.
With a chance to steal a game from one of the better teams in the East, Chicago ran out of gas in the fourth quarter as the Knicks continued to show why they are a force to be reckoned with. R.J Barrett dropped 22 in the win, but Julius Randle and his game-high 34 made the most significant difference as the Knicks ran away from the Bulls in the fourth quarter for the 113-94 win sending Chicago to 26-36.
29.5 win total
That was the over-under win total set for the Bulls this season as they were one of those mystery teams going into the regular season. That seemed like a low win total at one point this season as the Bulls were sitting at 18-21 and occupied the seventh seed heading into the all-star break.
Since then, Chicago has been in a swoon going 8-15 since the all-star break and falling out of the postseason picture. There is still a chance for them to get in, but it won't be easy, and now that 29.5-win total is looking a bit tougher to pass.
Unless Chicago goes into a drastic tailspin, they should still hit the 30-win mark as they would need to win 4 of their last six games. The problem with that is, the schedule is getting much more challenging down the stretch, and on paper, I can only see two games that they should win. Things have really changed in Chicago in the last month, and the narrative hasn't been positive. Either way, this is still a team on the rise.
Zach Lavine is still out of the lineup
I don't want fans to freak out thinking he isn't happy with the team, but he isn't happy in general, especially with the league. With COVID still an issue worldwide, the NBA put in specific protocols to keep players as safe as possible. Lavine was unfortunately put in the COVID protocol and was forced to miss 10-14 days or upwards of eight games.
His time is coming to an end as his 14-day window ends on Sunday, meaning he can return to the floor on Monday. However, if you ask Billy Donovan, Lavine may still have additional tests to clear and could be out an additional week. If that is the case, does it even make sense to bring Lavine back for the final three or four games?
I am all about safety, but if Lavine feels he is healthy and the tests are negative, what is the reason for holding him out longer. Lavine is ready, he said he feels fine, and he is visibly frustrated, taking to Twitter to show his frustrations. With the Bulls playoff hopes on thin ice, they need Lavine for them to have any chance.
The more games he misses, the less likely they overtake the Wizards and move back into the 10th spot. Donovan may say that Lavine might miss another week but what happens if the Bulls are eliminated at that point? It will make little sense to play Lavine that final week if Chicago has nothing to play for.
What does the future hold for Thaddeus Young?
When the Bulls signed the veteran journeyman to a three-year deal before last season, the primary purpose was to bring in a veteran presence who could potentially be traded for pieces. Now finishing up the second year of his contract, Young is playing some of his best basketball in years and has bounced around between the starting lineup and the bench.
He continues to be the veteran leader Chicago expected but has also shown he can play at a significant level even at 35 years old. With one year remaining, his future with the team is up in the air as Chicago has many tough decisions to make. Should he stay with the Bulls, you can bet he will get plenty of trade options next year as any team could use his services.
Should Chicago elect to let him go to free up cap space, Chicago will have a gaping hole to fill as Markkanen will most likely be elsewhere next year. Daniel Theis will be a piece for Chicago to build around and would be an excellent replacement for Young, but he doesn't add the veteran leadership Young adds. Sometimes that is impossible to replace, and it will be hard to see him elsewhere next year.