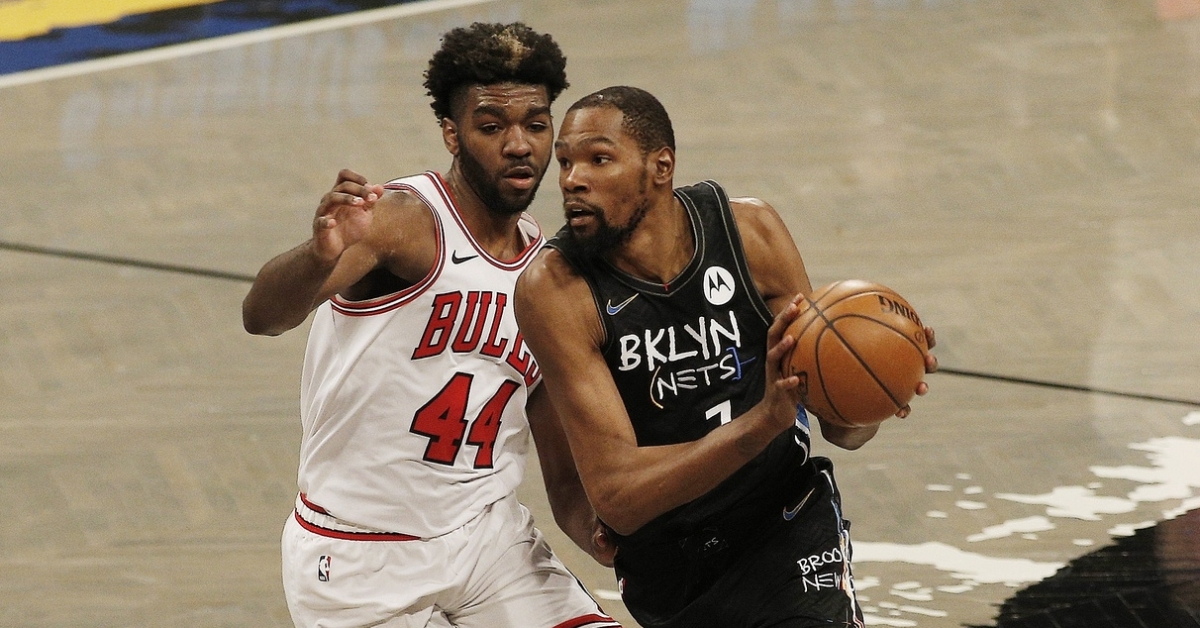 | | |
| --- | --- |
| Takeaways from Bulls loss to Nets | |
---
| | | |
| --- | --- | --- |
| Sunday, May 16, 2021, 9:16 AM | | |
After officially being eliminated from playoff contention Friday, the Bulls entered Saturday with nothing to play for but pride. However, don't tell that to the Bulls, as they will not just lay down and tank for anyone.
One thing you immediately noticed when looking at the lineup was the absence of Zach Lavine. While we don't know if it was for rest, precautionary or other reasons, I think it is safe to say that we won't be seeing him anymore this season. In his place was Garrett Temple, who struggled to get much going offensively.
Without Lavine and his near 28 points per game, the Bulls needed to turn to the other scorers in Coby White and Nikola Vucevic to shoulder the load. Both struggled from the field all game, with Vucevic going 0-8 from deep and finishing with 10 points with White chiming in with three. Lauri Markkanen had a nice 14-point game off the bench, with Thaddeus Young dropping 19.
However, it was the rookie Patrick Williams putting on an impressive show, scoring not only a team-high 24 points but a game-high 24 points in what was one of his better games this season. However, even with his breakout game, it wasn't enough as the Nets were led by five double-digit scorers, including Kyrie Irving and his team-high 22, to pick up the 105-91 win over Chicago.
Have a day, young fella
Being selected fourth overall in the NBA draft certainly comes with a ton of pressure but pressure the 19-year-old Williams can handle. Viewed as a raw prospect coming out of college, Williams also had one of the biggest upsides of anyone in the draft, which is why the Bulls wanted to grab him before it was too late.
That move was a brilliant one by Arturas Karnisovas and the front office as he has proven to be ready for the big time. Not only has he played in every game this season, but he has started in all but one of them while locking up with some of the premier players in the game. His offense still has a lot of work to do given his inconsistencies, but he has shown a soft shooters touch with the aggressiveness around the rim.
Since the all-star break, Williams has had a rough go of it as the rookie growing pains have shown up. That is to be expected, especially for a 19-year-old, but Saturday, those growing pains were nowhere to be found. Not only did he continue to play the excellent defense he has shown all year, but he was the primary offensive weapon for the first time in his career. In addition, he proved he is a valuable scoring option, and it would be great to see the Bulls use him more next season.
Nets are flat-out loaded
It is almost comical when you look at the box score and see the Nets scoring 105 points with Kevin Durant being held under 20. The Nets were also down James Harden and Joe Harris as they are nursing injuries before the postseason. Yet, even with two key contributors out, the Nets still made quick work as they are absolutely loaded.
When healthy, this team has three potential Hall of Famers on the roster, with a fourth on the horizon. Both Durant and Harden will go down as some of the greatest scorers ever to play the game, while Blake Griffin and Irving are perennial all-stars. What is more remarkable about this team is that they are currently sitting in the second seed in the Eastern Conference without their entire roster in play 70% of the time.
If everyone is at a given time, there may not be a better offensive team in the league. Irving, Harden, and Durant can all go off for 30 points on a given night. Add in Griffin, who still has some gas left in the tank, and your starting five should have no trouble scoring 100 points on their own. To see the Bulls play them as tough as they have the last two times out is promising, but keep in mind they were not at full strength.
Have we seen the last of LaVine in this season?
LaVine certainly has had a roller coaster of a ride this NBA season. Not only has he put together the best offensive showing of his career thus far, but he was voted to his first all-star team. Unfortunately, following that, Lavine was placed in the NBA health and safety protocols and missed nearly three weeks of action.
During his team away from the team, the Bulls showed signs of offensive balance, but they still struggled to win games. Getting him back in the lineup for the stretch run was always important, but it didn't seem to matter when the team dug themselves a big hole. Now that the team is eliminated from playoff contention, will Chicago sit LaVine the rest of the way?
I am never about a team tanking, but with two games left and the playoffs, out of the question, what is the point to play your best player and risk them getting hurt? LaVine was not dressed for Saturday's game, and I find it very difficult he will be dressed Sunday against the Bucks. He may not be alone as I expect Vucevic, White, and several other key players out of action as Chicago will head into the 2021 offseason disappointed but hungry for next year.