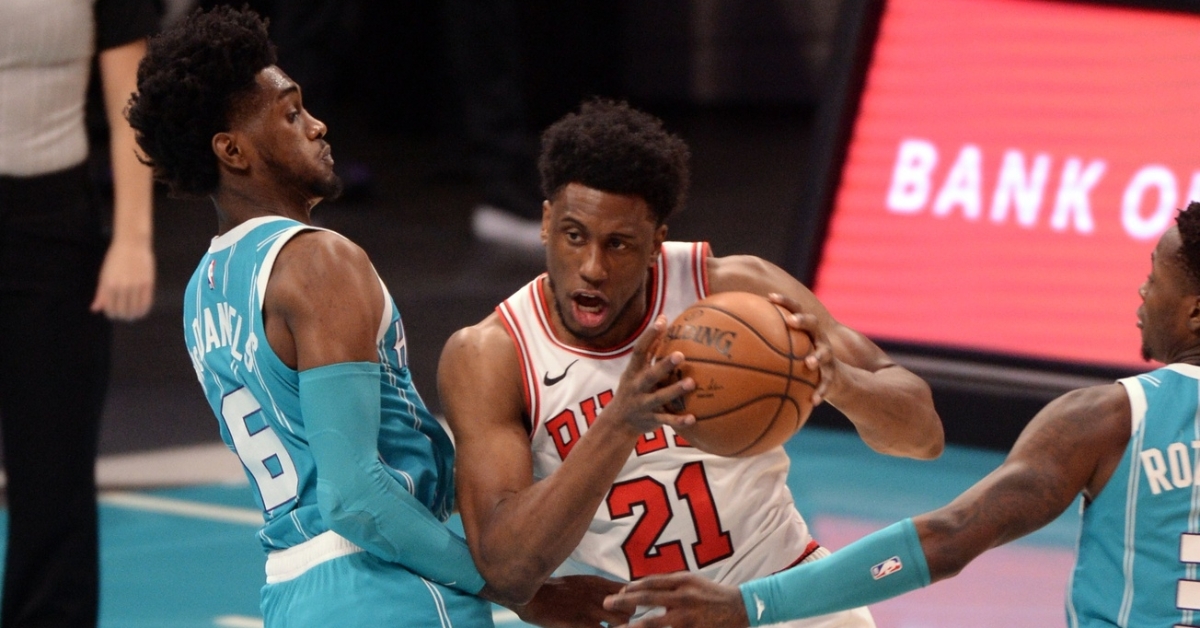 | | |
| --- | --- |
| Takeaways from Bulls win against Hornets | |
---
| | | |
| --- | --- | --- |
| Friday, May 7, 2021, 11:36 AM | | |
We are getting to the nitty-gritty as the end of the NBA season is fast approaching. With just seven games remaining and trailing the Wizards by 3.5 games for the final playoff spot, Chicago needs to be in win now mode the rest of the way as their playoffs started Thursday night.
You could argue that they should have been in playoff mode for a while now, but with both Zach Lavine and Nikola Vucevic returning to the lineup, it gave Chicago a little bit more life and confidence heading into their game with Charlotte. While
Lavine may have struggled a bit in his return, scoring just 13 points, he was one of seven players in double figures, including all five starters.
Vucevic, on the other hand, didn't miss a beat as he dominated the Hornets for a game-high 29 points to go with 14 rebounds. Vucevic has been a double-double machine since arriving in Chicago, and there is no reason Bulls fans shouldn't expect that next season.
With a balanced scoring attack leading the way and a stingy defense, Chicago made quick work of Charlotte, knocking them off 120-99.
Welcome back, LaVine and Vucevic
The past two weeks have been a struggle for this team, and a big reason for that was the absence of these two players. LaVine was in the NBA health and Safety protocol where Vucevic returned from a minor hip injury that sidelined him for three games.
With their absence alone, the Bulls not only lost two all-star players but two players who combine for 50 points on their own. That not only puts a ton of pressure on the rest of the guys to step up but is an extremely tough mountain to climb to make up that much production. Even when other players stepped up, replacing 50 points is never easy, and the results showed.
Last night, both men returned to the floor and combined for 42 points. Vucevic picked up right where he left off, posting another double-double and leading the way with 29 points. On the other hand, Lavine was back on the floor but struggled to get anything going offensively. His 13 points were one of his worst performances of the season, while 5-13 shooting doesn't help. It might take him a few games to get his legs back, but it was fantastic having them back on the floor.
29 PTS, 14 REB for @NikolaVucevic in the @chicagobulls road W. ?? pic.twitter.com/3unay9Q93d

— NBA (@NBA) May 7, 2021
Balance is the key to victory
As mentioned above, the Bulls offense will only go as far as Lavine and Vucevic can take them. However, when does the load become too much, and when should the Bulls stop relying on them as much as they do. This team has other options to score the basketball in Coby White, Lauri Markkanen, Daniel Theis, and Thaddeus Young, so there is no reason why Chicago needs to drain their two stars.
Last night was a perfect example of what a balanced approach can do for this team. Not only did Vucevic and Lavine get their shots but so did others, and plenty of them got involved. Not only did all five starters score in double figures with White (14), Theis (12), and Patrick Williams adding (11) points, but Markkanen (10) and Garrett Temple (12) added double figures off the bench.
That makes seven players with at least 10 points. If that continues on a game-by-game basis, the Bulls will average no worse than 100 points a game as, more often than not, Young will give you double figures, and Lavine will be better. Chicago has so many options offensively on this team that they can be tough to defend. Time to take the training wheels off, open the playbook and see what these kids got down the stretch.
A solid road win for the Bulls last night. 56 rebounds. 19 second chance points. 33 assists. 10 steals, 8 block shots. The Bulls have held their last two opponents under 100 points. Tonight @chicagobulls host Boston. 6:15 pre @670TheScore No local TV (ESPN). Fired up.

— chuck swirsky (@ctsbulls) May 7, 2021
Third-quarter surge buries Hornets
The Bulls have been a decent first-half team this season but a terrible second-half time. Well, mainly a terrible fourth-quarter team as they have blown countless leads in the fourth. After racing out to a 10 point lead after one, Charlotte battled back and closed things within six at the half.
Knowing that every game from here on out is essential, Chicago put the clamps down defensively in the third quarter and used that to bury the Hornets. Chicago not only dropped 37 points offensively, but they allowed just 21 points defensively, which was the lowest output of any quarter last night. That turned what was a two-possession game into a 22-point cushion.
Chicago knows their defense hasn't been great or consistent this season, but it has gotten better in the last month. Performances like this give fans hope that there is still a chance they make playoffs even if it is slim. Chicago doesn't control their destiny, but at the same time, they do.
The more games they win, the more games they force Washington to win. The more they lose, the easier it becomes for both Washington and Toronto to eliminate them. So buckle up, fans; the next two weeks are going to get crazy.
Swept the Hornets this season after last night's 120 - 99 win in Charlotte ??@ConstellationEG | #BullsNation pic.twitter.com/tdUV1ZNkwU

— Chicago Bulls (@chicagobulls) May 7, 2021