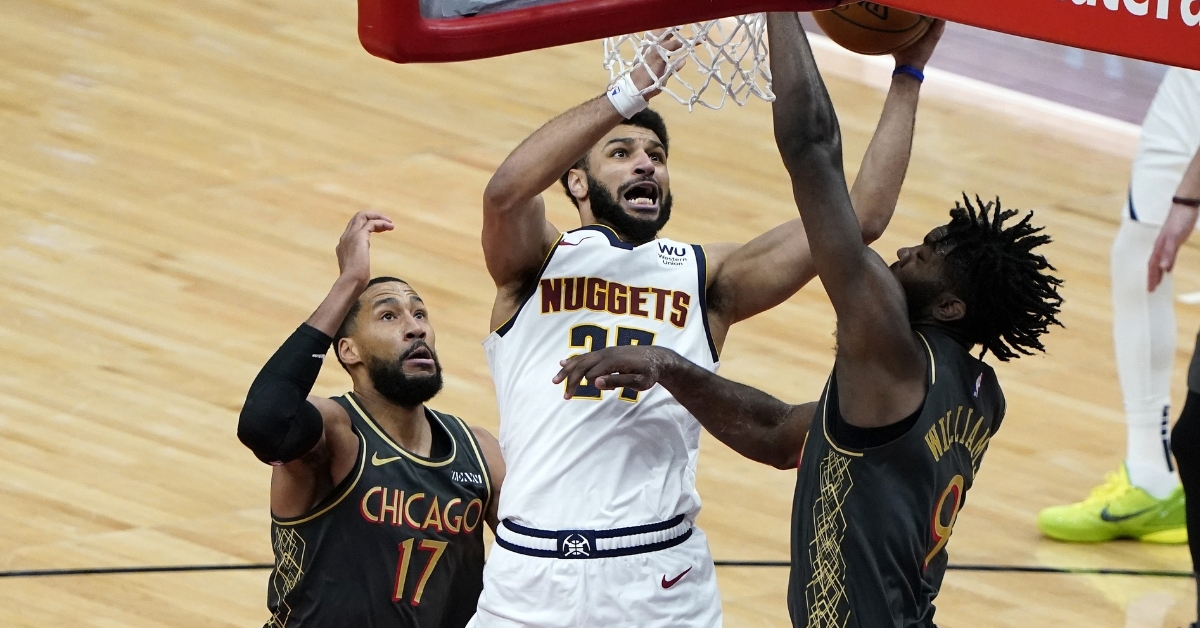 | | |
| --- | --- |
| Bulls second-half rally comes up short against Nuggets | |
---
| | | |
| --- | --- | --- |
| Tuesday, March 2, 2021, 10:24 AM | | |
After letting a fourth-quarter lead slip away on Friday, the Bulls were supposed to take the floor Sunday only to have their game against the Raptors postponed. The Bulls returned to the floor Monday night with an extra off as they welcomed the Denver Nuggets to town.
As things sit, the Nuggets are in the thick of things in the Western Conference while the Bulls occupy one of the East's final postseason spots. Looking for a big win heading into the all-star break, the Bulls found themselves down by double-digits in the first half as Nikola Jokic put all his skills on display. Despite a furious second-half rally that saw the Bulls take a six-point lead, it wasn't enough as Jokic, and the Nuggets were able to hold on 118-112.
Denver couldn't have asked for a better start as they had the Bulls reeling early. With Will Barton and Jamal Murray getting the offense going, Michael Porter Jr went off for a huge first-quarter, scoring nine of the team's next 11 points to put the Nuggets in front 16-3 early. A couple of Garrett Temple and Coby White buckets put a short end to that early run, but when you have guys like Jokic and Barton answering, you're still behind 21-7.
Now down 24-12, the Bulls cut the deficit in half with Tomas Satoransky and Denzel Valentine knocking down threes. Luke Kornet answered with a three a few minutes later to cut the lead to five, but a great ending to a perfect shooting first quarter by Murray had the Nuggets comfortably ahead 37-25 after one.
That lead eventually grew to 14 before Thaddeus Young, and the Bulls bench brought things within 10. After a thunderous Patrick Williams jam kept things within three possessions, Murray followed that up with five points of his own to give Denver their largest lead of the night with 15. Another jumper from Valentine seemed to jumpstart the Bulls offense as Wendell Carter Jr started to get some touches on the inside.
Despite better ball movement across the board, Chicago couldn't seem to get within six as Jokic continued to carry his team playing at an MVP level yet again. Down by 13 again, Temple continued his strong second quarter by scoring five straight to pull within eight. Zach Lavine put together a quiet 23-point night but capped off the first half with two big buckets to bring Chicago within 62-55 at the half.
Even though the Bulls were down at the half, they had to like how they bounced back in the second and were hoping to carry that over to the third. Instead, Porter, Monte Morris, and Jokic came out strong as the Nuggets built a 12-point lead once again. Much like Lavine, Coby White had a quietly effective night but opened the third with five quick points to pull the Bulls within seven. Both teams continued to exchange buckets across the next few minutes, with Murray and Williams going at it as Denver still held a double-digit lead.
Down 11, White closed the gap to nine before later pulling within six. Once again, Jokic and now Vlatko Cancar had answers to build the lead back to 10, but Chicago continued to show their fight. Not only did the Bulls score 11 of the next 13 points, but they also did so by hitting three triples with Valentine, Kornet, and Ryan Arcidiacono, bringing things to 86-85 before Denver was clinging to the 89-87 lead after three.
Hoping to rebound from letting their fourth-quarter lead get away on Friday, the Bulls were in an excellent position to do that, with Young scoring the first four points of the fourth. Add that to another White jumper, and just like that, the Bulls had their first lead of the night 93-89. The Bulls eventually saw their lead grow to six, but after the Valentine jumper, it was time for Jokic to go to work.
Not only did he score the next 10 points for Denver, but he finished with a game-high 39 points to go with 14 rebounds and nine assists. His play alone down the stretch brought the Nuggets back as things were back to even at 101-101. Looking to cool off Denver, it was White knocking down an open three, but with Murray answering on the other end, things remained even.
Chicago knew if they were going to hold off Denver, they needed contributions from everyone, and it was Young and Lavine going to work down the stretch. Unfortunately for them, Denver continued to rely on the Murray and Jokic Duo as the Nuggets closed out the game with a 12-6 run sealing the Bulls fate 118-112.
"We're a couple of possessions away from winning those games," Zach LaVine told reporters after the loss. I think we're a playoff team. I just think we make too many mistakes."
At 15-18, the Bulls have fallen out of the top eight in the Eastern Conference, but they remain in the playoff hunt as they are 10th in the standings.
Chicago is also tied with Indiana for third in the Central, with the Pacers holding the ninth spot in the East. Although both Lavine and White had quiet nights, they still finished the game with 23 and 20 to lead Chicago. The Bulls got 13 from Williams, with Valentine and Young adding 13 and 12 off the bench.
To go with Jokic and his 39, Denver received 24 points from Murray as those two were tough to handle all game long. Porter Jr. used a strong first quarter to finish with 17, with Barton adding 14 of his own. The Bulls will close out their first-half schedule with a trip to New Orleans on Wednesday to hoping to head into the break with a win.
Final Numbers from a close one at the UC tonight ??

Zach: 23p/9r/5a/1s/1b
Coby: 20p/10r/3a
Pat: 13p/4r/1b
Denzel: 13p/4r/3a
Thad: 12p/5r/4a/5s
Garrett: 9p/3r/2a/1b
Wendell: 8p/3r/2a
Luke: 6p/1r/1a
Ryan: 5p/1r/1s
Tomas: 3p/4r/5a

— Chicago Bulls (@chicagobulls) March 2, 2021

Tags: Bulls Basketball
,
Garrett Temple
,
Coby White
,
Tomas Satoransky
,
Denzel Valentine
,
Luke Kornet
,
Thaddeus Young
,
Patrick Williams
,
Wendell Carter
,
Zach Lavine
,
Ryan Arcidiacono