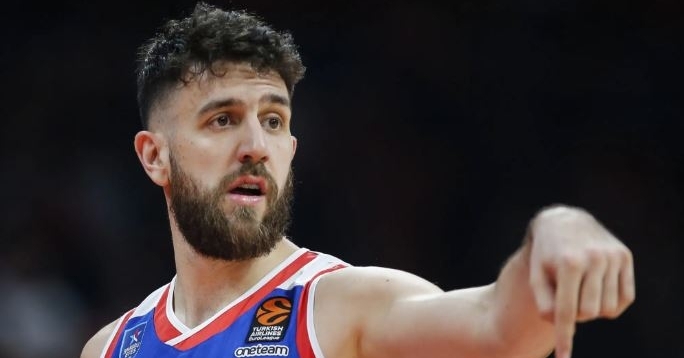 | | |
| --- | --- |
| Bulls back in mix for Euro League MVP | |
---
| | | |
| --- | --- | --- |
| Thursday, June 16, 2022, 12:09 PM | | |
Given Arturas Karnisovas success and background in the EURO League market, it shouldn't be surprising to see the Bulls linked to plenty of successful players from overseas. One player they were linked to last season is now back in the mix as the chatter of him going to the Bulls will not go away.
For those who don't know this player, you may want to keep tabs on him as EURO League MVP Vasilije Micic continues to have his name surface around Chicago. A bit older than most prospects, Micic is already 28 and has spent most of his career playing overseas in Serbia.
Considering the Bulls are looking for some PG depth, and possibly more when you look at Lonzo Ball's health, Micic is starting to be discussed, and that makes two consecutive offseasons where he has been linked to the Bulls.
Just one year removed from his championship season, the EURO League MVP put on a good showing last season, where he averaged 18.2 PPG, 4.6 APG, 2.7 RPG, and 1.1 SPG. He did that while shooting an impressive 58% from the field, but just 34% from deep. At 6-5 and 203 pounds, Micic is a bigger PG and was previously drafted by the Sixers in 2014 before he elected to remain overseas.
Considering he backed out of the NBA once before, what is to say he wouldn't do that again if drafted. If he does want to play in the league, what could he bring to the table for the Bulls and their roster?
For the first time in his career, it appears Micic is ready to leave Europe behind and try his talents in the NBA. While that has always been a dream for him, he never pulled the trigger as he never thought the time was right. That doesn't appear to be an issue anymore as he is ready, and the Bulls are not alone when looking into his services.
Micic has his draft rights owned by the Oklahoma City Thunder, so there is a great chance he will make his NBA debut with them this season. However, teams like Milwaukee and Chicago are very interested in making a trade for him, and they may not have to give up all that much to make a deal work.
Micic has drawn comparisons to Luka Doncic in the past, but is nowhere near as skilled as the Mavericks guard. Still, his basketball IQ is second to none and having a guy with a terrific basketball IQ is excellent for any roster as he often makes the right decision with the ball in his hands.
Considering that Ball continues to struggle getting back to health after his knee injury, Chicago is becoming a viable option for the two-time EURO League MVP. While the Bulls do have other players capable of handling PG duties, Coby White is more of SG and has been seen as a trade candidate, while Alex Caruso and Ayu Dosumu are not proven starters at this point.
While it would be nice for Micic to slide into the PG slot and fill in for Ball if he can't go, you could also see him play the SG position, which gives the Bulls depth there too. Considering the situation in OKC, where they own his draft rights and are willing to move him, this may be the Bulls best chance to acquire him.
Micic is a great player who is a magician with the ball in his hand. He has shown the ability to penetrate to the rim while also displaying a pretty good touch from the mid-range and beyond. While his defense is not polished, he has improved as a defender, which is all you can ask for as a player. Karnisovas loves his foreign players, so this is one name to keep an eye on if you are a Bulls fan considering this is two years now they have been linked to him.