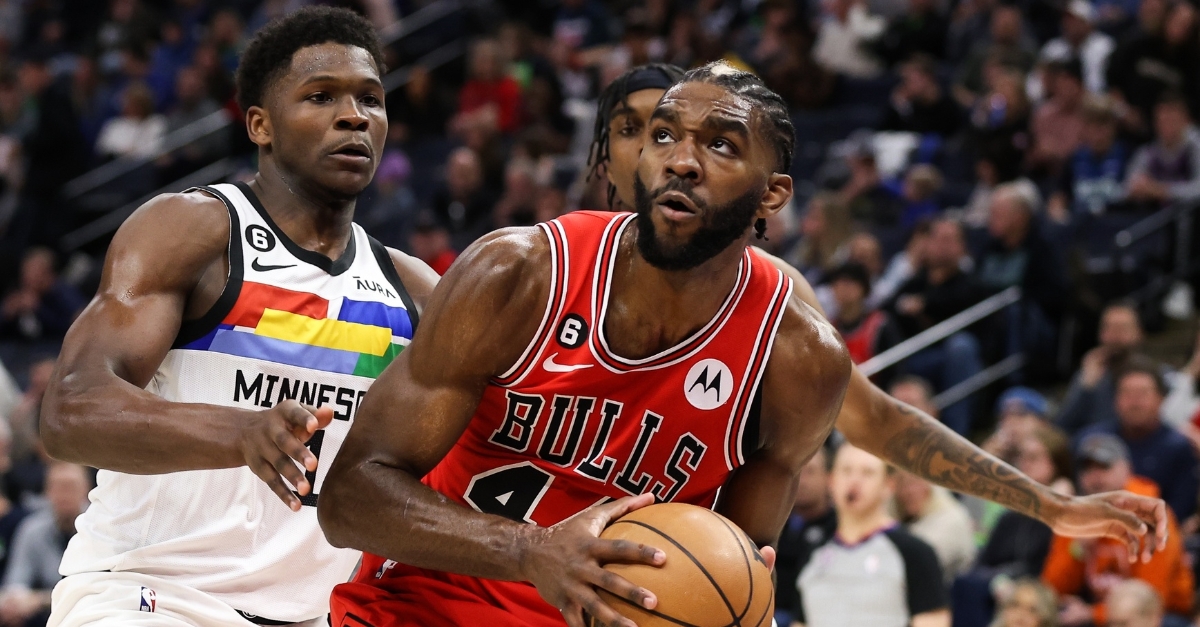 | | |
| --- | --- |
| Bulls suffer beatdown against Timberwolves | |
---
| | | |
| --- | --- | --- |
| Monday, December 19, 2022, 11:57 AM | | |
MINNEAPOLIS - As the NBA trade deadline is rapidly approaching, all eyes will be on the Chicago Bulls (11-18) and what this team decides to do. A playoff team a year ago, Chicago once had the best record in the Eastern Conference before falling to the No. 6 seed by season's end.
Many of those struggles have carried over to this season to the point where this team is considering all of their options as to whether or not they need to blow this roster up. If losing four straight and eight of the last 10 isn't enough for you, why not look at how they have lost these games, especially Sunday when the Minnesota Timberwolves (15-15) embarrassed Chicago 150-126.
I don't care who you are. Giving up 150 points in the NBA is unacceptable, and this team needs to be held accountable for that. The problem is starting to become who will hold this team accountable for it. The front office of Marc Eversley and Arturas Karnisovas dropped the ball this offseason by not addressing this team's needs, while it seems like Billy Donovan has lost this team. That is a toxic situation that the Bulls need to figure out quickly.
There is one person on this team who has held himself and the team accountable, and ironically they have been the most consistent player on the team the last two seasons. That would be DeMar DeRozan, who is sick of losing and the way the Bulls have been playing. He has made it clear that they have been an embarrassment as of late. DeRozan has had no trouble holding his own as he shot better than 50% from the field again to come away with a team-high 29 points. If not for him, this team would be in an even worse spot, which is hard to fathom.
For the most part, it has been the offense that has struggled for Chicago this season, but that hasn't been the case lately. Nikola Vucevic added 23 points on 66% shooting with nine rebounds, while Zach Lavine came through with 22 points to give the Bulls three legitimate scoring options. You also had Patrick Williams come away with 13 points, with Derrick Jones Jr (13) and Ayo Dosunmu (10) having great games off the bench.
Even with six double-digit scorers, giving up 150 points makes it very difficult to win, but the Bulls have other issues to deal with right now. One of those issues is at the point guard position, where it seems like Lonzo Ball is done for the season. After starting the year with Dosunmu at PG, Donovan switched to Alex Caruso, which has turned out to be a nightmare.
While his defensive skills are still there, Caruso has had an issue scoring all season, and after coming away with just five points on Sunday, something needs to change. You also have a strange situation with Andre Drummond, who not only didn't play on Sunday, but has seen his minutes drastically cut down over the last few games. That is something Donovan needs to address, as he brought a toughness this team hasn't been showing lately while also providing them massive minutes off the bench.
A big reason for the Bulls defensive struggles in recent games has been the inability to close out on the three-point shooters. That came full circle on Sunday as Minnesota not only shot 53% from deep, but made a franchise-record 23 triples while also shooting a franchise-best 65% from the game. That is terrible defense, any way you look at it, and the Bulls need to be ashamed of that effort.
Anthony Edwards did not play a significant role in the three-point barrage, but he had a massive night shooting the ball connecting on 13-25 for a game-high 37 points. DeAngelo Russell joined him in having a massive night as he connected for seven triples while dropping 28 points. Those two set the tone for the Timberwolves all night, and Minnesota fed off their performance.
Those two may have been the lone 20-point scorers for Minnesota, but they had seven players reach double figures, with three coming off the bench. Nathan Knight was one of those three coming off the bench as he emerged with 16 points for a solid performance. He was joined by Austin Rivers (14) Bryn Forbes (10) as the catalysts off the bench, while Jaylen Nowell added nine more.
Going back to the starting five, and you had Jaden McDaniels adding 15 points to give Russell and Edwards an excellent third option, with Naz Reid capping off the double-digit scorers with 10 points. Edwards also added 11 assists to his massive scoring night for an impressive double-double as the Timberwolves flexed their muscles against Chicago. The Bulls continue their road trip against Miami on Tuesday and Atlanta on Wednesday.