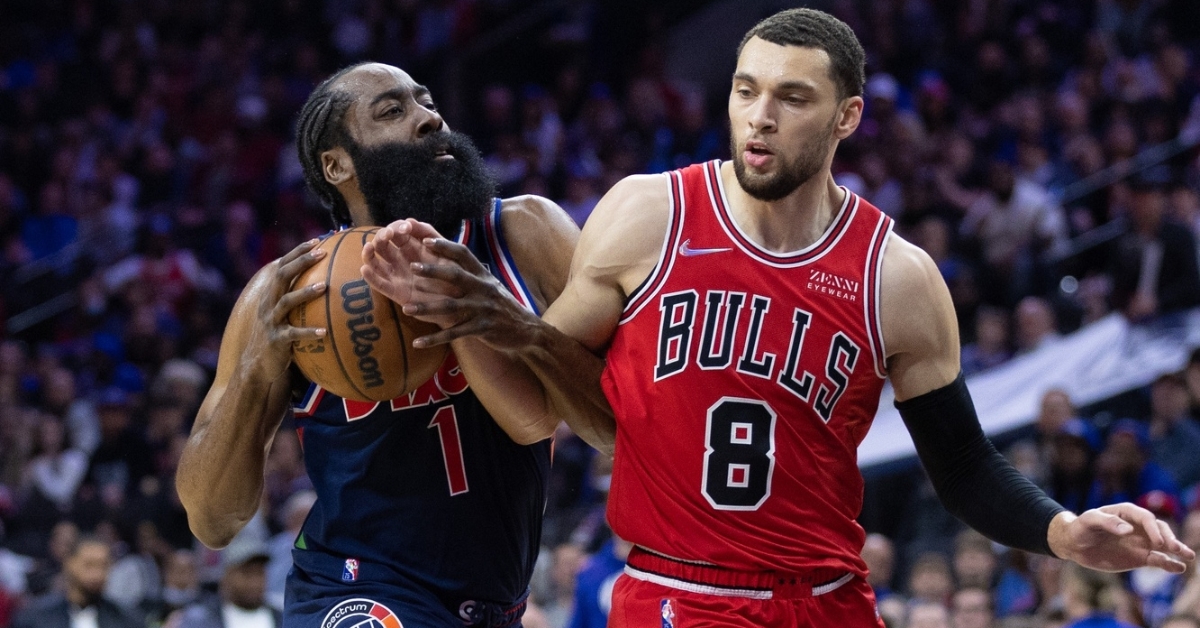 | | |
| --- | --- |
| Bulls drop season-high fifth straight in loss to 76ers | |
---
| | | |
| --- | --- | --- |
| Tuesday, March 8, 2022, 10:09 AM | | |
PHILADELPHIA – Things haven't been good lately for the Chicago Bulls (39-26), as wins have been hard to come by. Stuck in the middle of a season-long four-game losing streak and continuing to fall in the Eastern Conference standings, some wonder if this team will land in the play-in round instead of reaching the regular playoff field.
Although things have been tough, no one is panicking yet as this team still has tons of talent and will be getting help in the coming weeks. Hoping to avoid a five-game skid, the Bulls were up against one of the biggest nemesis in the Philadelphia Sixers (40-24) who have had their number this season. Already with the season series win in their hands and going for the sweep, this Sixers team has been tough to beat, and they got even tougher with the addition of James Harden at the deadline.
As if beating Philadelphia wasn't hard enough when healthy, Chicago was short another body as Nikola Vucevic was pronounced out with a minor hamstring injury. That meant that Tristan Thompson would have to contain Joel Embiid, which is never easy. The MVP candidate put on quite a show once again as he dropped a game-high 43 points to go with 14 rebounds in a dominating performance as the Sixers topped Chicago 121-106 to sweep the season series.
Through all the bad that has been happening of late, there are two constants with this team which revolve around Zach Lavine and DeMar DeRozan. Those constants were at it again, with Lavine dropping 24 points to lead the way and DeRozan chipping in with 23. Neither guy shot the ball well from the field, but DeRozan added 11 rebounds for a double-double while Lavine nearly had a double-double himself.
Outside those two, the Bulls offense was stagnant at best as their third-leading scoring was not there to balance things out. That meant it was time for others to pick up the slack, and Coby White rose to that assignment. His 19 points led the bench unit in scoring and provided the Bulls with the scoring punch vacated by Vucevic as he finished third on the team.
In a rare start, the Bulls also saw Thompson drop 13 points to go with nine boards, with Ayo Dosunmu adding 11 points in another ugly loss. The most significant cause for concern over this five-game skid is the lack of bench scoring apart from White and a defense that looks lost right now. When you lose guys like Lonzo Ball, Patrick Williams, and Alex Caruso, your defense will undoubtedly take a hit, but you are also losing more of your offense. Chicago needs these guys to get healthy in the worst way to get back on track; otherwise, it will be a long rest of the season.
As mentioned, the Sixers were led by Embiid, who, at this point, is a one-man wrecking crew. With 43 points and 14 rebounds, it marks the 10th time this season he has recorded a double-double, scoring at least 40 points. Embiid is right up there with Nikola Jokic as the best center in the game and has proved it all season.
Looking at the rest of the Philadelphia lineup, you will notice that no one else scored 20 points, but they had plenty of others chip in. Harden continues to play well with his new team, although he finished with just 16 points. He seems happy and more comfortable in this lineup, which is scary for the rest of the East. As part of the Harden deal, Ben Simmons was traded away, which paved the way for Tyrese Maxey to get more time. He has thrived in that role dropping 17 points to finish second on the team in points while running a solid offense. The Sixers also got 14 points from Georges Niang off the bench, and 12 more from Matisse Thybulle as the Sixers had plenty of balanced scoring to go around. The scariest part of this whole Philadelphia situation is how easy they have beaten the Bulls this season in all four games.
Embiid played a considerable role, but the bench was also a significant X-Factor in two wins. Keep in mind that Tobias Harris is a shell of himself this season, and if he bounces back to form, this team becomes that much deeper. Philadelphia is not a team the Bulls want to see in the postseason, and if they do, they better be ready to fight, or these are the results they will get.