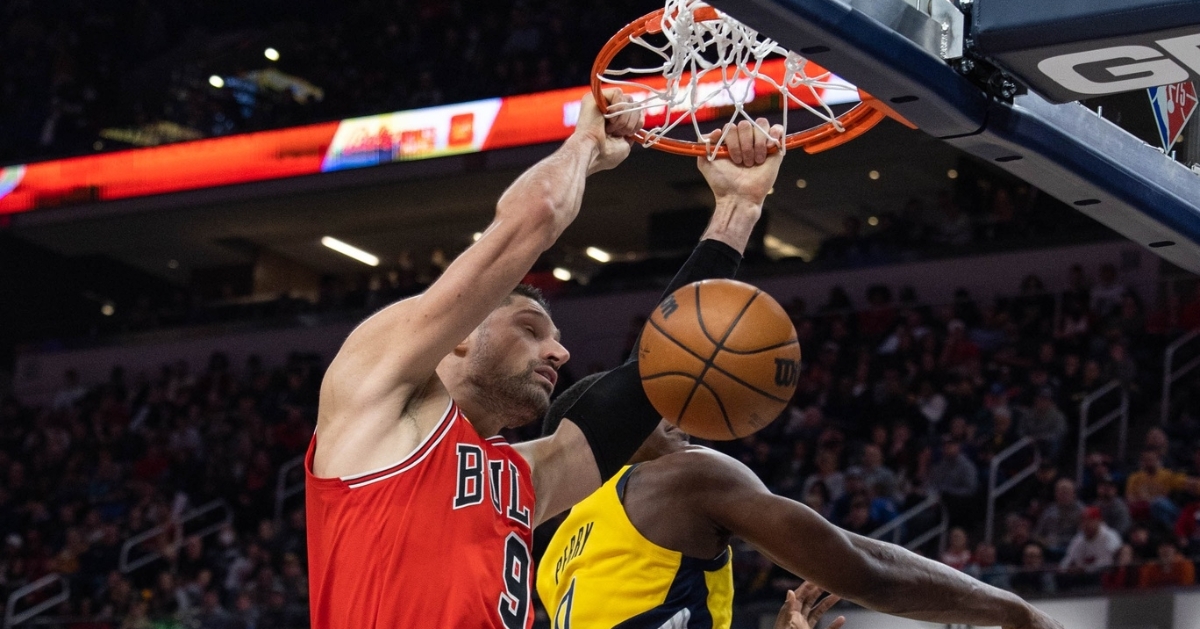 | | |
| --- | --- |
| Vucevic puts on a show as Bulls down Pacers | |
---
INDIANA – Coming off a tough overtime loss against Toronto on Thursday, the Chicago Bulls (33-19) were back at it again on Friday, taking on Central Division rival the Indiana Pacers (19-35). Don't let their record fool you. This is another team that has given the Bulls some problems this season as Chicago's two wins against them are buy a combined 10 points while their loss was nearly 30.
They were looking to take the season series in their fourth and final meeting of the year, the teams greeted fans with plenty of excitement in the opening quarter as the defense was not part of the equation. Led by a bevy of scoring, the two sides combined for 73 first-quarter points, with the Bulls leading 40-33 after one. Caris Levert had a monster first quarter as he put in 22 points over the first 12 minutes in what looked to be an offensive battle.
While the defense was nonexistent in the first quarter, both teams began to focus on that part of their game the rest of the night as neither team came crossed the 30-point mark the rest of the way. Indiana came close in the second quarter with 29 points, while the Bulls added 29 in the fourth. It was another closely contested game in which the Bulls managed to hold on for the 122-115 win to take the season series.
Before the game, it was announced that Zach Lavine would be sitting out as he was dealing with minor back stiffness. It was a big blow, but not one this team couldn't overcome as they had plenty of firepower to make up for his loss. Nikola Vucevic had another awe-inspiring night as he continues to get back to his Orlando playing days. Not only did he drop 30 points for the second straight game, finishing with a team-best 36, but he added 17 more rebounds for another double-double and is going to get player of the week considerations.
With Vucevic stepping in for Lavine, DeMar DeRozan continued to go about his business as he finished with 31 points to provide the Bulls with their lethal 1-2 combo. Apart from them, Chicago had plenty of help with Javonte Green adding 16 points as his strong run of play continues and Ayo Dosunmu dropping in 15. Coby White was also out with a minor shoulder injury, and his loss will be one to follow as Chicago can't afford to lose many more pieces.
In his place was Matt Thomas, who came through with 10 points off the bench while Troy Brown Jr added nine points, getting the start for Lavine. That offense was just enough for Chicago as they did what they needed to do to overcome Indiana.
For the Pacers, it was a one-man show as Levert started the game hot and continued to play at an elite level. After scoring 22 points in the opening quarter, Levert was held to one point in the second and finished the first half with 23 points. That was until he started to wake up again in the second half when he scored 19 more points to finish with a game-high 42 points on 19-26 shooting. Levert has been on a mission since coming to Indiana, and that trade is paying off for them.
Joining Levert in having a big game was Terry Taylor, who landed in the starting lineup to finish with 21 points. Duane Washington Jr had the hot hand off the bench with 17 points as the Pacers tried to keep up with the hot-shooting Bulls. Unfortunately for them, outside of Chris Duarte and his 12 points, the Pacers didn't have another double-digit scorer as they came up just short to Chicago.
Your 2022 All-Stars
In what shouldn't surprise anyone, the Bulls will have two all-stars this season. You could argue they have three with Dosunmu playing in the rising stars game, but for now, this is a team that has been led by two all-stars this season.
After it was announced that DeRozan would not only be playing in his fifth career all-star game, but getting the start. That meant that all eyes went to Lavine to see if he would get the nod. From a numbers side of things, he not only deserved to be there, but could have started in most cases. Either way, fans gave him the recognition he deserves as he will be joining his buddy DeRozan at the all-star game and will be looking to put a show on for the fans.
Not another injury
The Bulls have been lucky to avoid injuries the past week which has been huge for this team. However, much like the rest of the season has gone, this team can't seem to get away from the injury bug as it struck this team again last night.
The Lavine injury is nothing serious, and he should be back on Sunday, but the one to White is the one to watch, especially when you look at the spark he has provided this team. Not only was Whiteout last night with Lavine, but he is dealing with a right abductor strain. That is an injury that can linger and be anywhere from day-to-day to a few weeks.
This was not was this team needed right now, especially when they are missing guards Lonzo Ball and Alex Caruso to injuries already. Much like what they have done all season, Chicago has found a way to win games despite being shorthanded, so they may need to do that a bit longer.
Jakob Poeltl
With the trade deadline set for next Thursday, this is the time when you will start to see buying teams get in on the fun. Chicago should be one of those buying teams, but what they are willing to buy is the question. We have heard the rumors for a while now and what positions they are targeting, but the first real name came to the surface yesterday in San Antonio Spurs center Jakob Poeltl.
The seven-footer out of Utah, Poeltl, is having a great season with the Spurs and has one more year on his contract. He would provide an excellent backup for Vucevic off the bench and would allow the Bulls to go with a bigger lineup by starting both Poeltl and Vucevic. Averaging close to 14 points and 10 rebounds per game, Poeltl fills a couple of areas of need for this team and would be a valuable asset to this team.
My biggest fear is what happened to this team when they made trades last year. There was a time when the Bulls were sitting at 18-19 last year and were the No. 6 seed in the playoffs. Because of that, Chicago wanted to get better and traded for Vucevic. Expected to make them a playoff team, a nine-game losing streak followed that deal as the team's overall chemistry took a hit.
I am not saying that would happen again, but it is something this team needs to consider. This group's chemistry is second to none, and if they make a deal, they need to make sure their new player fits in with this chemistry.