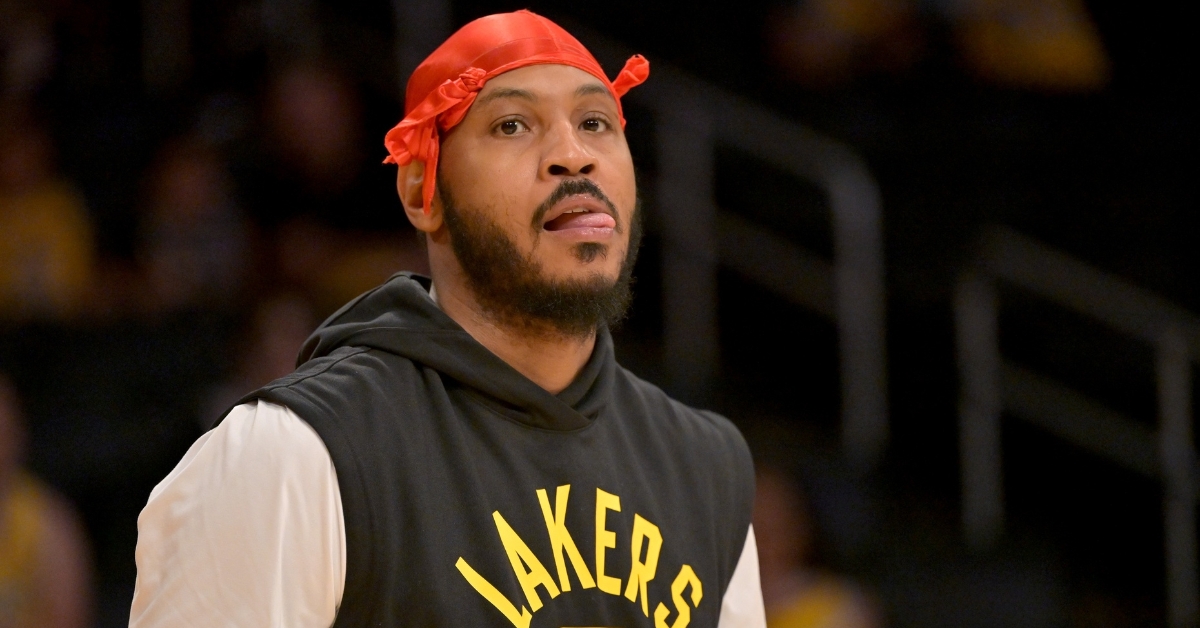 | | |
| --- | --- |
| Commentary: Bulls should try to add Carmelo Anthony | |
---
| | | |
| --- | --- | --- |
| Monday, September 12, 2022, 12:59 PM | | |
As we approach the 2022-23 NBA season, which kicks off in 40 days for the Bulls, if you are counting, it is time we begin to focus on training camp and what lies ahead for this team. Coming off their first winning season and playoff berth since 2017, there are a lot of high expectations in Chicago for this season, and rightfully so.
However, with Lonzo Ball expected to miss even more time as he continues to recover from his knee injury, the optimism many of these fans once had may not be as high as in the past. When the Bulls lost Lonzo last season, they led the Eastern Conference, sporting a 38-17 record. After that, the team went 11 games under .500 and limped into the playoffs as the sixth seed.
One of the most significant needs this team lacked was more interior frontcourt help, and by adding Andre Drummond, they addressed that need. Another glaring weakness was the PG play that fans saw after Ball went down. Not only was the offense not as crisp, but the defense took a dramatic hit, which was a huge reason why the Bulls struggled as much as they did.
No one is saying this team is better off without Ball, but adding a guy like Goran Dragic does help, and Donovan will now have an entire offseason to look at different combinations to use until Ball comes back. While the Bulls haven't been as active as most teams mainly due to financial issues, the NBA has revealed an increase in salary cap numbers which could see other teams make a few more moves before camp.
If I am Arturas Karnisovas and Marc Eversley, I not only look at adding at least one more piece but also focus on the bench where they could use another scorer. Don't get me wrong, Alex Caruso, Coby White, and Ayo Dosunmu are going to put up points, but at some point, you have to expect White to get traded this season which leaves a massive hole in the second unit.
His scoring will not be easy to replace, and if the Bulls can't do it, that could hurt their playoff chances. While there are some names out there, one name remains a free agent and could be an excellent fit off the bench and a great veteran leader for this team to have.
That player would be Carmelo Anthony, and it would be a smart decision for the Bulls to look at adding him to their bench. At 38 years old, Anthony is nearing the end of his NBA career, but he can still bring a ton of value to a team off the bench. He may not be the 25-30 point scorer he once was, but in the right system, he can still get you 12-14 points off the bench, which the Bulls could use.
When you look at the potential destinations for Anthony, the Bulls are listed as the second-best landing spot for him, so there is a lot of talk about the Bulls inquiring about him. When you look at why the Bulls are listed as high as they are, it is pretty easy to see as the team not only needs scoring off the bench, but are in desperate need of three-point shooting.
Anthony is a 35.5% career three-point shooter, but has increased that to nearly 39% in the past three years. The Bulls front office would gladly take that even at 38 years old, but that is another significant question mark. How long can he provide you valuable offensive numbers at 38 years old?
Anthony will be a hall of Famer when his career is done. Whether a second or third ballot remains to be seen. He is also someone who has been linked to the Bulls in the past and nearly signed with them before signing with the Knicks. When that move happened, the Bulls settled on Carlos Boozer and made the Eastern Conference final before bowing out to Miami.
Had they had Anthony instead of Boozer, it would have been interesting to see how far the Bulls would have gone had they had Anthony instead. No one expects Anthony to come in and be the savior this season, but he would be a valuable asset to any team, especially a Bulls team that needs scoring off the bench.