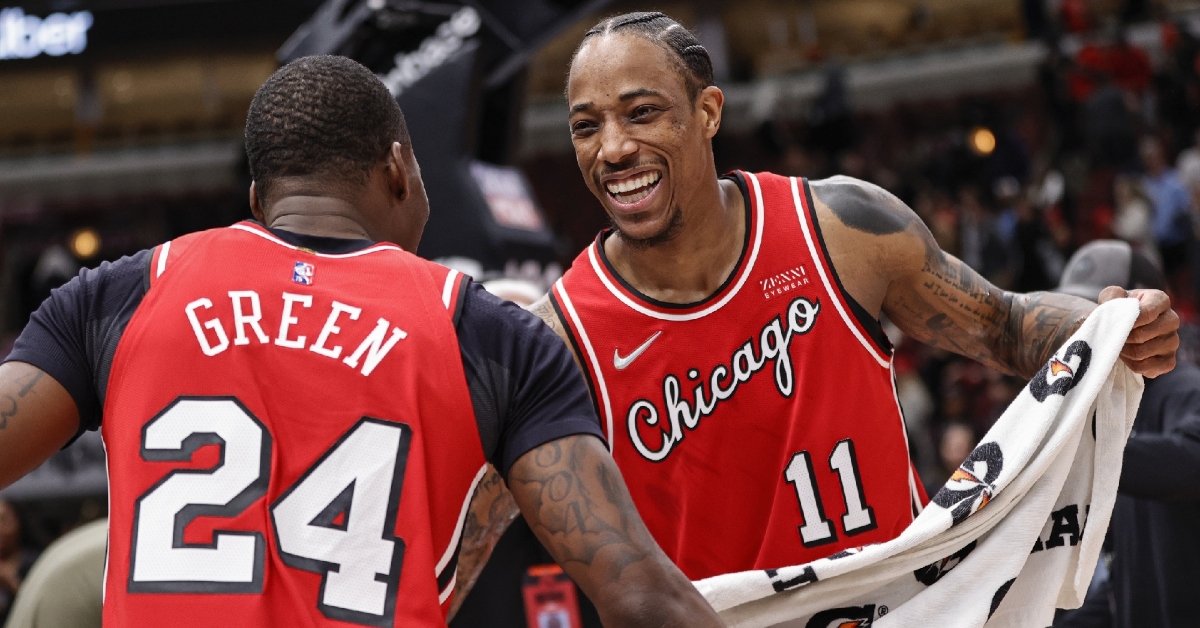 | | |
| --- | --- |
| Bulls clinch first playoff spot since 2016-17 | |
---
| | | |
| --- | --- | --- |
| 2022-04-06 10:17:41.0 | | |
CHICAGO - For as rough as things have gone for the Chicago Bulls (45-34) over the last month, there is some good news as they have clinched a spot in the postseason. This will be the team's first playoff appearance since the 2016-17 season, and despite another lopsided loss to the Milwaukee Bucks (49-30), The Bulls are guaranteed a top-six seed. That keeps them out of the play-in round as they can now rest up and focus on their first-round opponent.
While that opponent has yet to be decided, we do know that if the Bulls want to make any noise this postseason, they need to figure out how to beat good teams. I understand the injuries this team has dealt with haven't helped, but at some point, you have to stop using that as an excuse.
With their 127-106 loss to Milwaukee on Tuesday, the Bucks not only swept the Bulls for a third straight season, but Chicago remains winless against the top three seeds in each conference. By default, they will have a win against a top-three team showing up, but they knocked off Boston long before they rose to the No.2 seed.
The Bulls know the highest they can get is the No. 5 seed, and the lowest they can fall is the No. 6 seed. That means they will essentially be meeting someone they have yet to beat in the postseason, and that doesn't bode well for them.
To rub salt on the wounds, Lonzo Ball is officially done for the season, while Zach Lavine missed last night's game and could miss tonight against Boston. If I am Billy Donovan, I take my lumps and shut Lavine down until the postseason, hoping that his knee holds up.
When it comes to beating Milwaukee, you have to cut the head off the monster. That monster is Giannis Antetokounmpo, who continues to be a matchup nightmare for the Bulls. The former MVP has put together another solid season, but is starting to look like an MVP again over the last month. That alone is a big reason why the Bucks are surging and playing their best ball at the right time.
Although he had a relatively quiet night, finishing with 18 points to go with nine rebounds and seven assists, the Bucks didn't need him as they had seven players drop double figures in the win. Brook Lopez continues to round into shape after missing 60 games with back surgery as he led the way for the Bucks with 28 points to go with seven rebounds.
Lopez was huge for the Bucks in the playoffs last year, and for them to reach their goals yet again, he needs to play at this level. Although he was the lone 20-point scorer for Milwaukee, having six other players in double figures does help, including 19 points from Khris Middleton.
Like Giannis, Jrue Holiday had a quiet night as he finished with 11 points, as did Wesley Matthews putting all five of the Bucks starters in double figures. What Holiday lacked in scoring, he made up for in assists as he dropped 13 dimes for the impressive double-double.
Having five starters land in double figures is one thing, but getting nearly 50 points from your bench is another, which was the case for the Bucks. 26 of those points came from two people, as Greyson Allen and Bobby Portis each chipped in with 13 points to make life miserable for the Bulls.
Beating the Bucks with a healthy roster is hard enough, but it is that much harder when you are down your No. 2 scorer in Lavine. That hasn't been an issue for Demar Derozan all season, as he has put the team on his back from day one. Not only did he drop 50 points earlier on this homestand, but he came back with 40 points to lead all scorers on Tuesday, 20 of which came in the third quarter.
He was a big reason why the Bulls remained within striking distance for much of the third quarter until the Bucks went on a big run to pull away. Not only did Derozan steal the show once again, but he was the only Bull to net more than 20 points as they struggled to put the ball in the hoop.
One positive takeaway from this loss was the emergence of Patrick Williams. Making just his sixth start of the season and first, since returning from a wrist injury, Williams continued to play big as he dropped 18 points to go with six boards. Whatever Donovan said to him in recent weeks is working as he is starting to look like the Summer League version of himself.
While Williams is stepping up, Alex Caruso is not, as he finished with zero points for the second straight night. That is never a good sign, but when Lavine is out, and that is what you give your team, that has to be some cause for concern. A second straight horrific game could signal a return for Coby White to join the starting lineup.
Although in a bit of a shooting slump of his own, White can get hot at any time and finished with 13 points off the bench to lead the Bulls bench. Regardless of the loss, the Bulls are in the postseason, and they should consider themselves fortunate when you look at what they have had to overcome.