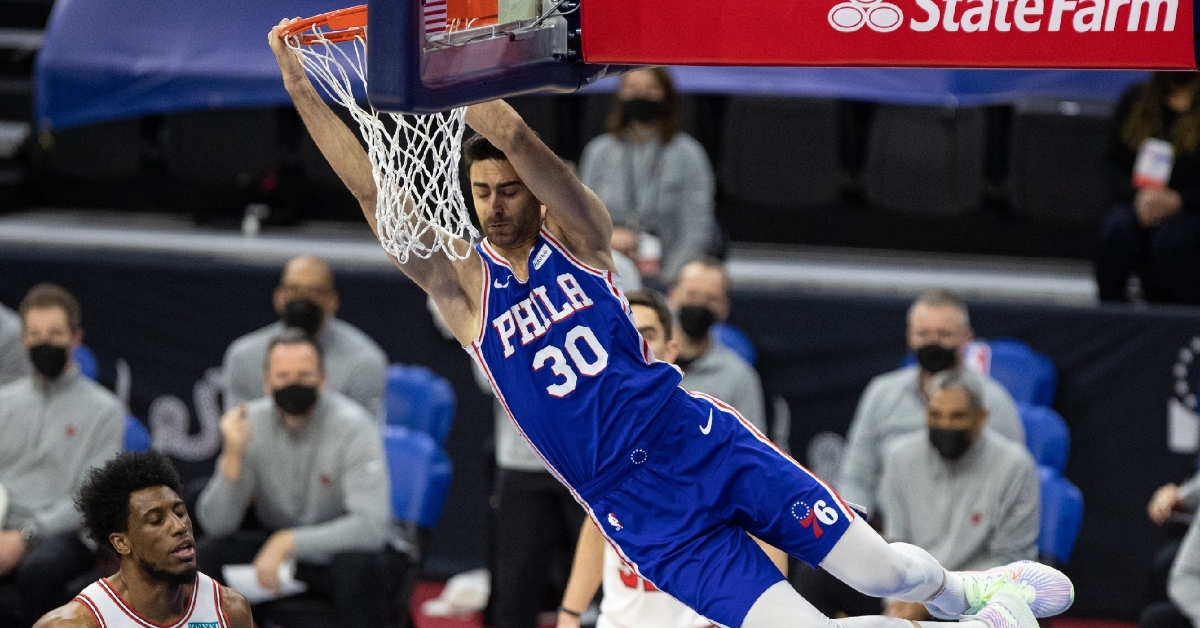 | | |
| --- | --- |
| Trading for Furkan Korkmaz makes sense for Bulls | |
---
The Chicago Bulls 2021-22 can simultaneously be considered a success and failure. From the success side of things, no one expected this team to improve as quickly as they did, going from 31 wins to 46 and making the postseason. From a failure side of things, you had a team that was 38-21 and in first place in the East only to fall apart the final two months, leaving a lot to be desired for.
Sure, injuries had a significant impact as to why those struggles happened, but the overall inconsistency and struggles to beat good teams is what ultimately did them in. During their late-season struggles, the defense began to let them down, as did their lack of overall shooters on the bench, especially from the outside.
From a statistical side, the Bulls ranked near the top in overall three-point percentage but near the bottom in three-pointers attempted. When they were forced to take more threes, that percentage dropped, which doesn't bode well in the NBA. Knowing that they need more consistent bench scoring to go with better overall shooting, the Bulls are being linked to Furkan Korkmaz as a potential trade option.
Outside of Lonzo Ball, Zach Lavine, and at times Coby White, the Bulls never had the consistent shooting that could keep them in games when they fell behind or take over games when needed, as that is something they will be targeting this offseason. While drafting a shooter with the 18th pick is an option, the Bulls have more pressing needs to fill with that pick.
You also have to consider that if they retain Lavine, this will be a financially strapped team that will not have the cash to go out and get free agent sharpshooters. If that is the case, how does this team get better? Well, it appears the trade market will have to be the direction the Bulls go, and trading for Korkmaz could be an option.
Although going through some struggles of his own, Korkmaz has historically been a great shooter off the bench, and the Bulls have learned firsthand how lethal of a shooter he can be. This move would undoubtedly help the Bulls if his old self was the return in this deal, and Chicago would be aiming to regain his confidence on the floor.
However, for this deal to get done, the Bulls would not be alone, as several teams would be in on what looks to be a multiple-team trade. Dan Favale from Bleacher Report has detailed the proposed trade as to who gets what in return.
Starting with Chicago, they would receive Korkmaz from the Sixers, a 2023 2nd-Round pick (via PHI, second-most favorable from ATL, BKN, CHA, or PHI), 2026 2nd-Round pick (via OKC, top-55 protection).
Denver would be part of that trade and would get budding star Matisse Thybulle while the Oklahoma City Thunder would land the No. 21 pick. Philadelphia would receive Zeke Nnaji, Kenrich Williams, the #30 pick. If this is the package being discussed, the Bulls need to pull the trigger now as they would be coming out on top in the short and long term.
However, this deal has to be more included; you would think White would have to go to Philadelphia. This trade would fill many other teams' needs but, most importantly, land the Bulls the sharpshooter they desperately need.
Despite shooting a career-low 29% from distance last season and averaging just 7.6 PPG, Korkmaz is a career 36% shooter and had two consecutive seasons at 40%. Not much of a scorer; Korkmaz will give you roughly 10 points a night but is capable of doing much more.
Although not an elite three-point shooter, he is better than 80% of the players on the current Bulls roster. Another reason this trade makes sense is that he is young enough to sign for multiple seasons and would come at a much cheaper cost than others.
With a five million dollar salary, Korkmaz fits into the Bulls financial plan, and when every dollar counts, if the Sixers want to extend James Harden, then this is a move Philadelphia is almost sure to make.
While he had a very disappointing season, to say the least, last season, he has shown the ability to shoot at a high clip in the past, and a new situation could be exactly what he needs to get his confidence back. While Chicago likely wouldn't hand him a huge role, he would have more opportunities to earn one with the Bulls.