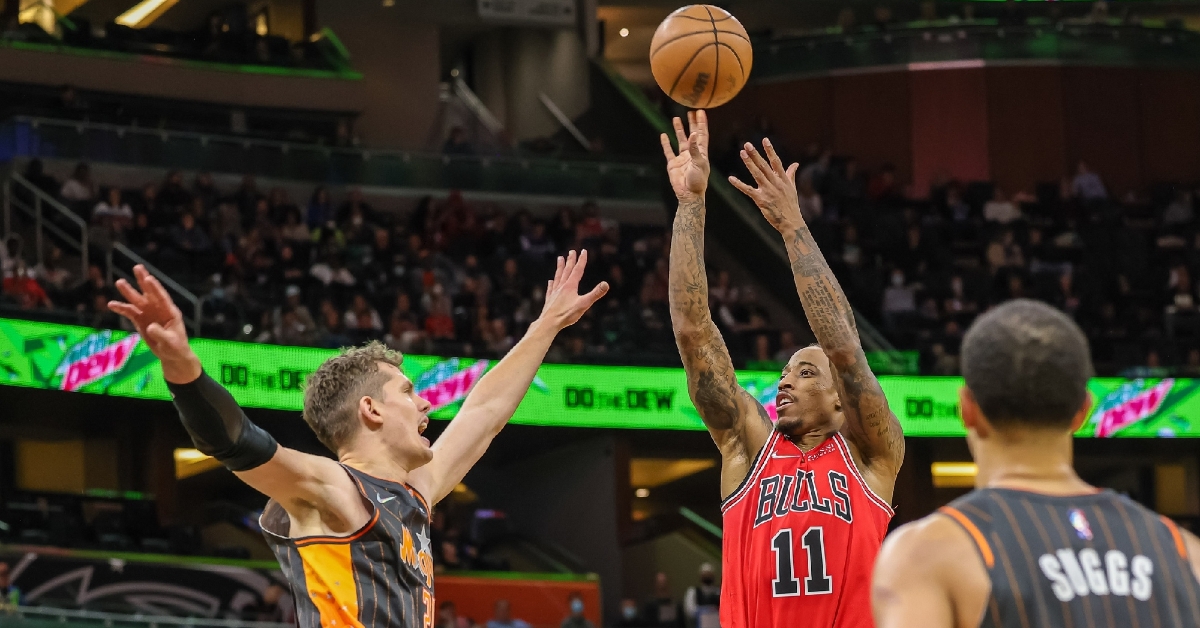 | | |
| --- | --- |
| DeRozan's 41 points not enough in Bulls loss to Magic | |
---
| | | |
| --- | --- | --- |
| Monday, January 24, 2022, 10:09 AM | | |
ORLANDO – At this point in the season, the Chicago Bulls (28-17) are just trying to survive as they continue to deal with a rash of injuries. If losing Zach Lavine for two weeks and Lonzo Ball for two months wasn't bad enough, Alex Caruso will now join them as he will have wrist surgery and be out 6-8 weeks.
Hoping to use the next few weeks to win some games, the Bulls entered an easier stretch of games with a trip to Orlando to take on the Orlando Magic (9-39). Record aside, this is the NBA, and if there is one thing fans know, it would be that there is never an easy game. Chicago knows that all too well when it comes to the Magic, as they have given the Bulls plenty of fits this season.
In a game where DeMar DeRozan dropped 41 points on 15-21 shooting, you had to think that would be more than enough for them to drop a reeling Magic team. That was far from the case as Chicago struggled to contain the Magic offensively and defensively all night in a 114-95 loss on the road. Along with DeRozan and his massive night was Coby White, who responded from his worst shooting performance of the season. His 22 points would have been nice to have on Friday, but it didn't seem to matter what he did on this night.
Add in 13 points and 13 rebounds from Nikola Vucevic, and that was it in terms of double-digit scorers as no one else on the Bulls roster had more than seven points. That alone is a recipe for disaster, but when facing a young team with nothing to lose, it makes those types of games that much more difficult.
For the Magic, Moritz Wagner had a massive night leading the team with 23 points off the bench. There was a brief moment when Wagner was a Bull last year, only to be traded to Boston for Javonte Green and Troy Brown Jr at the trade deadline. Joining Moritz Wagner was a cast of double-digit scorers, with Wendell Carter Jr. continuing to torment his former team with a solid 19 point effort.
Franz Wagner continued to do his thing as he remains one of the leading scorers among rookies with 18 points. Jalen Suggs chipped in with 15 points, while Cole Anthony, Chuma Okeke, and Ignas Brazdeikis all had 11 points in what was a big-time win for Orland and a terrible loss for the Bulls.
DeRozan needs help
With the absence of Lavine for a couple of more games, DeRozan once again becomes the team's primary option. He has repeatedly proven that he can carry this team, but you wonder when too much is on his plate at some point. After dropping 41 points on Sunday and still losing, it is safe to say that DeRozan needs more help if this team wants to survive.
White continues to flash moments of greatness, but outside of him, Chicago doesn't have that consistent secondary scorer that Lavine brought to the table. As good as Vucevic has been in his career, he has been stuck in the middle of the worst shooting season of his career, which hasn't helped the Bulls at all.
Chicago may be struggling of late, but fans shouldn't panic quite yet. They are going to make the playoffs unless an epic collapse happens. However, if things don't change soon and the Bulls get healthy, they may wind up in the play-in tournament.
Pencil him in as an All-Star Starter. pic.twitter.com/w0QKEIWrgF

— Chicago Bulls (@chicagobulls) January 24, 2022
Time to bank some wins
The last three weeks of the season haven't been kind to the Bulls for various reasons. The injury side of things has been the main issue, but playing shorthanded against some of the best teams in the league is never an easy task. Looking at the Bulls schedule for the next few weeks, Chicago has a real chance to bank some wins and perhaps get on a nice winning streak while waiting for others to get healthy.
Losing to the Magic was not a good start, but keep in mind the missing pieces. Although another blowout loss is never a good thing, there is some hope that Lavine will be back by next weekend or early next week. That will be crucial for this team, and it could ultimately save their season when things seem to be tinkering on disaster.
Wake up call
Following their blowout losses to Brooklyn, Golden State, and Dallas two weeks ago, DeRozan came out and said that these losses should be all the motivation we need. You would think the Bulls would have responded to that in a big way, but for whatever reason, this team continues to be making mental mistakes and is in the middle of a terrible stretch of basketball.
Judging by their recent performances against the Bucks and other games, the Bulls were starting to figure things out again, even with the injuries piling up the way they are. Then this loss surfaces, and things look even worse than before. Losing to playoff-caliber teams in blowout fashion shorthanded is one thing.
Losing to teams like Orlando in this matter is a cause for concern and needs to serve as the wake-up call this team needs. Whether a closed-door meeting needs to happen or some players-only meeting, this is not the Bulls that stole the NBA hearts by storm early in the season.