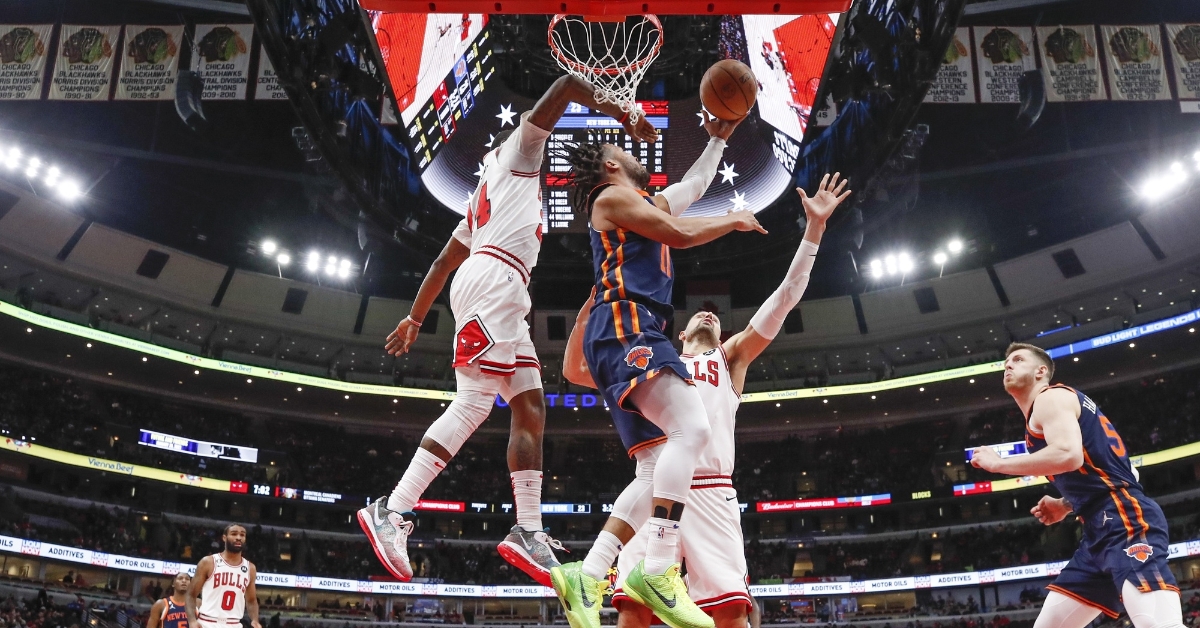 | | |
| --- | --- |
| Bulls drop second straight overtime game | |
---
| | | |
| --- | --- | --- |
| 2022-12-15 08:04:50.0 | | |
CHICAGO - The Chicago Bulls (11-16) are not making it easy on themselves this season, as they can't close out games. In a rare back-to-back at the same venue with the New York Knicks (15-13), something had to give as the Knicks entered riding a five-game road winning streak while the Bulls entered with four-straight wins at home.
After it was announced that Ayo Dosunmu would miss the game with an injury, Chicago had even worse news that Lonzo Ball may miss the entire season working his way back from a strange knee injury. That doesn't bode well for an offense that has been struggling, while the Bulls defense has been a top-10 unit most of the season.
The most frustrating part of this season, if you are a fan, is not how they are playing, but the record as they are a long way away from the team they saw last season. Take away the second quarter, which the Bulls struggled in again on Wednesday, and this team is not playing bad. They can't figure out a way to finish games when it counts, which they did so often last season.
If they could find a way to finish games, who knows where this team would be, as they are just 3-10 in games decided by five points or less this season. That happened again Wednesday as the Bulls rallied to force overtime, but fell in the end 128-120.
While much of the team has struggled offensively, DeMar DeRozan is not one of them as he continues his business. Granted, he has lost a step compared to last season and hasn't been as clutch down the stretch, but he is still scoring and led the way for Chicago yet again with 32 points. Half of those came from the free throw line, where he went 16-17.
His counterpart Zach Lavine has put the knee concerns behind him as he has averaged better than 25 PPG in December. That is very impressive when you consider his struggles from distance this season, as he added 24 points despite going 2-8 from deep. Chicago will only go as far as those two take them, but they need help from other players on the roster.
Fortunately, Nikola Vucevic has been one of those guys and has been very consistent for them this season. Not only did he pick up 19 points, but he continues to do a great job in the paint, even though it didn't show up tonight. The Bulls also received 12 points from Coby White off the bench and 11 from Patrick Williams in the loss.
Despite the Bulls continuing to play well, even if the results don't show, you have those games where someone surprises you. RJ Barrett was the surprise tonight as he finished with 22 points. The scoring wasn't the surprise, but it was his three-point shooting as he went 4-7 after hovering around 26% much of the season. The same can be said for Julius Randle and his team-high 31 points, as he connected on three triples while also adding 13 rebounds.
Randle was not alone in having a massive game, as the hometown kid Jalen Brunson showed up in a big way. Since Brunson signed his massive contract, the Knicks have been impressed with his play as he added 30 points of his own to put together a nice pairing with Randle. Throw in 14 points from Quentin Grimes, and the Knicks had four double-digit scorers, with two carrying the load for the win.
These same two teams will meet again at the United Center on Friday as the Bulls will look to salvage a split.
Windy City Cruise past the Cruise
While the Chicago Bulls continue to search for answers, the Windy City Bulls have been very impressive as they improved to 9-5 with a 110-99 win against the Motor City Cruise. Their massive first half proved to be the difference as they put up 62 points and held a 62-40 lead at the break. They couldn't play at that level in the second half, but they did enough to pick up another easy win.
Carlik Jones remains the mastermind behind the improvement, as he has been a difference-maker on offense. He led the Bulls with 21 points with seven assists, as did Javon Freeman-Liberty, who picked up 21 points off the bench. The Bulls also saw Malcolm Hill and Ethan Thompson add 17 points, Kostas Antetokounmpo pick up 10, and Marko Simonovic deliver a massive 18-point 15 rebound double-double.
Considering the state of the Bulls and their offensive woes right now, you have to wonder if they are considering giving Jones, Simonovic, and Antetokounmpo a look to potentially inject some life. The Bulls return to the floor this weekend for a pair of home games against the Gold.