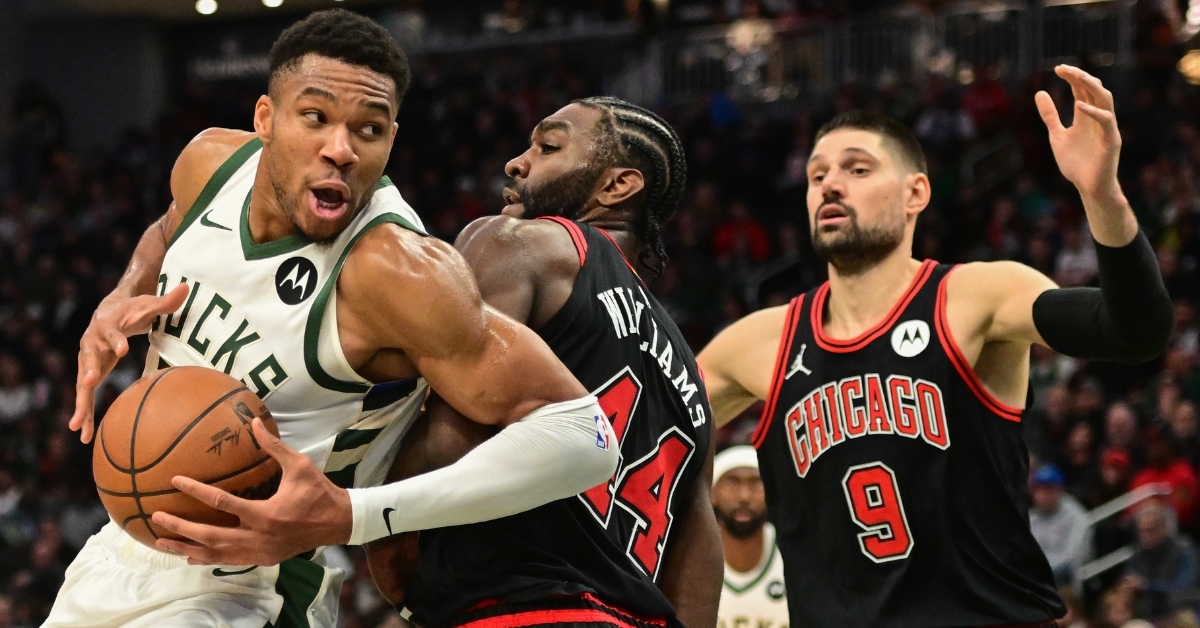 ---
MILWAUKEE - There are some losses throughout an NBA season that you can live with, and losing to the Milwaukee Bucks (6-4) at the Fiserv Forum would be one of those. Usually, that would be the case, but when the Chicago Bulls (4-7) go and put out the effort they showed on Monday, there isn't much to like about this loss.
Yes, the Bulls did a fabulous job battling back in the second quarter, but that was after they fell behind 35-18 in the first. Giannis Antetokoumpo had his way all game long with a game-high 35 points and 11 rebounds as he continues to have his way with the Bulls. Despite the Bulls doing their best to pull within 43-39 midway through the second, that was the only good that came from this game, as the massive first-quarter lead was all the Bucks would need in their 119-108 win. Take away that first quarter, and the Bulls actually outscored the Bucks the rest of the way, but you can't fall that far behind against a team like Milwaukee and expect to come back.
At some point, you have to look at the Bulls front office and start asking the questions about this roster and what they want to do with it. It may be time to blow things up and start over, but that doesn't appear to be their mindset, as Arturas Karnisovas is still hopeful that Lonzo Ball will return at some point. That doesn't seem likely, and the sooner he realizes that, the better. One thing is clear with this team right now. They don't mix together anymore, and it is starting to look like they are done with Billy Donovan and what he wants to do as a coach.
It has been a while since Nikola Vucevic has been the No. 1 option for anyone, but if you look at the overall consistency with the Bulls this season, he has been the most consistent player all year. Monday not only saw him continue to do his thing, but he was the team's No. 1 option as he picked up 26 points with 12 rebounds while also taking a season-high 24 shots. Having him as your No. 1 option isn't ideal, but it could be worse as he has filled that role before on a terrible Orlando team.
As frustrating as that may be, Vooch wouldn't have to be the No. 1 option if the rest of the Big Three stepped up consistently. Zach Lavine seems disengaged, and even though he dropped 20 points, he only shot 26.7% from the field. Demar DeRozan continues to show that age has caught up to him, as he only took 14 shots and connected on just three of them to finish with 11 points. That isn't an ideal scenario when those are the three guys you are counting on the most, and the Bulls offense suffered because of it.
Coby White continues to be one of the lone bright spots for this team as he continues to look more like a PG by the day. White picked up 16 points but only had two assists as he took on more of a score-first role in this one. Patrick Williams has also started to play much better since moving to the bench and picked up 13 points to lead the way. However, not having Alex Caruso for a second straight night continued to affect this team on both sides of the ball, as the Bulls don't have enough firepower at the moment.
In most cases, the Bucks will win a ton of games when Giannis does what Giannis does. However, the Bucks have a deep roster with more than enough capable scorers. One of those guys continues to haunt the Bulls as Bobby Portis Jr has found his role with the Bucks. A former first-round pick, the Bulls gave up on him far too soon and never put him in a position to succeed. The Bucks have not only given him the perfect role, but he has rewarded them for that and continued that with 19 points off the bench and also pulling down 10 boards.
Getting back to the Bucks starting lineup and they were getting production across the board even if none of them had breakout games. Khris Middleton was very efficient from the field and picked up 13 points, with Damian Lillard adding 12 points on what was an overall rough shooting night. Brook Lopez made it five double-digit scorers for the Bucks with his 11 points as Milwaukee continues to have their way with Chicago, especially at home.
FOURTH QUARTER SURGE PUSHES WINDY CITY PASSED FORT WAYNE
While the Chicago Bulls are struggling to win games, Windy City has gotten off to a good start and picked up their second win of the season to move to 2-1. Even with the Bulls having to play on the road all season thus far, they have bounced back from their season-opening loss and have now won two straight.
Their most recent came on the road Monday night, where the Bulls erased an eight-point fourth-quarter deficit and outscored Fort Wayne 38-25 in the final 12 minutes to pick up the 105-100 comeback win. Quenton Jackson set the tone all night for Windy City, leading the way with 22 points in 36 minutes. He wasn't alone in having a great game as Chris Clemons came off the bench with 20 points in 30 minutes and knocked down five of the Bulls eight triples.
Windy City had three additional starters land in double figures, including Max Heidegger, who continued his strong start to the season with 15 points. Onurlap Bitim and Adama Sonogo added 14 points, with Sonogo adding 11 boards for the massive double-double. Oscar Tshiebwe led the way for the Mad Ants with 15 points and 13 boards.