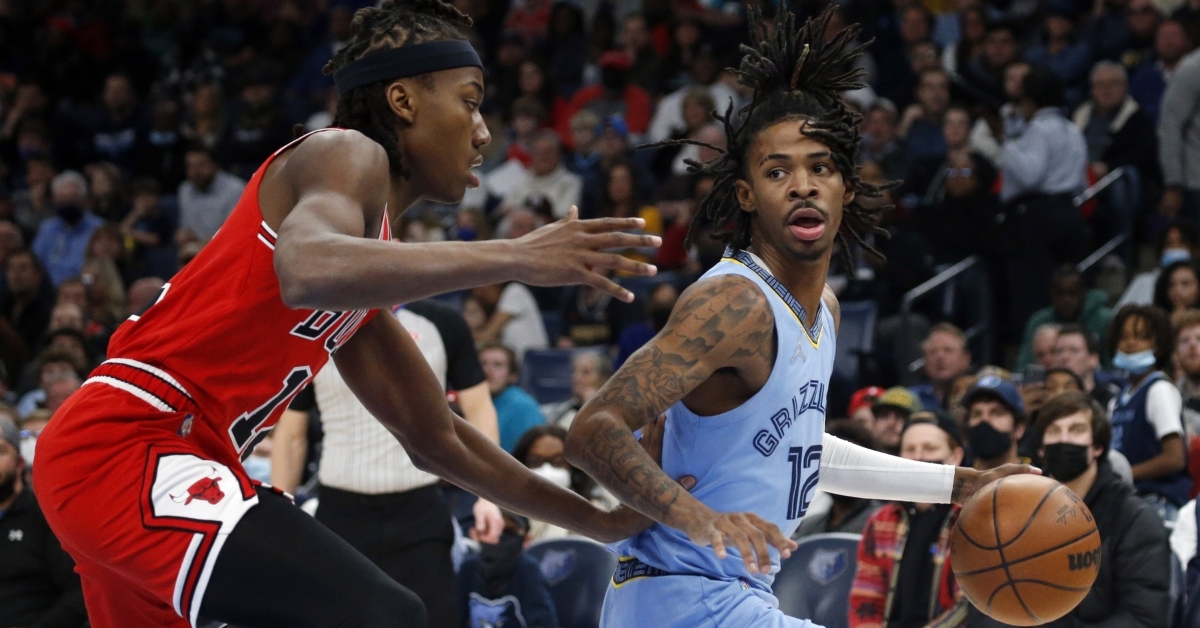 | | |
| --- | --- |
| Bulls searching for answers after loss to Memphis | |
---
| | | |
| --- | --- | --- |
| Tuesday, January 18, 2022, 10:23 AM | | |
MEMPHIS – As part of the NBA tradition of playing basketball on Martin Luther King Day, the Chicago Bulls (27-15) were back in action as they took on the streaking Memphis Grizzlies (31-15). Fresh off an 11-game winning streak that was snapped a few days ago, Memphis has been one of the hottest teams in the league going 22-5 since their 9-10 start and has climbed into third place in the Western Conference.
Not only that, but their 31 wins are good for third in the NBA as this team continues to play great basketball. Hosting a game on Martin Luther King Day for the 19th straight year, the second youngest team in the league continues to impress even without their head coach Taylor Jenkins on the bench. Led by a colossal scoring effort and a 51% shooting performance, the Grizzlies erased a sluggish start to come away with a 119-106 win. The game wasn't even that close as the Bulls made some noise in the fourth, but it was way too little too late.
With Lonzo Ball, Zach Lavine, and Alex Caruso still missing, Chicago remained seven players short heading into this game, with five of those seven players significant contributors. Given that Billy Donovan has had to tweak his lineup a ton over the past two weeks, it shouldn't come as a surprise to see the Bulls going through some struggles at the midway point of the season.
One of the positives to take away from their recent struggles has been different players stepping up, which will bode well when this team gets back to full strength. Coby White continues to play some of the best basketball of his career, as he scored the first eight points for his team and finished with 16 in the game. DeMar DeRozan went through another tough shooting game and still led the way for Chicago with 24 points, while the hometown kid Ayo Dosunmu added 15 points and 10 rebounds in another great effort for him.
With Alfonzo McKinnie and Nikola Vucevic combining for just nine points on terrible shooting performances, the Bulls would need their bench to step up for them to have any shot in this one. The Bulls had significant production from their second unit, with Troy Brown Jr putting home 14 points, Matt Thomas adding a career-high 13 points, and Malcom Hill rounding things out with 12 points as the Bulls had six double-digit scorers.
Usually, when you get that kind of production, you would be talking about a win, but when only one of those guys scores more than 16, wins are hard to come by. It is especially challenging when Ja Morant and Desmond Bane had more than any Bulls player as they led the way with 25 points. Know for his outside touch, Bane put his full arsenal on display while Morant continued to do Morant things.
Jeran Jackson Jr continued his strong run of play with 14 points to cap off the double-digit scoring starters. Like the Bulls, Memphis had plenty of production from their second unit, and that all started with Brandon Clarke, who dropped 15 points and seven rebounds off the bench. Add in 11 points from Tyus Jones and 10 from Deanthony Melton, and the Grizzlies continue to impress as they handled the wounded Bulls in a big way.
Turnovers, turnovers, turnovers
It is hard enough to beat good teams when you are short-handed, but when you make costly mistakes, it becomes a recipe for disaster. Donovan has been saying over the last few games that his team has been making too many mistakes and have gotten into bad habits. Whether that is just a recent trend or the team is forcing things may not be known, but this team is not playing winning basketball.
One of their biggest areas of concern right now is turning over the basketball, and the Bulls did themselves little favors in this one. Not only did they commit nine turnovers in the first quarter, but 18 in the game, which is well above their season average. Those turnovers not only killed possessions, but allowed the Grizzlies to get out in transition, which is something they do exceptionally well.
I can understand having a few games like this here and there, but after four consecutive games with the same results, this has become an issue. Fortunately for Donovan, his team is still in a great position, but they need to figure things out in a hurry before it is too late.
Ja Morant is the real No. 1
When Morant declared for the NBA draft two years ago, it was between him and Zion Williamson, who would be the No. 1 pick. Many people felt that Morant had the most skill of the two, but there wasn't a single GM that was going to pass on Zion at that point in time.
Fast forward to where things are now, and you have Williamson, who can't stay healthy while Morant is playing like an MVP. He has taken the league by storm and has put this Grizzlies team on his back to propel them to their current record. Despite his size, he ranks second in the NBA in points in the paint, as his fearless and tenacious nature is a significant reason why.
He drives the lane, takes the contact, and isn't afraid to make players look silly. Morant has turned back the clock and is a bigger version of Allen Iverson, who took the league by storm in the 1990s. Morant has proven to be the best player in his draft class and will only get better from here on out.
Ja Morant CRAZY 360 Layup vs Tony Bradley + the Chicago Bulls #Grizzlies
pic.twitter.com/LcyIc5rDjL

— NBA Betting Today (@NBAbettingtoday) January 17, 2022
The East suddenly became wide open
10 days ago, the Eastern Conference appeared to be a three-horse race between the Bulls, Nets, and Bucks. With the Bulls struggling over their last few games and now Kevin Durant out with a knee injury, things in the East have gotten interesting as the conference has suddenly become wide open.
As things sit right now, the Bulls remain in first place, but their lead over the Nets has shrunk to just .5 games. Add in a Miami Heat team that was previously on an eight-game winning streak, and they have moved into a tie for second with the Nets and look like a title contender themselves.
To make things even more interesting, the surprising Cleveland Cavaliers have moved into fourth, dropping the Bucks to fifth, with the Sixers coming in sixth. Those top six seeds are separated by three games or less in the standings and still have one-half of the season remaining.
Going a bit further down the list, the Boston Celtics own the final playoff spot and are three games behind the sixth seed and six games out of first. What looked to be a three-horse race not that long ago has suddenly become a wide-open race where it is anyone's conference to have. Things will be interesting over the final three months as there should be plenty of exciting games to go around.