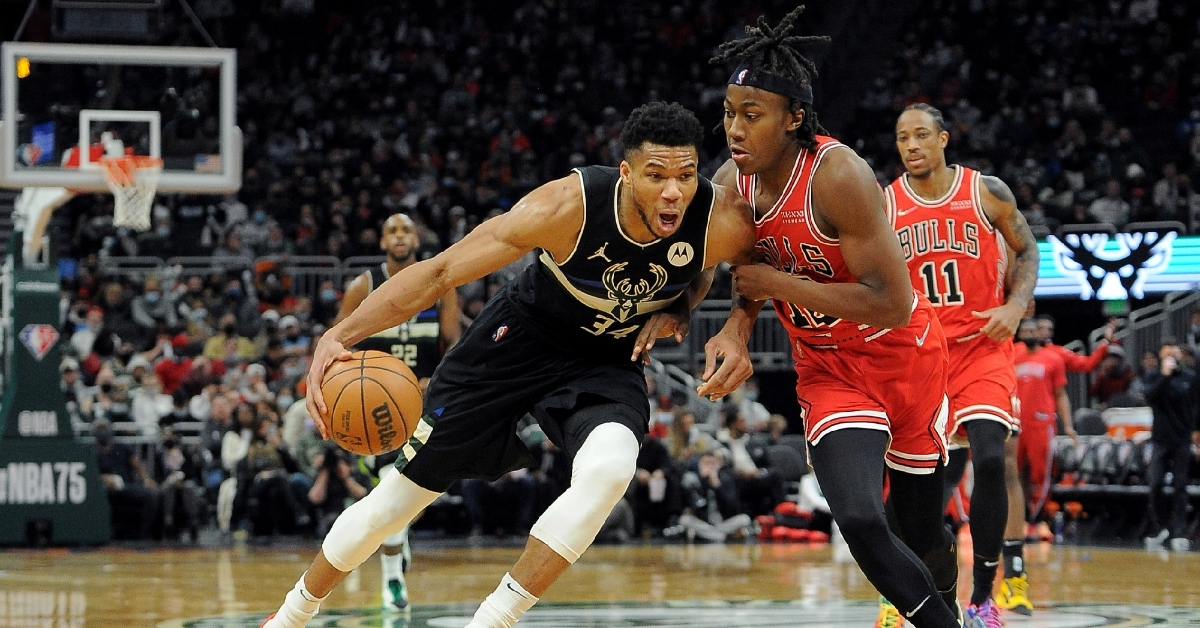 | | |
| --- | --- |
| Bulls shows toughness in loss to defending champs | |
---
| | | |
| --- | --- | --- |
| Saturday, January 22, 2022, 4:32 PM | | |
MILWAUKEE – If you want to be the best, you have to beat the best. That is precisely what the Chicago Bulls (28-16) were up against last night as they took on the defending Champion Milwaukee Bucks (29-19) in their first of four meetings this season. Down players like Lonzo Ball and Zach Lavine, among others, the shorthanded Bulls knew it would be an uphill battle against a Milwaukee team with plenty of talent.
Despite being shorthanded on the floor, you have to give this Bulls team a ton of credit as they never let the Bucks get into a regular groove. Sure, terrible shooting played a part in that, but the Bulls were at a massive disadvantage when it came guarding Giannis, as Chicago has no one close to his overall skillset. For the most part, the Bulls did a great job keeping him in check and managed to keep pace with the Bucks from start to finish.
The largest lead the Bucks had on the evening was a seven-point lead which didn't come until late in the fourth quarter. That late-game surge proved to be the difference as the Bulls could not knock down shots in the closing minutes, falling to Milwaukee 94-90 to fall to second in the East. It wasn't just the Bucks that struggled when it came to shooting, as the Bulls managed to shoot just 36.5% as a team.
DeMar DeRozan was not one of those guys who struggled, as he finished with a game-high 35 points. DeRozan connected on 50% of his shots from the floor, but his 17-18 performance from the free thrown line helped him get most of those points as the Bucks had difficulty stopping him. The Bulls had trouble with offensive consistency outside of him, but Nikola Vucevic had a relatively strong game.
From a shooting side of things, Vucevic shot under 50%, but still chipped in with 19 points to go with 11 rebounds to tally another double-double to his season line. Matt Thomas even provided the Bulls with a spark off the bench, giving the Bulls 11 points and connecting on three of the teams seven triples. Thomas is starting to see an increase in minutes as the Bulls have needed his shot-making ability.
Take away those three, and the Bulls had no one else in the double-figure column, including Coby White, who has been on a tear as of late. Not only did White go 3-15 from the field to finish with seven points, but he went 0-9 from distance as the Bulls couldn't buy a shot from three. That alone was a big problem, but a problem that the Bucks didn't make them pay for as often as you would think.
Milwaukee also had a tough time shooting the ball, as they shot under 39% and well under their season average. Everyone knew Giannis would get his, but at 11-23 from the field, that is a down night for him. He made up for that with a solid free throw showing as he led the way for the Bucks with 30 points to go with 12 boards.
Milwaukee was fortunate enough to get more overall production across the board, with three other players landing in double figures. Kris Middleton had a rough go of things, especially from deep, as he finished with 16 points. Bobby Portis added 12 points to go with his 13 rebounds, while Jrue Holiday came off the bench to drop 13 points in a hard-fought win for the Bucks.
This team has heart
When you look at the injury situation and the overall health of this Bulls team, no one would have been shocked if they were blown out in Milwaukee. Fans saw that during their four-game losing streak, the lack of overall depth outside their top eight guys exposed this team. Matching up with a team that has a monster in Giannis and having a Bulls team with limited frontcourt bodies was a recipe for disaster.
Chicago has been in a difficult stretch over the last two weeks, and the negative results have shown. Instead, give this Bulls team a ton of credit as they didn't go down without a fight. They showed Milwaukee they could hang with anyone, even with Lavine and Ball still out of the lineup. Lavine appears ready to return in about a week, but Ball will be out a while longer.
Fortunately, this team got off to such a hard start that their 1-5 record over their last six games is just a bump in the road. They will get healthier in the coming days and should be at full strength again by March. No one on this team is worried about missing the playoffs, and right now, it is about getting healthy and ready for the stretch run.
Brick City
Not only was Friday a horrible shooting night for both sides, but the three-point line was a house of horrors all night. Milwaukee has been one of the better three-point teams over the past three seasons, but they shot just 19% going 6-31 on the evening. Things were even worse for the Bulls, which was an even bigger surprise.
The Bulls may not shoot a ton of threes compared to other teams, but they are mostly successful when they do. As a team, Chicago shoots 42.7% from beyond the arc, which is No.1 in the NBA in terms of overall three-point percentage. Friday was not kind to the Bulls from behind the arc, and you could argue this was the main reason they lost this game.
Not only did they go 7-38, suitable for 18%, but they missed countless wide-open looks, including several in the final few minutes. To make things worse, there was one point in the game where Chicago missed 18 consecutive threes until Alex Caruso knocked one down. It was the kind of shooting night that teams go through every season, and the Bulls were still close to pulling out a win.
Caruso to have surgery
The injury bug has not been kind to Chicago this season, and during the third quarter last night, it happened again. Caruso has been a massive part of the Bulls success this season, but has missed significant time this season with several injuries. The free-agent pickup recently missed 13 games dealing with a foot injury and being placed in the health and safety protocols.
Now three games back from that time missed, and you can see rust is an issue for him as he is getting acclimated to significant minutes once again. He was one of many players who endured a rough shooting night last night, but still did plenty more on the court to help keep the Bulls close. His comeback came back to a crashing halt in the third quarter when he was involved in a hard foul from Greyson Allen.
Going back to his history at Duke, Allen has been known to be a part of plenty of dirty plays that left him suspended and penalized. Although not as frequent as many thought, that has carried over to the NBA. Last night, Allen went back to his old ways as he was assessed a flagrant two and ejected following his foul on Caruso.
With the Bulls coming away with a steal, Caruso was attacking the rim looking to finish strong for the two. Allen was there and did what he needed to do to prevent the layup. At first, it was your typical hard foul where Allen got the body of Caruso. What happened next was inexcusable as Allen took his right hand and threw Caruso to the ground in midair. That forced Caruso to land on his right wrist and side of his head. The Bulls announced on Saturday that Caruso will undergo surgery on his wrist after the dirty play.