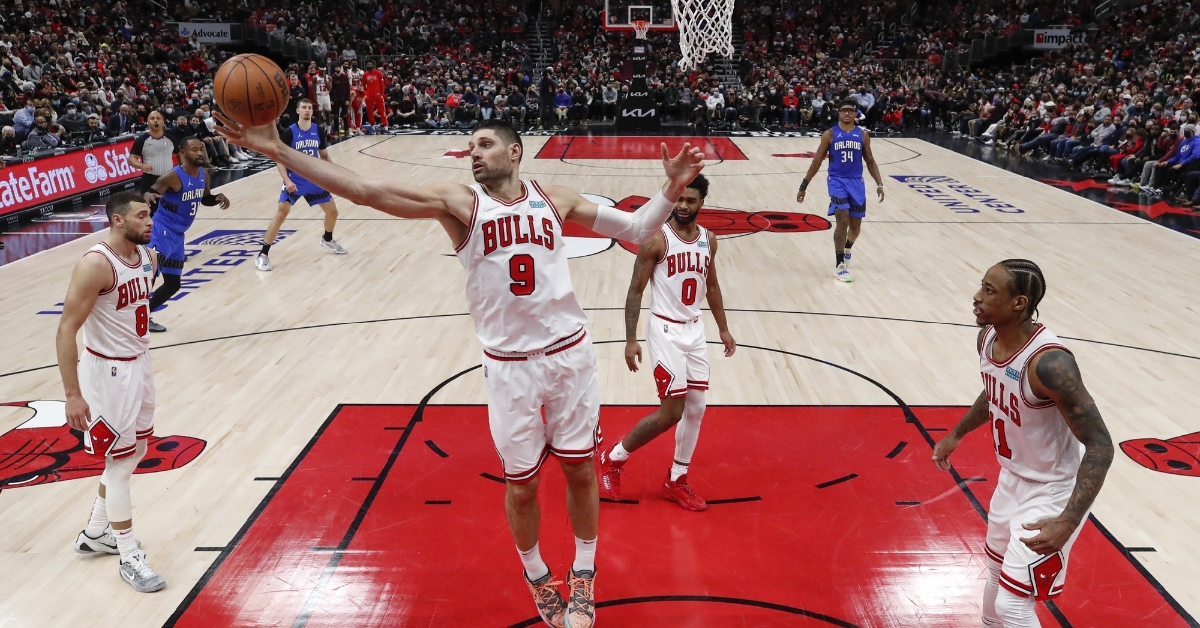 | | |
| --- | --- |
| Bulls topple Magic for eighth straight win, longest winning streak since 2012 | |
---
| | | |
| --- | --- | --- |
| Tuesday, January 4, 2022, 9:55 AM | | |
CHICAGO – Throughout the Chicago Bulls (25-10) winning streak, we have learned a lot about this team. They have won in dramatic fashion not once, but twice in consecutive games. They have won in dominating fashion, and they have won with Chris Fleming stepping in for Billy Donovan while the team continues to work through a short-handed roster.
The bottom line is that this team not only wins, but is winning plenty of games right now, and there is a reason why they have surged into first place in the Eastern Conference. Being a good team comes with its challenges, and the Bulls are starting to find out firsthand what it means to be on top again. Not only is everyone chasing you, but you will get everyone's best shot which was the case with the Orlando Magic (7-31) Monday night.
With one victory over the Magic on Thanksgiving, Chicago overcame a terrible shooting night that saw the Magic lead by six points in the first quarter after scoring just 15 points. Not only that, the Bulls never led by more than 10 points in the contest as Orlando, record aside, continues to play hard and have scored a few huge wins this season.
The German League rookie Franz Wagner was a problem all night for the Bulls, dropping a team-high 22 points. He has proven to be one of the better rookies this season and could be a legitimate starter in the league for years to come. After struggling with the Bulls for three seasons, Chicago elected to trade Wendell Carter Jr to Orlando last season in exchange for Nikola Vucevic.
For whatever reason, Carter Jr. has come into his own with the Magic and has often saved his best games for his former team. Whether it be anger from being traded or something else doesn't matter, but what does matter is that Carter Jr loves playing the Bulls as he put in 21 points to go with 10 rebounds for a strong double-double performance. The Magic also got 19 points from Gary Harris and 15 points off the bench from Terrance Ross as Orlando battled until the final whistle.
Take that first-quarter away, and the Bulls played much better even if Orlando outscored them in two of the four quarters. You can point to the second quarter as the difference in the game when the Bulls outscored the Magic by 11 points to erase a six-point deficit and turn it into a five-point halftime lead. DeMar DeRozan continues to dominate as he has done his last 10 games, putting in a game-high 29 points, including 15 in the first half.
DeRozan had a strange night as he shot the ball well from the field, but shot 50% from the free-throw line despite being in the 80 plus percent range this season. Zach LaVine had a tale of two halves as he finished with 27 points of his own. After scoring just nine points in the first half, LaVine went off for 18 in the second half, including several huge shots in the fourth quarter as those two continue to carry the Bulls offense this season.
After it was revealed that Tyler Cook and Javonte Green would be missing several weeks with a couple of injuries, it was up some other players to step up as the Bulls continue to play short-handed. Coby White is one of those guys who has been stepping up as he moved back to the bench with the return of Lonzo Ball last night. Ball showed visible signs of rust, finishing with just three points on 1-7 shooting, but it was White picking up the slack off the bench.
Coming off three straight huge games in the starting lineup, White erupted for 17 points off the bench last night, including eight points early in the fourth quarter to give the Bulls a much-needed spark. Although a pedestrian 13 point night, Vucevic continues to do his thing adding 17 rebounds for another double-double as the Bulls overcame some sloppy fourth-quarter play to hold off Orlando 102-98 for their eighth straight win.
Milestones continue to be reached
Throughout the first half of the season, the Bulls have been about reaching milestones and last night saw that continue. Already with a seven-game winning streak, the Bulls added to that with another win giving them their longest winning streak in nearly a decade. It was 2012 as the last time this team won this many games, and the NBA is starting to take notice of this team.
With a game against Washington on the horizon this weekend and some winnable games following that, the Bulls are in a position not only to continue winning, but could land their longest winning streak since the MJ days. Even with a loss, no one will panic as this team continues to win games and win games with a short-handed roster.
Welcome back, Ball and Donovan
Chicago has been in a month-long nightmare that has seen virtually everyone on the roster miss time due to COVID. Ball and Billy Donovan were two of the last ones to test positive, leaving Alex Caruso and Patrick Williams as the lone players who have yet to test positive this season.
Ball and Donovan returned from the COVID list last night as the Bulls are continuing to get back to health slowly. Although Ball struggled to shoot last night, he did everything else to help this team win. Give him a few games to get back on track, and once Caruso comes back, this team will be as deep and scary as ever.
Some much-needed rest
It may not be a long break, but the Bulls are getting some much-needed rest following this win. Since returning from the COVID break, the Bulls have been playing either every other day or having back-to-back games as the NBA continues to push through the season despite the COVID outbreaks.
Despite the heavy workload, the Bulls continue to win games, but you are starting to see some fatigue with the team. They are struggling to shoot the ball, have been having some defensive lapses, and are just not playing the dominating basketball they did a week ago. It was bound to happen at some point, but either way, wins are all that matters, and they are winning plenty of games.
With the Wizards next on the docket for Friday, the Bulls will have a few extra days off between games to rest up and heal up. That is not only good for Chicago, but could be a bad thing for the rest of the league as they continue to prove they are the Best in the East for a reason.