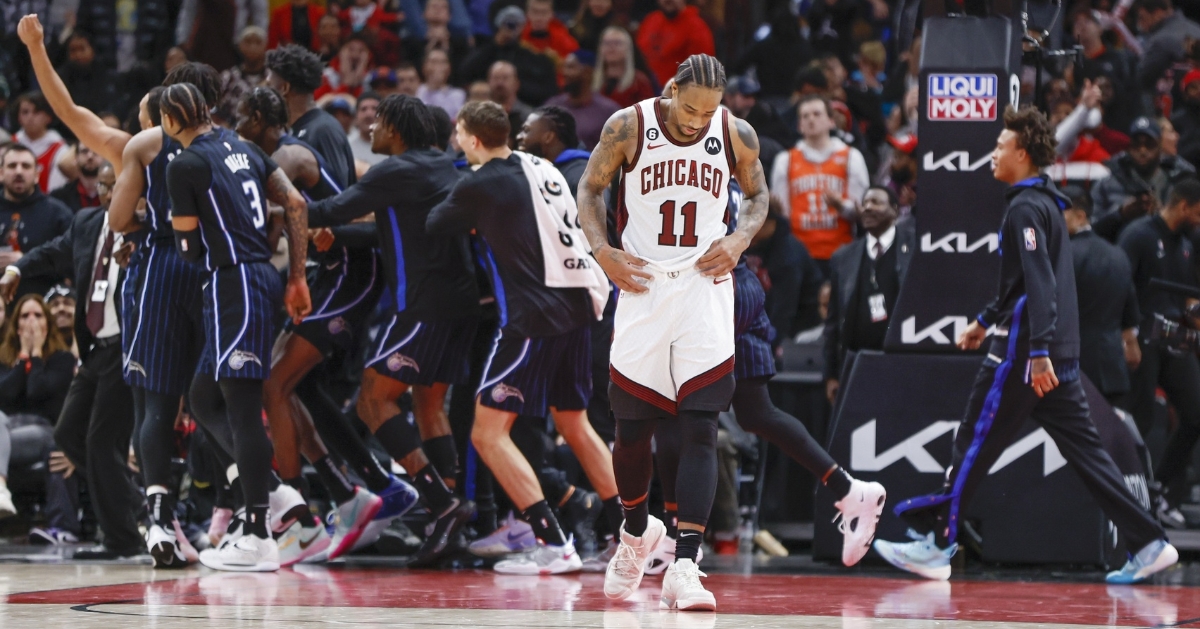 | | |
| --- | --- |
| Frustration sets in after Bulls fourth straight loss | |
---
| | | |
| --- | --- | --- |
| Saturday, November 19, 2022, 10:32 AM | | |
CHICAGO - Although we are only 16 games into the NBA season, there are some serious concerns about the Chicago Bulls (6-10) and their play. Not only is this a team that has lost six of seven, but it has lacked heart in many of their contests, bringing up the question of whether Billy Donovan should remain the coach.
Those questions are asinine, as Donovan is not the one missing shots. He is putting his players out there to get the job done, and right now, the Bulls are not getting their jobs done. Take Friday night, for example, when they welcomed the Orlando Magic (5-11). Not only have the Magic been one of the worst teams in the East, but entering this contest, they were the only team in the league without a road win.
That all changed on Friday as another sluggish start by the Bulls, saw them trailing by double-digits at the half before the Magic stretched their lead to 19 points in the third. Having Zach Lavine shoot 1-14 from the field before getting benched in the fourth didn't help, but it was the right move as the Bulls started to play better after his benching.
"You play a guy like me down the stretch," LaVine said to the media in postgame interviews.
Chicago not only rallied, but they managed to take a two-point lead late in the game as Demar DeRozan and his 41 points carried this offense again. With a chance to ice the game from the line, Nikola Vucevic came up empty on both ends of the double bonus, which led to Jalen Suggs knocking down the game-winning triple to take down the Bulls 108-107.
You just have to win some games, and this was a game you can't lose if you are the Bulls. As mentioned, DeRozan did his best to keep the Bulls afloat, leading all scorers with 41 points. He is the only one playing with consistent heart right now, and he has taken over the leadership role on this team. The Bulls had strong showings from Vucevic (14 points and 16 rebounds) and Ayo Dosunmu (13 points) as they needed to pick up the slack on offense.
For Vucevic, he will be kicking himself this weekend as he had a chance to beat his former team from the line only to come up empty. If there was one positive to take away, you could point to Patrick Williams, who appears to be settling into a nice groove. Granted, the Bulls would love to get more than 12 points out of him, but he added seven rebounds and is playing with more aggression now than when the season started.
Those four had to shoulder the load, given that Lavine had one of his worst performances to date. Not only was he 0-5 from distance, but he went 1-14 from the field to finish with four points. That put Donovan in a position to Bench Lavine late in the game, and clearly, that rubbed Lavine the wrong way. At this point, Lavine has not proven he is worth the max deal the Bulls gave him, and his issues with the benching tonight prove he is not a leader. He needs to grow up and let the coach do his job, as he didn't deserve to see the floor late.
It shouldn't be a surprise that once Lavine hit the bench, the Bulls started to rally, and Javonte Green played a big part in that off the bench. Not only did he shoot a perfect 4-4, but his energy was infectious, and the Bulls fed off that. Chicago also received seven points from Alex Caruso and Andre Drummond, with Coby White returning, but only playing in four minutes.
Unlike the Bulls, who were expected to contend for a playoff spot, Orlando is in the middle of a rebuild, but has a roster filled with young talent. No. 2 overall pick Pablo Banchero is the most notable of those young stars, but he didn't play in this one making their win much more impressive. Orlando took a more balanced approach without him, with former Chicago first-round pick Wendell Carter Jr leading the way.
After being inconsistent at best with Chicago, Carter Jr has emerged as a big-time option for Orlando, making fans wonder if they used him wrong in Chicago. He led all the Orlando scorers with 21 points while hauling in eight rebounds. Orlando had four other players reach double figures, including a pair who hit 20 points in Suggs and Franz Wagner.
Wagner has been one of the more underrated players the last few years and could have easily won rookie of the year last season. Along with Suggs and now Banchero, these three give the Magic a solid core to build around as they look to become relevant in the Eastern Conference.
One thing the Bulls lack is height, and the Magic have that in 7-2 Bol Bol and 7-0 Mo Bamba. Bol continued to thrive in the starting lineup by adding 15 points with 10 rebounds and two blocks. Bamba was rumored to be a trade option for the Bulls this offseason and now has become the sixth man in Orlando as he added 13 points and four rebounds off the bench to pave the way for the win.
With the Bulls continuing to struggle, you have to wonder if Donovan will consider making some lineup changes or perhaps call a few guys up from the G-League to spark this team. Chicago will have an extra day off before taking the Monday against Boston for the third time this season.
Windy City continues scorching play with a win over Sioux Falls
Whatever is in the water for the Windy City Bulls, Chicago needs to drink it, as this team has won four straight to race out to a 5-1 start. Their most recent win came on the front end of a back-to-back with Sioux Falls on Friday, where the Bulls dominated the SkyForce 115-93.
This game was decided in the first and fourth quarters, where the Bulls outscored Sioux Falls 64-40. Take those quarters away, and Windy City was outscored by two, as it does pay to have a big lead early. With Chris Clemons and Kostas Antetokounmpo out of action, the Bulls would be a little short-handed. Don't tell that to them, as they looked as good as they have all season.
Led by Ethan Thompson and his 17 points off the bench, the Bulls were clicking on all cylinders shooting 55% from the field and having seven players land in double figures. Four of those seven came from their starting five, where Henri Drell led the way for the Bulls starters with 16 points.
Dalen Terry continued his strong play since coming to the G-League with 14 points and six assists, with Carlik Jones matching that same line. Malcolm Hill capped off the double-digit scorers for the Bulls starters with 11 points as Marko Simonovic finished with eight. Even though the starting five set the tone, it does help when your bench can score tons of points, and Thompson was not alone.
Filling in for Kostas was Daniel Oturo, as the second-year man put together a solid 14-point six-rebound line. Javon Freeman-Liberty added 12 points of his own as all, but three players scored for Windy City. The Bulls will be back on the floor tomorrow for another matchup with the SkyForce.