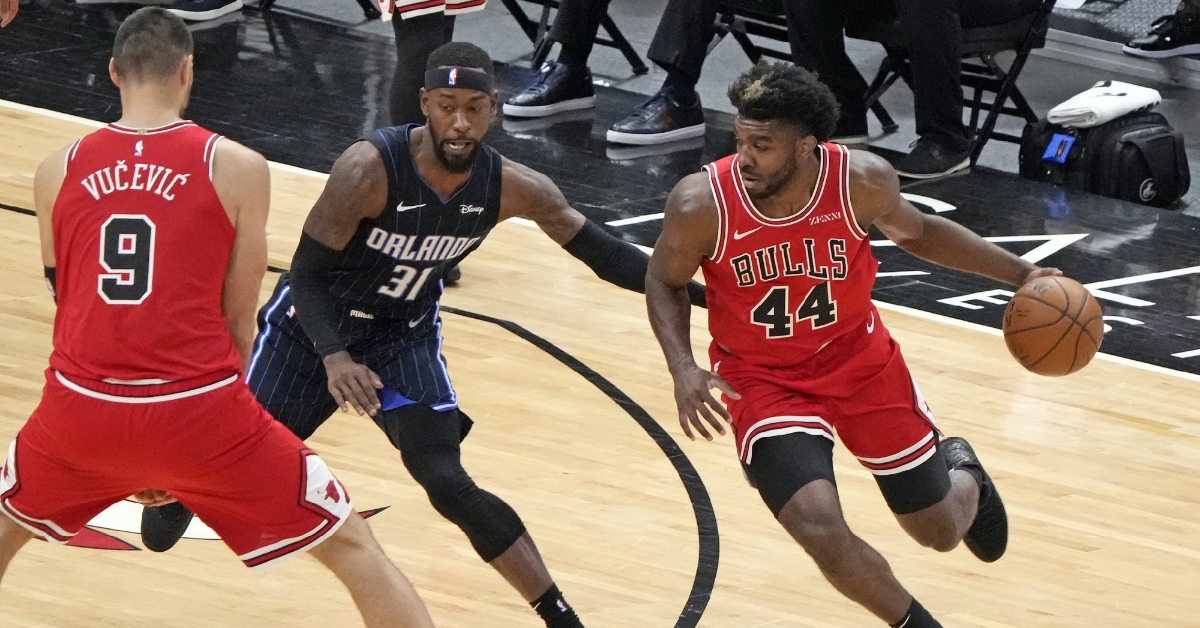 | | |
| --- | --- |
| Takeaways from Bulls loss to Orlando | |
---
| | | |
| --- | --- | --- |
| Thursday, April 15, 2021, 9:07 AM | | |
Will the real Chicago Bulls please stand up? Whoever this team is right now is not the same team that has played most of their games this season. After perhaps exceeding expectations prior to the all-star break, Chicago has not played well the second half of the season.
In fact, they are now eight games under since the all-star break and have fallen to 10 games under .500 for the first time this season. To make matters worse, the deadline moves they made to make this team better haven't done that as they are 3-9 since acquiring those pieces. Even with all those negatives, the Bulls remain in the playoff hunt for the play-in tournament, but they need to start scoreboard watching as their grip is loosening.
With the Orlando Magic coming to town on Thursday, this should have been one of those games where Chicago took care of business for a win. They are the better of the two sides and took Orlando's face of the franchise Nikola Vucevic and brought him to Chicago. Expecting a big game from Vucevic, which he delivered with a 29-point 11 rebound performance, the Bulls had no answers for Orlando as they gave up 115 points yet again.
Even with Zach Lavine posting a game-high 30, the Magic built a 10-point lead before Chicago closed the gap to one point at the half. In the third, Orlando put the game away as they scored 39 points in that quarter while only allowing 19 to mount a 21- point cushion.
Chicago made a valiant effort in the fourth, playing their best quarter, but it wasn't enough as they fall 115-106, and their lead over Toronto for the final playoff spot is down to one.
Where was that Wendell Carter Jr. in Chicago?
When the Bulls drafted Wendell Carter Jr with the seventh overall pick in the 2018 NBA draft, they had visions of him becoming one of the franchise pieces to build around. Small for a Center, Carter Jr was a great defensive player who was a work in progress on the offensive end.
After an injury-riddled first two seasons that appeared to hamper his development, Carter Jr starter to show signs of turning the corner this season until another injury set him back. After returning, Carter Jr put a string of good games together before eventually hitting the bench and falling off. He was then sent to Orlando with Otto Porter Jr at the trade deadline, which is how Vucevic ended up in Chicago.
Since the trade, Carter Jr is starting to live up to the level, he was expected to be at as a fresh start appears to be what he needed. A big reason for that is he is seeing starting time once again, and with a rebuilding roster, he can play his game without repercussions. After dropping 19 points to go with 10 boards in his Chicago homecoming, fans are left shaking their head, wondering where that was in the Windy City.
Maybe it was just a case of him needing a fresh start, or perhaps it was a case of Billy Donovan not giving him enough time to adjust to his style of coaching. Whatever the reason, Carter Jr didn't work out in Chicago and appears to be in a position to be a building block for Orlando. Chicago has Vucevic in return, so all is well that ends well.
Wendell Carter Jr's first 10 games with the Orlando Magic:

14 pts
8.7 reb
2.1 ast
54.5 fg%
59.5 ts%
27.6 mpg

Magic are 10th in paint defense (27th before)
Just getting started ???? pic.twitter.com/88TD29Np2J

— LHG (@BlockedByBamba) April 15, 2021
Time to scoreboard watch
This is something no one thought about a few weeks ago, but the reality is Chicago needs to start scoreboard watching. As they continue to hold on to the final playoff spot in the Eastern Conference, the once seventh-seeded Bulls have fallen to 10th, but it gets worse from there.
Just three weeks ago, they were four games out of the four seed and had a comfortable four-game lead on Toronto. Now, they are six games behind the sixth-seeded team and have seen their lead over Toronto decrease to just one game. Thankfully, Chicago won the season series vs the Raptors, so they do have the tiebreaker, giving them technically a two-game advantage.
The bottom line is this team is not playing well, and they picked the worst time to play their worst ball of the season. Losing to good teams is one thing but losing to both the Timberwolves and Magic, who are two of the worst teams in the league in the same week, is a problem.
Not only does Chicago need to get back on track in the worst way, but they need to start scoreboard watching, too, as Toronto remains very much alive. A team once dead in the water is beginning to get healthy again, which has translated to some late wins. Their matchup in a couple of weeks may have playoff implications regarding who gets that final seed.
Ever since the Bulls traded Jimmy Butler to Minnesota in exchange for Markkanen, his time in Chicago has been met with mixed reviews. The 7-1 stretch forward is a terrific shooter and when on, can give Chicago a great scoring weapon. He was once viewed as the critical building block for this franchise until Zach Lavine was acquired.
Since that time, Markkanen's career has been mixed with inconsistent play and injuries as he hasn't lived up to expectations. In return, the Bulls haven't reached a contract extension leaving his future with this team in doubt. Markkanen has always been someone who can give you 18-20 points a night, but injuries continued to slow him down.
It got so bad last season that he saw a career-worst average for PPG, barely cracking 15 ppg in 2019-20. Fast forward to this season, and once again, another injury settled in, but Markkanen didn't let that stop him. His 19.3 PPG average through the end of February was the highest of his career, and he was starting to look like the player Chicago had hoped he would be.
Still, the organization wasn't sold on him, and when they made the trade for Vucevic, it was clear that Markkanen's time in Chicago was coming to a close. After dangling his name at the deadline and coming up empty, Chicago was faced with the tough decision on what to do with him the remainder of the year.
Writing seems to be on the wall when it comes to Lauri Markkanen, but what the hell do the Bulls do about Coby White? He's a total mess right now and pretty close to unplayable. He's not this bad but it is painful right now with him. Such a bummer.

— Jason Patt (@Bulls_Jay) April 15, 2021
The decision was made to send him to the bench as veteran Thaddeus Young moved to the starting lineup to take his place. At the time, the movie seemed to be a good idea as it made the Bulls a deeper offensive team, but that is not the case. Not only has Markkanen's scoring dropped to 9.7 PPG off the bench, but he is averaging less than 5 PPG over his last five games and has become a non-factor.
For Chicago to get back to winning games, Markkanen needs to get going as he provides them a much-needed scoring lift off the bench. At this point, why not move Young back to the bench and put Markkanen in the starting lineup again. Even though he is practically the same type of player as Vucevic, Markkanen paired with Vucevic could be a great thing for this offense, and at this point, what do you have to lose. Chicago needs to win games, and if they want to win some of these games, he will be a big reason why.