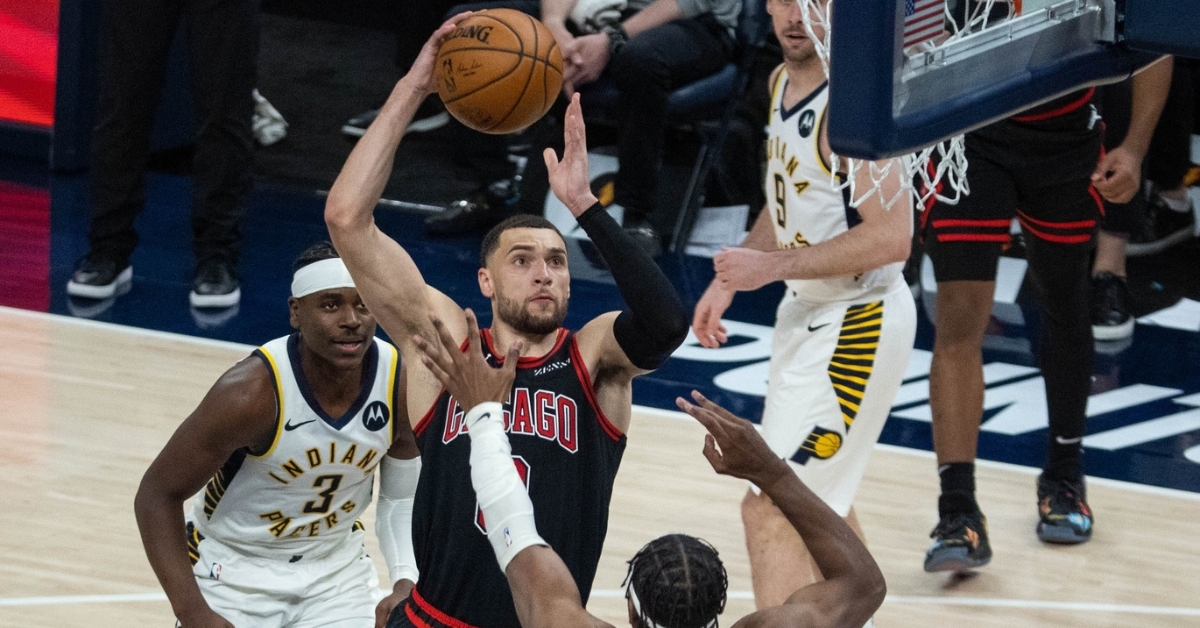 | | |
| --- | --- |
| Three takeaways from Bulls win over Pacers | |
---
| | | |
| --- | --- | --- |
| Wednesday, April 7, 2021, 11:25 AM | | |
After putting an end to a season-long six-game losing streak on Sunday, the Bulls were back at it on Tuesday, taking on the Indiana Pacers. Much like Chicago, Indiana is fighting for a playoff berth and is ahead of Chicago. I guess you could say this was a must-win game for both sides.
Knowing that and knowing that Coby White would be back on the bench for the first time in almost two weeks, Chicago seemed to have some pep in their step as they looked for another win. Led by Nikola Vucevic and his 32-point 17 rebound night, Chicago practically led start to finish as they played by far their best game since the Vucevic trade. All that showed up on the court as Chicago made quick work of Indiana 113-97.
Here is what I took from the game after watching it back:
Vucevic is the real deal
When the Bulls acquired Vucevic in exchange for Otto Porter Jr. and Wendell Carter Jr, they shocked the NBA world. Many people knew it was a great deal for Chicago and felt they might have gotten the best deal of the deadline. Even at that, some fans probably didn't know how good Vucevic was until he finally arrived in Chicago.
Playing with the Orlando Magic his entire career, most fans outside the Florida area didn't get a chance to watch him much unless on the national stage or when he played their favorite team. The bottom line is, he was their leader in Orlando and showed it every night. Not only was he a walking double-double, but he was both their primary and secondary option offensively as everything went through him.
Coming to Chicago, things run through Zach Lavine, but it gave Vucevic a chance to play with another legitimate scorer for the first time in his career. Granted, the team started 0-6 after acquiring him, but he continues to show the type of player he is. Surprisingly, the offense runs more through him than Lavine at this point, and you can see that by the decline in Lavine's overall numbers. Regardless, Vucevic will be here a while, and Chicago has two pieces to build around long-term.
HAVE A NIGHT, VOOCH.

32 pts | 14-29 FG | 4 threes | 17 reb | 5 ast pic.twitter.com/wBZyuX3PYC

— Chicago Bulls (@chicagobulls) April 7, 2021
Defense starting to crank it up
Despite losing six-straight on the road against playoff teams, the Bulls were competitive in nearly every game, especially the final two against Utah and Phoenix. Still, they had nothing to show for it. With another matchup against a playoff team on Sunday, the Bulls took it to East-leading Brooklyn, putting an end to the skid.
That momentum then carried over to Tuesday, where the Bulls made quick work of the Pacers on the road. Not only has their offense started to pick up the slack after a bit of lull, but their defense is starting to crank it up, which couldn't have happened at a better time. Fans know Chicago can score, but their success ultimately falls on the defense.
The better the defense plays, the better the chances of this team winning games. Hopefully, Billy Donovan sees something from the previous two games worth sticking with. If the Bulls continue to get after it like they have the last two games, more wins will come.
Now is the time to make a run
Despite that losing streak that sent the Bulls to a season-low nine games under .500, they are still in the playoff hunt, holding onto the 10th and final seed. Even with the recent struggles, it would take an epic collapse at this point for Chicago to miss the postseason, in my opinion.
Toronto is within striking distance, but they appear cooked at this point, and teams like Washington, Cleveland, Orlando, and Detroit don't have the firepower to match up with Chicago. In other words, all Chicago needs to do at this point is stay ahead of Toronto, and they will be in the postseason.
Why stop there? Why not make a run and see what can happen? Well, if the Bulls are truly set on making the postseason and making some noise, that starts now. Chicago is amid their easiest stretch of games this season, where they could make some headway. With their next seven contests against teams either behind them in the standings or in a similar position, Chicago has a great chance to rip off a nice winning streak.
Not only will that better their playoff chances as they could separate themselves from Toronto, but they could move up the standings also which has benefits. Making the playoffs is one thing, but the seventh seed will play the 8th seed, and the 9th seed will play the 10th seed in a play in tourney after the season. That means there is no guarantee Chicago gets to the big show. With Chicago only three games out of that sixth seed, this could be when they surge in hopes of avoiding the play-in scenario.