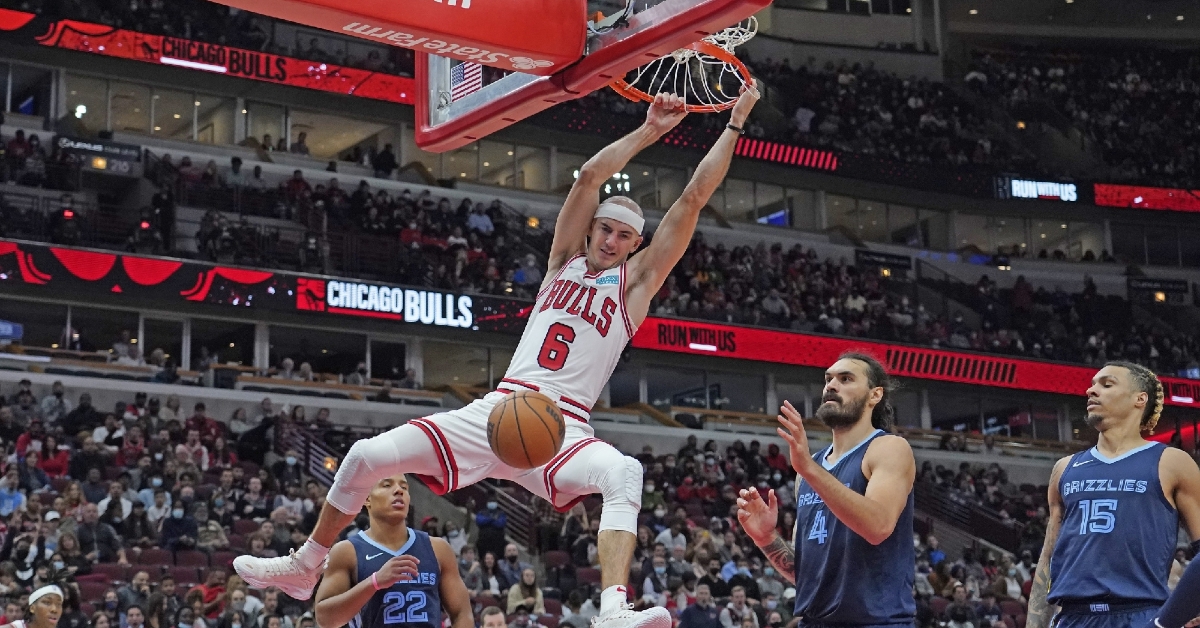 | | |
| --- | --- |
| Bulls finish off perfect preseason with win over Grizzlies | |
---
| | | |
| --- | --- | --- |
| Saturday, October 16, 2021, 10:19 AM | | |
Already with three preseason wins under their belt, the Chicago Bulls looked to close out their preseason slate by topping an ever-improving Memphis Grizzlies team. For the second consecutive game, the Bulls faced an early deficit as their offense took a while to settle in. A big reason for that was the play of Josh Jackson Jr, who led the way for Memphis with 29 points helping get the Grizzlies off to a great start.
Once the second quarter got rolling, the Bulls offense started to find their stride while the defense began to take over. The balanced scoring that has proved beneficial for the Bulls thus far was once again on display, but not as prevalent as before. Chicago had three players, all starters finish with double figures, with DeMar DeRozan, Nikola Vucevic, and Zach LaVine all scoring 19 points or more in the contest.
LaVine once again led all scorers, dropping 31 as he appears poised to have another massive season in Chicago. Holding a slim one-point lead heading into the fourth and final quarter, the Bulls picked a great time to play their best quarter of the night as they began to pull away from Memphis down the stretch. Despite allowing 24 defensively in the fourth, the offense did what they needed to do, scoring 36 points and turning what was a one-point game into a 118-105 Bulls win as they now prep for the regular season.
It wasn't that long ago when the Bulls offense suffered a massive blow as Patrick Williams went down pre-training camp with a high ankle sprain. Deemed a 4-6 week recovery time initially, not only would Williams miss the entire preseason, but many thought he would miss the beginning of the season, which would have been a crushing blow to this lineup.
Well, the Bulls received some excellent news this week as Williams was not only good to go for the regular season, but recovered just in time to play in the team's final preseason game. After showing some flashes of brilliance during his rookie season, Williams went on to have a great summer league and has fans excited to see what he can do on the floor this year. Granted, he was a bit rusty on Friday; it will come with time as the Bulls lineup will be at almost 100% when the season starts as they wait for the return of Coby White.
Vucevic finally comes up huge
When the Bulls acquired Vucevic in the Wendell Carter JR trade last season with the Orlando Magic, the hope was for him and LaVine to create an all-star pairing that could carry this team. Despite LaVine getting a chance to play with an all-star for the first time in his career, it took a while for this team to gel and that ultimately cost them a shot at the postseason.
Now with an entire offseason under their belt and an influx of new talent, the Bulls appear to be one of those teams on the rise, and they will be fun to watch this season. It all starts and stops with LaVine, but Vucevic can take over a game all by himself should LaVine struggle. Known as a walking double-double, Vucevic has struggled a bit this preseason which has been a concern for fans.
Not only has his offense been less than appealing given what he has done for much of his career, but he has been regarded as the worst defensive player on the team, which you wouldn't have guessed based on their performances alone. Looking to end the preseason on a high note, Vucevic finally looked like the player the Bulls traded for last season-saving his best game for last.
His 23 points were second to LaVine, while he added eight rebounds and two assists in a solid overall game. Vucevic was also 11-14 shooting from the field after struggling to find a consistent shot early on. He will be crucial to the Bulls overall success, so to see him have the game he had to close out the preseason is a good sign.
Now things start for real
I understand that the preseason doesn't matter in terms of standings or anything like that, but the Bulls looked good. Not only were they an exciting group to watch offensively, but their defense appears vastly improved, which will go a long way this season.
They have a budding superstar in LaVine leading the way, while annual all-stars Vucevic and DeRozan will provide this team with a scoring punch they haven't seen in forever. Add in Lonzo Ball, Williams, Alex Caruso, etc., and this team is loaded from top to bottom with a chance to surprise and impress this season.
Ultimately, the success of the Bulls falls on Billy Donovan, who is now entering his second season as the team's head coach. Donovan had the team in the playoff hunt all year during his first season, only to come up short by two games at the end. This team is vastly improved compared to that team, and it is up to him to prove why he has been one of the better coaches in the NBA across the past 10 years.