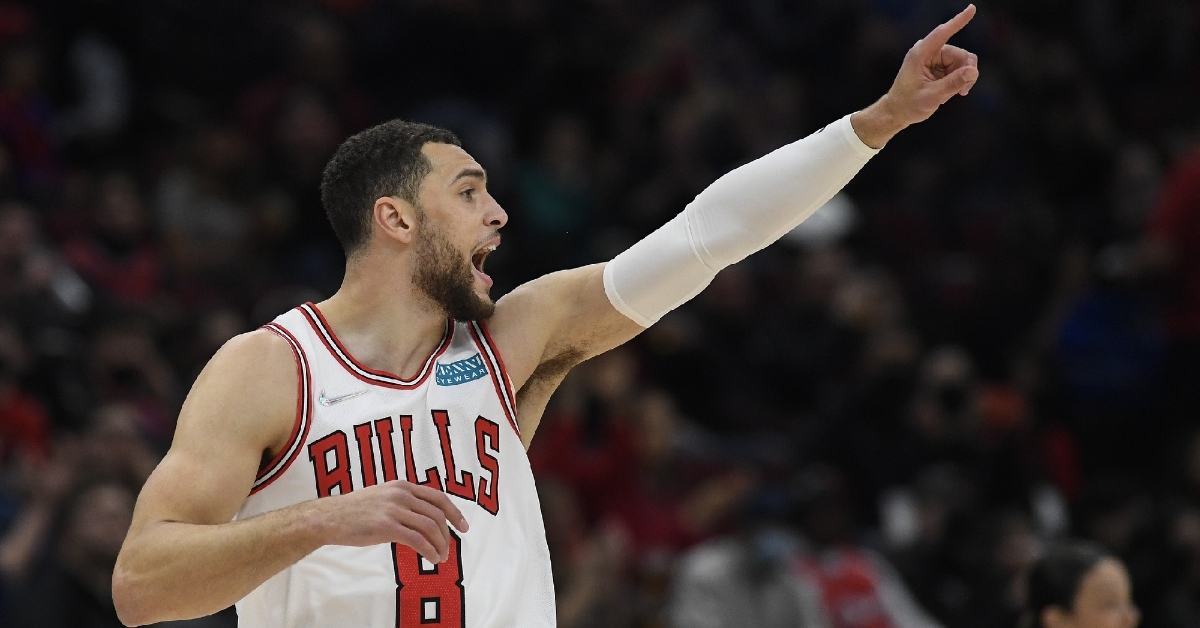 | | |
| --- | --- |
| Bulls reclaim top spot in East with win over Magic | |
---
| | | |
| --- | --- | --- |
| Wednesday, February 2, 2022, 11:07 AM | | |
CHICAGO – Despite the Chicago Bulls (32-18) playing less than .500 ball for the better part of three weeks, all is not over in the world. This team continues to be hampered with injuries, and those injuries came during one of their most difficult stretches of the season. Now that things are lightening up in terms of their opponents, the Bulls are hoping to capitalize and bank as many wins as possible while nursing back to health.
Looking to make it two straight wins, the Bulls welcomed in the Orlando Magic (11-41) for the second time this season and the fourth and final meeting between the teams this season. Despite holding a 2-1 advantage heading into the game, the Magic have given the Bulls problems this season as they have matched up exceptionally well with them in two of those three games.
That was once again the case last night, as the Magic not only held the lead much of the first quarter, but remained within striking distance all game long. Chicago may not have played great, but they did manage to outscore the Magic in all four quarters, and that alone helped the Bulls prevail 124-113 as they moved back into first place in the Eastern Conference.
Their two-headed monster continues to do the most damage for Chicago as DeMar DeRozan, and Zach Lavine combined for 55 points in the winning effort. DeRozan led all scorers with 29 points on 60% shooting, while Lavine added 26 points and went a perfect 8-8 from the free-throw line. The Bulls also had plenty of contributions from the rest of their starting five, as all five starters landed in double figures for Chicago.
Despite going through one of the worst shooting seasons of his career, things are starting to look better for Nikola Vucevic as he looks like the all-star player the Bulls traded for last year. Not only did he add 18 points, but he hauled in 13 rebounds for another double-double as that continues to be his calling card with this team. Ayo Dosunmu continues to fill in for Lonzo Ball admirably as he added 13 points to go with nine assists while Javonte Green dropped 11 points of his own.
Along with nearly 100 points from their starting five, the Bulls added 30 points from their bench, with Coby White and Troy Brown Jr leading the way with nine. Those points from the second unit were much needed as Orlando was more than up for the task of trying to upset the Bulls. As he has done so many times since the trade, Wendell Carter Jr tends to play his best ball against his former team as he led the way with 24 points, eight rebounds, and six assists.
Joining him was rookie Franz Wagner and his 22 points with Cole Anthony dropping 20 to give Orlando three trusted scoring options that kept pace with the Bulls big three. Orlando Gary Harris gave them 13 points off the bench, which was huge, but he was the last of the double-digit scorers as that proved to be the biggest difference in the game.
Back on top
Things haven't been easy for Chicago lately, but give this team a ton of credit for taking those lumps and learning from them. Because of that, this team continues to play exceptionally well as they learn to play without key guys in their lineup. That has forced everyone to step up, and because of that, they are 32-18 on the season and once again sit on top in the Eastern Conference.
With teams like Miami, Brooklyn, and Milwaukee fading in the standings, you have seen Philadelphia, Cleveland, and Chicago start to creep back up. This shows you how deep the East is this season and how fun the final two months of the season will be.
While the Bulls may be the top seed right now, it doesn't mean they will stay there as they have plenty of tough matchups along the way. All fans can hope for at this point is for them to continue playing the way they have while they get healthy so they can come ready to go for the playoff run.
Checking in. pic.twitter.com/XzXIBqgtzS

— Chicago Bulls (@chicagobulls) February 2, 2022
3-1
The Bulls not only took the season series against Orlando, but did so by going 3-1 against them this season. Looking at the records, that is something you would expect, but the Magic has been a tough matchup for Chicago over the last few years.
No one can put their finger on why the Magic give the Bulls fits, so for them to win three of four meetings against this team is always a good thing. The types of matchups the Bulls have had with the Magic are playoff-caliber matchups which they shouldn't be involved with when facing bad teams. However, this will help them once the postseason starts as they will be a battle-tested group.
This team will be tough to defend
Right now, Chicago has three go-to options as DeRozan, Lavine, and Vucevic are their main guys. Add in White and Dosunmu, and Chicago has five legitimate scoring options that can drop 15 plus points on a given night. Most teams don't have in this league, and the Bulls are benefitting from that.
However, keep in mind that this team is still missing Alex Caruso, Ball, and Patrick Williams, who should all be back come March and in time for the playoffs. Should that happen, the Bulls are getting three more players back who can all score in double figures on a given night. That makes eight potential double-digit scorers every game, and there is not another team in this league that can offer that.
Say what you want about the Bulls and their overall depth or lack of depth at certain positions. The bottom line is this team knows how to win and have been winning with what they have to work with. Once this team gets back to full strength, not only are they going to have plenty of scoring options to go around, but the ones who have seen an increase in minutes over the last few months will be ready to take on anything in the final months of the season.