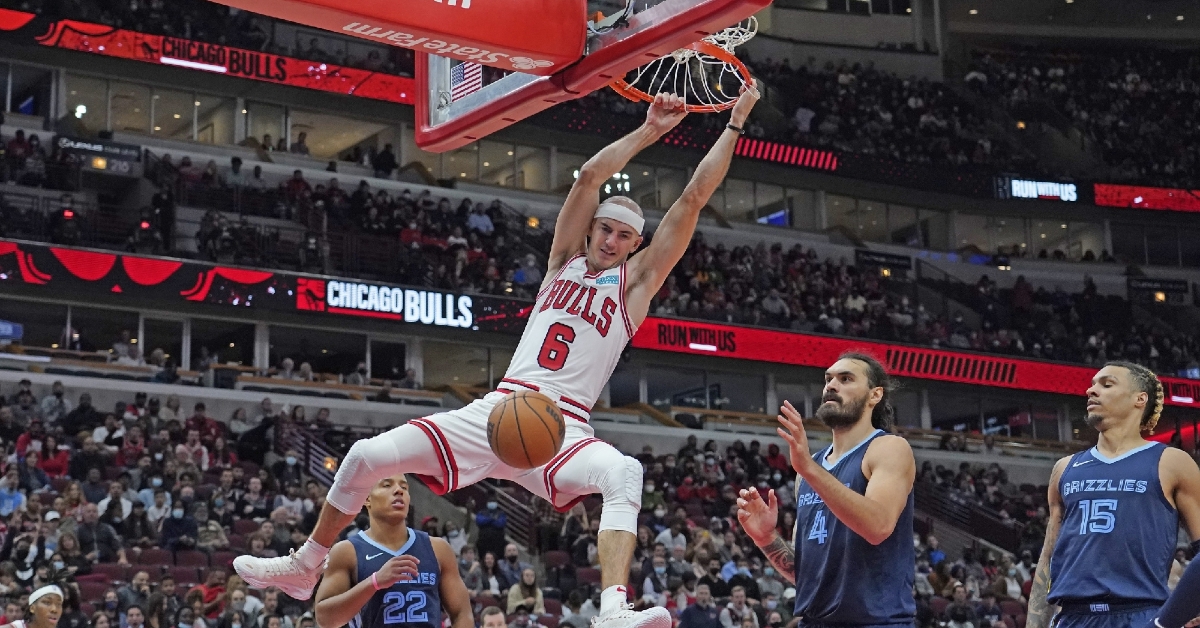 | | |
| --- | --- |
| Bulls News: Season Report Cards: Alex Caruso, Lonzo Ball, Ayo Dosunmu | |
---
| | | |
| --- | --- | --- |
| Wednesday, May 4, 2022, 2:08 PM | | |
Although the season didn't end the way most fans wanted it to end, you still had to enjoy the ride the Bulls sent us on. They improved by nearly 20 games, led the Eastern Conference in January, and did this with an injury-riddled roster that was constructed over the summer.
What comes next is an entirely different question as Arturas Karnisovas has many questions to answer but has a great core to build around. Before we even worry about who comes and who goes, it is time to look back at the season that was and do our annual position by position grades.
We will start with the PG spot and move our way down the roster.
Alex Caruso
Perhaps the most significant offseason pickup was the addition of Alex Caruso via the free-agent market. Signed to a four-year 36 million dollar deal, Caruso came from a Lakers organization where he was seen as a defensive specialist for years.
His fearless tenacity on defense trickled down to the rest of the roster, and based on his play this season; you could see that. Much like a lot of the roster, Caruso was injured for half the season as he played 41 games, 18 of which were starts.
He averaged around 8.0 PPG when in the lineup, but it is what he did on defense, ranking near the top of the league in steals. He brought a fearless approach that showed toughness on the roster, which this team lacked at times. He will be one of the MVPs of this team next year.
Season Grade B+: Fans loved what Caruso brought to the table this season, apart from one thing. His overall lack of offense. No one was expecting him to come in and be an elite scorer by any means, but I think most expected him to shoot better and average more points.
If that comes next year, you are looking at a far more diverse player who can do a ton more for this team. His value to this team is unrecognized, and there is no replacing the things he does that do not show up in the box score.
Perhaps the most overlooked move this offseason was the Bulls finding a way to bring Ball in via sign and trade. There was a lot of drama surrounding that pickup as the Bulls were investigated for tampering, but nothing came from it.
Not only did the Bulls get Ball for a four-year deal, but they sent Tomas Satoransky and Garrett Temple to New Orleans in exchange for him. All Ball did in his first season was exceed expectations by playing elite defense and lighting things up from three-point land.
Across his 35 games, Ball averaged 13.0 PPG, 5.4 RBG, and 5.1 APG. He also shot a career-best 41% from three-point range as he helped the Bulls race out to the best record in the East. Once he tore his MCL, the team began to go south, and Ball's absence was even more prevalent in the postseason. He has a lot to live up to in year two, but things are looking better next year.
Season Grade A Ball was much better than advertised, especially when it came to shooting. That was always his knock going back to Los Angeles and New Orleans, but for whatever reason, his shooting was not an issue this season. Give him a ton of credit for the work he put in to improve that shooting.
His defense is what is often overlooked, and that was on display come the postseason. Hopefully, he can get back to 100% for next season because the Bulls are at their best when he is on the floor.
Ayo Dosunmu
Perhaps the biggest steal of the NBA draft came in the second round when Ayo Dosunmu fell into the Bulls' lap. After the Bulls drafted him, all he did was live up to the billing of a top 15 player and ranked near the top in many rookie statistics.
Not only did he play in 77 games, but he was the primary ball-handler after Ball went down as he recorded 40 starts. As a starter, Dosunmu averaged 10.7 PPG, but finished with 8.8 PPG for the year. He also added 3.0 RPG and 3.0 APG to go to his line while playing exceptional defense.
One thing Dosunmu did that no one way gave him enough credit for was his outstanding shooting from both behind the arc and in the paint. He not only got better as the season went on, but will be someone to watch going forward.
Season Grade B: I like what Dosunmu brought to the table this past season, and I think he fits in well for the future. The only question is, what will his role be? He has shown he can start, play the sixth-man role, and demonstrate the ability to fill any position Donovan asks him to play. That is one thing that Donovan loves about him, and look for those roles to be increased and more defined next year.