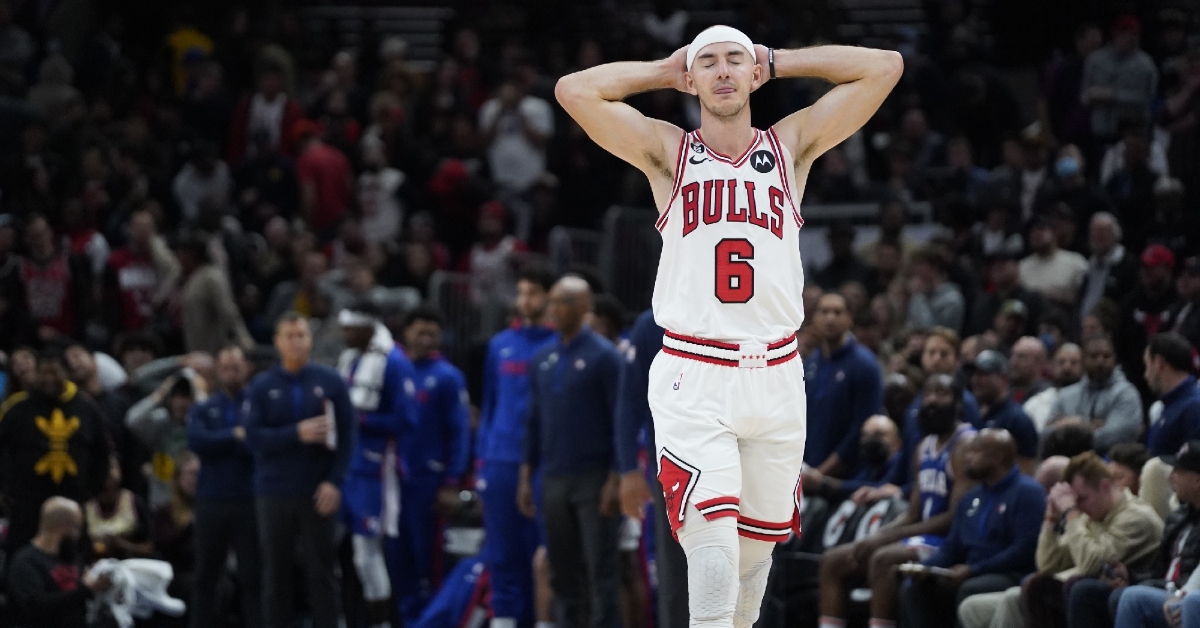 | | |
| --- | --- |
| Short-handed Bulls come up empty against 76ers | |
---
CHICAGO - Remember way back when the Chicago Bulls (3-4) were sitting at 38-21 and had the best record in the Eastern Conference last season. That seems like eons ago as a rash of second half injuries saw this team fall to the No. 6 seed. Here we are, just seven games into a new season, and once again, the Bulls are dealing with injury issues of their own.
Not only is Lonzo Ball still out, but Zach Lavine is on a restricted games list early on as they try and preserve him from reinjuring his knee. Add in Andre Drummond and Ayo Dusunmu to the injured list before the game against the Philadelphia Sixers (3-4), and things were not looking good for Chicago.
The Sixers already pose an issue when the Bulls are healthy, as they swept Chicago a season ago and have given the Bulls plenty of fits the last few seasons. Shorthanded or not, the Bulls hung right with the Sixers, only to come up short 114-109.
With more players landing on the injured list, the Bulls were going to have to rely on their big three if they wanted a chance to win. Not only did they deliver, but they combined to score nearly 70 points, the three of them with DeMar DeRozan leading the way with 24 points. Unless you watched this game, many would think it was a quiet 24-point effort.
It was far from quiet as DeRozan just goes about his business in a professional manner. Back in the starting lineup after missing the game on Friday was Lavine, who overcame a bit of a rough shooting night to finish with 20 points. Lavine has looked good for the most part this season, but you can tell he is not 100% quite yet.
Until that happens, Nikola Vucevic is going to play a pivotal role and was once again putting together a strong showing. Not only did he drop 23 points, but he went toe-toe with Joel Embied to come away with 19 points and another massive double-double. That was it in terms of double-digit scorers as Patrick Williams, Alex Caruso and Javonte Green all came close and nine points across the board before falling by five.
When it comes to the Sixers, they got off to a hideous start, but have suddenly won three of their last four to settle in. A big reason for that is the emergence of Embiid once again after he played like an MVP last season. Although his PPG average is slightly down right now, he did walk away with a game-high 25 points while also adding seven rebounds.
Joining him was a plethora of scoring options, including five more that landed in double figures. As expected, James Harden was one of those four as he continues to give Philadelphia a nice inside-out combo with Embiid. Despite enduring a horrendous 2-13 shooting night, Harden went a perfect 11-11 at the line to come away with 15 points.
He was joined by Georges Niang, who led the way for the Sixers' bench unit with 15 points and did a great job helping the Sixers take the Bulls' best shots. Tyrese Maxey and Tobias Harris got in on the fun as they finished with 14 points and 13 points to give the Sixers four starters with double-figures. Deanthony Melton picked up 10 off the bench to cap off the double-digit performers as the Sixers remained hot and got the best of the Bulls again.
Although the Bulls fell back under .500, you had to like the way they played, especially with some key guys out of the lineup. That will only bode well for the rest of the season as they are showing the rest of the league that they are in a better position this season than they were last season.

Upgrade Your Account
Unlock premium boards and exclusive features (e.g. ad-free) by upgrading your account today.
Upgrade Now