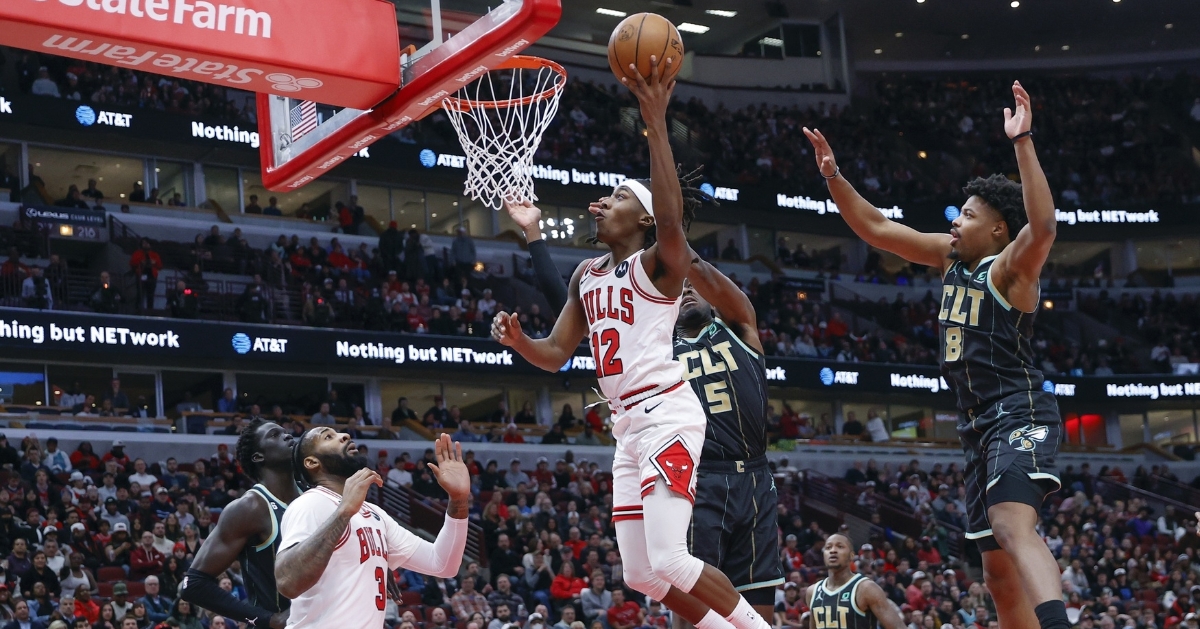 | | |
| --- | --- |
| Bulls re-sign Ayo Dosunmo to $21 million deal | |
---
Well, wasn't this a nice twist in events? After reports were surrounding the NBA that third-year guard and Chicago Native Ayo Dosunmu and the Bulls were parting ways, the team announced Friday that Dosnumu will return to the organization. In fact, he is coming back on a fairly lucrative deal as the Bulls and Dosunmu have agreed to a three-year 21 miller dollar contract.
Not bad for a second-rounder that had to earn his way onto this roster and has continued to develop over the past two seasons. Given that Lonzo Ball will be out another season, this deal had to get done, as the Bulls have now given themselves some much-needed PG depth for the season.
The move puts the Bulls just three million dollars under the Luxury tax and has 13 of their 15 contracts filled. That leaves them enough to sign or two players to veteran minimum deals or the potential to surpass the luxury tax, which most fans don't expect to happen. Not only is this signing huge for the Bulls, but it is a tough blow for the Raptors, who were reportedly in on Dosunmu most of the offseason.
Bringing back the 23-year-old Dosunmu is a decent move, but an excellent one for this organization. Through two seasons, Dosunmu has bounced between starter and bench player and has shown he can handle both spots equally well. He also emerged as a legitimate defender during his rookie season, although he did take some steps backward in that department last season.
Out of a possible 164 regular season games, Dosunmu has played in 157 of those, with 83 coming as starts. He is reliable and knows his role on the team, so the Bulls have given him some financial security to keep him in the Windy City a bit longer. Dosunmu is not going to be an elite scorer, although he has shown the ability to score from time to time.
Throughout his first two seasons, Dosnumu has averaged around 9 PPG while pulling down 3 RPG and averaging close to 4 APG. He did all that while playing stellar defense and shooting close to 37% from beyond the arc, which was a pleasant surprise. The big question now is where does he fit in with this team, not that Coby White is also back.
You would think one of those two will start at the PG spot unless the Bulls want to go with Alex Caruso there and bring White and Dosunmu off the bench. With Jevon Carter and Torrey Craig coming to Chicago via free agency, the Bulls have a nine-man rotation, and Dosunmu makes it 10. However, he could be on the outside looking at times, which makes the length of this deal a bit surprising.
The good news for Dosunmu is that his experience playing alongside the Big 3 could prove to be a real tool in earning him playing time. He has been in this system for three seasons and knows what it takes to succeed. Additionally, Ayo has shown versatility by playing either of the G positions while using his length to help him guard some of the better wing players in this league.
If he can find a way to improve off the ball and begin to hit his catch-and-shoot looks consistently, securing the kind of playing time he's become used to seeing should be easier. That is what he has been working on this offseason, and if the reports out of Chicago are accurate, then Dosunmu looks excellent right now.
The next domino to fall sits on Carlik Jones as he remains un-signed. Jones the G-League MVP a season ago and cracked the Bulls rotation a few times late in the year. Should they not bring him back, the Bulls will have 3.5 million dollars to play with to fill two roster spots but look for them to pass the Luxury tax if that happens.