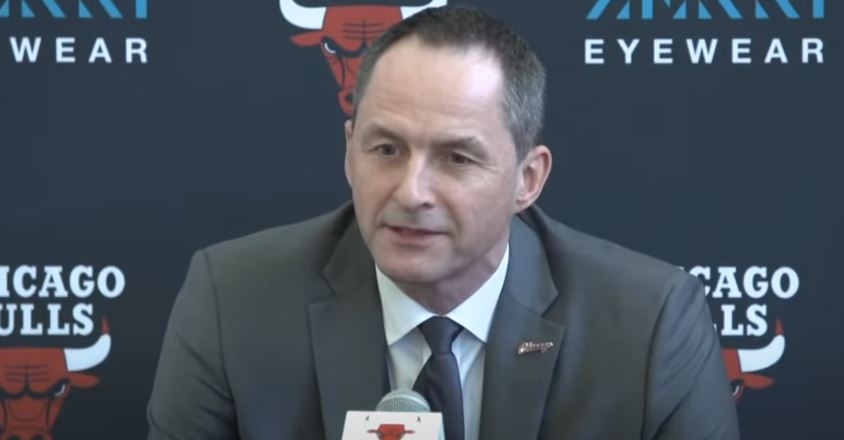 | | |
| --- | --- |
| Continuity the Word of the Bulls offseason | |
---
| | | |
| --- | --- | --- |
| Tuesday, May 3, 2022, 8:20 AM | | |
In just two years, Chicago Bulls President Arturas Karnisovas has taken this team from one of the worst in the East to a playoff team. Granted, there is still a lot of work that needs to be done. The effort the front office put forth the last offseason shows you they want to win and want to win now.
For the first time in years, this roster has all the pieces to do great things, as most of these players will be back next season. Lonzo Ball was signed via a sign and trade to a four-year deal. DeMar DeRozan, same thing except for a three-year deal. Nikola Vucevic has one year left, Patrick Williams and Coby White still are on their rookie deals, with Alex Caruso having three years left.
Apart from Zach Lavine entering free agency and looking for a Supermax, the Bulls entire roster could be back as they proved they know how to play together. Had it not been for the injuries this team went through last season, there is no telling how well this team would have done.
They were the No.1 seed in the East with a 38-20 record until injuries to Ball and Caruso sent this team into a terrible downward spiral. Still, at 46-36, which was good enough for the No. 6 seed, the Bulls have to like how things went this season, but know more work needs to happen.
If it was up to the Bulls roster, it sounds like everyone agrees that they would run it back next season. When you listen to Ball, DeRozan, Caruso, and Vucevic during their end-of-the-year exit interviews, one word constantly surfaced: what they want this team to do. That word is CONTINUITY. The Bulls want most, if not this whole roster intact next season to see what they can do when fully healthy.
Fans saw their potential at 38-20, they saw how Lavine and DeRozan could co-exist, and they saw how Billy Donovan was able to turn this franchise around in just two years. The current roster and how it was constructed was built from the ground up last season. Add in how injury-plagued they were this year, and no one will ever know how good this team could have been.
There is no question that the number of games missed by crucial players hindered the continuity of this team, especially during their playoff push which is why most of the players want another crack with this roster. While the players may want to run things back, it ultimately comes down to Karnisovas and company if they feel the best option is to run it back.
From all accounts so far, and this is going back to when Karnisovas addressed the media following the Bulls elimination, he seems like he will do what he needs to do to keep this group together. However, he also said that plans do change in the NBA, which leads many to believe that the plan could be Lavine and his pending free agency.
"My expectations are those. But, again, we've always been ready for what comes our way. Hopefully, we can keep the core together. And, like you said, work around the margins … We will look in free agency to see what else we need and where we need to add. We're going to be in the draft at 18. We still have Portland's pick. We have a couple of assets, and we'll see what happens."
That is only part of Karnisovas's end-of-the-year presser, so fans should be confident in him to fix this team to the best of his abilities. After all, two years into the job, he has worked wonders with this team, and it is time we give him 100% trust in his abilities to build a consistent winner.
The Bulls may be in a challenging position financially wise, especially when you look at bringing Lavine back. However, that doesn't mean Karnisovas will not do what he needs to do to keep the band together. This is a roster loaded with talent, loaded with scoring, and has shown the ability to win games at a high level. Now it comes down to health and, most importantly, the continuity of the chemistry built from the top down.
This will be an exciting offseason for Chicago, but expect it to be as exciting as last year as this team is close to championship contention.