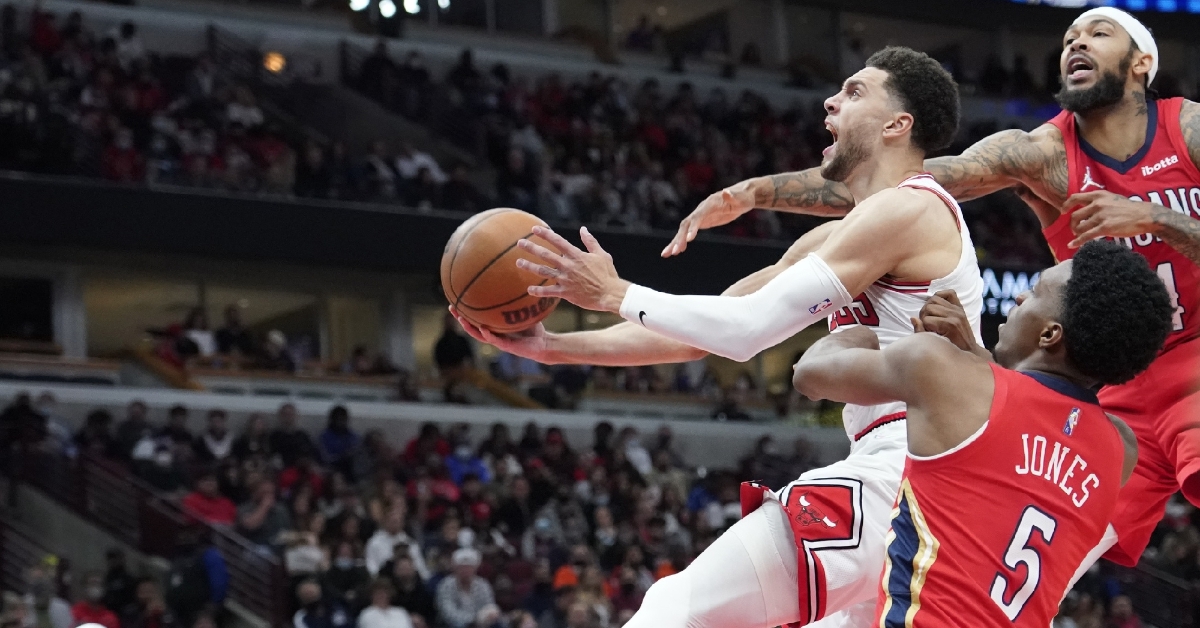 | | |
| --- | --- |
| Bulls News: Zach LaVine scores 32, Ball with triple-double in win over Pelicans | |
---
| | | |
| --- | --- | --- |
| Saturday, October 23, 2021, 8:16 AM | | |
CHICAGO – The Bulls couldn't have asked for a better start to their 2021-22 NBA season as they still haven't lost a game. Going back to the preseason in which Chicago was a perfect 4-0, the Bulls (2-0) continue to go about their business as they open the regular season up with a pair of wins.
Unlike their first game that saw the Bulls struggle offensively all game long, the offense set the tone early and was something that fans have been accustomed to for the better part of the preseason. Led by a 65 point first half, the Bulls built a massive lead before cruising to the 128-112 win over the New Orleans Pelicans (0-2).
With Zion Williamson still nursing an injury and expected to miss a few more games, this Pelicans team looks drastically different as Brandon Ingram will be their go-to option. That was the case in this one as he came away with a team-high 26 points adding eight rebounds and eight assists for a near triple-double performance.
Devonte Graham chipped in with a solid night of his own as he complimented Ingram with 21 points helping the Pelicans offense put up 112 points against an excellent Bulls defense. Two more players landed in double figures for the Pelicans, with Nickeil Alexander-Walker adding 15 and Jonas Valanciunas picking up 18 points to go with eight rebounds. Tomas Satoransky and Garrett Temple returned to Chicago, combining for 10 points off the bench.
It was once again the Zach LaVine show for the Bulls as he followed up his 34 point season-opening performance with 32 more in this one. Should he continue to score like this all season long, Chicago will be very tough to beat as he looks effortless on the field. With Nikola Vucevic and Patrick Williams struggling to score, DeMar DeRozan picked up the slack, putting in 26 points of his own. Those are the kind of games he is capable of and ones the Bulls are hoping to get out of him way more frequently.
The story of the night was Lonzo Ball, who did exactly what the Bulls are paying him to do. Not only did he dish out the rock, recording 10 assists, but he added 17 points himself as his scoring ability continues to improve. Throw in 10 rebounds, and the Bulls got a triple-double from a point guard who seemed to get run out of town by the end of things in New Orleans.
Lonzo Ball's revenge game
Ball has been a polarizing figure since getting drafted by the Los Angeles Lakers five years ago. A big reason for that was his dad LaVar stealing the spotlight with Idiotic comments across all the sports networks. Eventually, Ball was traded to New Orleans, where his overall game started to reach the next level.
Despite getting better every season, New Orleans didn't seem to have his back as much as he had theirs, which allowed him to seek out a trade this past offseason. Knowing the Bulls needed PG help, they gave the Pelicans an offer they couldn't refuse, which resulted in a sign and trade for PG.
With the Bulls for the next four years, Ball faced off against his former team for the first time since the trade and used this as a revenge game. Not only was he impressive, but he flashed every bit of his arsenal in this one, keeping the Pelicans guessing from start to finish. He is the engine that makes the Bulls tick, and that continues to be huge.
Triple-double for @ZO2_ to lift the @chicagobulls to 2-0!

?? 17 PTS
?? 10 REB
?? 10 AST
?? 3 STL pic.twitter.com/6t69TzvL8c

— NBA (@NBA) October 23, 2021
Lonzo Ball on playing in front of the Chicago fans for the first time:

"The energy was great from start to finish, and it translated into how we played tonight.....playing in front of the fans, the energy here was amazing." pic.twitter.com/Teymr26Jl6

— Chicago Bulls (@chicagobulls) October 23, 2021
Shaking off the rust
Coming off an up and down rookie season, the second Year pro-Patrick Williams headed to Las Vegas this summer to perfect his game in the summer league. While there, he was not only the best player on the Bulls roster, but quite possibly the best player in all the summer league.
In his three games over the summer, Williams was a monster, flashing plenty of pure athleticism mixed with an aggressive nature that lacked during his rookie year. Hoping to get this side of him during the regular season, Williams injured his ankle before training camp and played in just one preseason game because of it.
Now back in the starting lineup, Williams is a bit rusty as he went nearly a month without basketball activities. Keep in mind that he was coming off a one-week stretch in Vegas where he looked like a superstar, so you begin to wonder if the injury affected him mentally. The aggressive nature that he showed in Vegas isn't there right now. I think this is a classic case of shaking off the rust, and he should be back to form soon.
This is not last year
You heard LaVine say this following the teams win against Detroit early this week, and we will repeat it. This is Not Last Year. It doesn't matter what the media thinks about the Bulls, as most of them still believe they are a year away, but the confidence within this organization is real, and the players are beginning to show it on the court.
Not only is this the best offensive team this organization has seen since the Michael Jordan and Scottie Pippen era, but their defense is vastly improved after going through a roster turnover this offseason. Add in a second-year coach who has done nothing but win in his seven years in the league, and it is a recipe for success.
Through two games, the Bulls have not only proven they can win in a variety of ways, but have proven they can win games both ugly and impressively. No one is expecting this team to play flawless basketball this season, but they are able to cover up their flaws much easier this season than in the past. We are only two games into this season, but buckle up, Bulls fans, this is going to be fun.
"We just got a totally different energy with this team."

Zach LaVine speaks postgame: pic.twitter.com/xqsT3I7Gfk

— Chicago Bulls (@chicagobulls) October 23, 2021