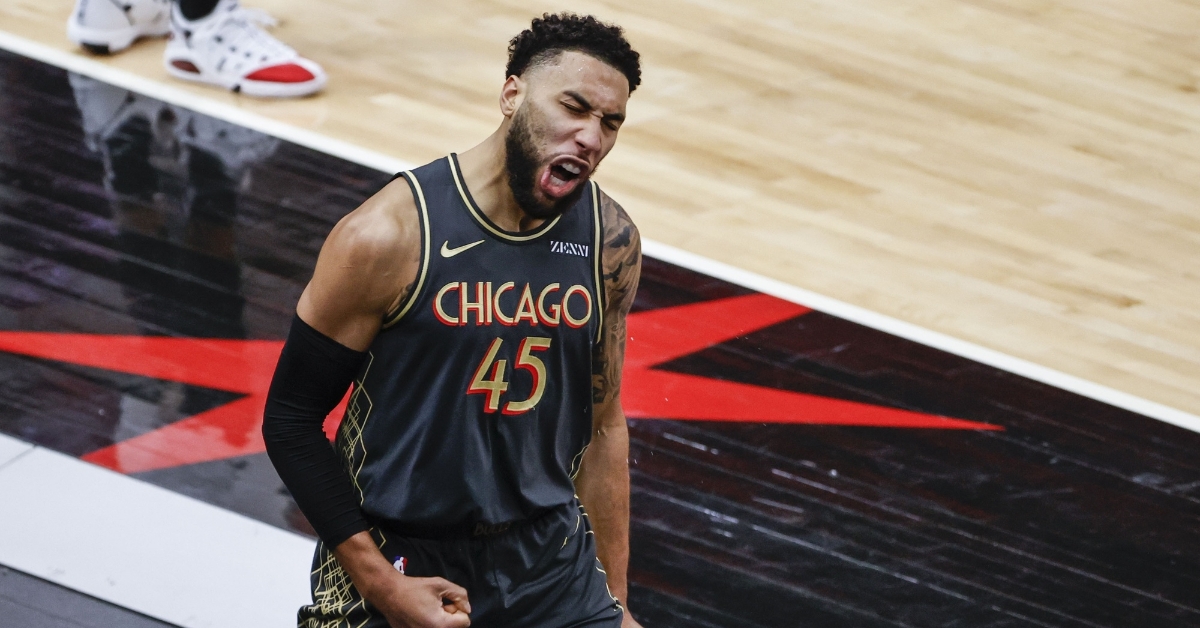 | | |
| --- | --- |
| Three takeaways from Bulls win over Raptors | |
---
| | | |
| --- | --- | --- |
| Monday, March 15, 2021, 9:46 AM | | |
The second half of the Bulls season has not gotten off to a great start, and Billy Donovan has been feeling the pressure. Entering Sunday's contest against the Toronto Raptors with a 16-20 record, Chicago has fallen out of playoff contention as they occupied the 11th spot in the Eastern Conference, a half-game behind Toronto.
To hopefully jumpstart the team, Donovan made a pair of substantial roster moves as Tomas Satoransky and Thaddeus Young were added to the starting lineup sending both Coby White and Wendell Carter Jr to the bench.
That decision appeared to be the right move for now as all five starters for Chicago finished in double figures, with Patrick Williams leading the way with 23.
Patrick Williams scored a new career-high in the win!

23 points | 9-of-14 FG | 6 rebs | 4 asts pic.twitter.com/j8I1xgyOQo

— Chicago Bulls (@chicagobulls) March 15, 2021
In total, Chicago had nine players score in the contest, all in double figures as the Bulls made quick work of the shorthanded Raptors 118-95.
Typically, when Zach Lavine struggles, the offense struggles but, on this night, it was all about balanced scoring as Chicago showed how lethal they could be with everyone involved. Lauri Markkanen scored the games first four points before the rest of the team got involved helping Chicago hold tough early. With Markkanen pacing the Bulls offense, Kyle Lowry took control for the Raptors as he teamed up with Norman Powell to erase an early deficit and give the Raptors a 14-10 lead.
With Satoransky and Young both taking on starting roles, the duo didn't disappoint in the first quarter as they proved they can handle an increase in minutes to help the Bulls take a 28-22 lead after one. The decision to bench White wasn't because of his play on the court but because of his poor decision-making lately. He has also been inconsistent when it comes to shooting, so Donovan is hoping that he can get back into a groove by taking the pressure off him.
He started to do just that to close out the first quarter and open the second as he could become a valuable weapon off the bench for this team. Add in some more buckets from Markkanen and Williams, and the Bulls was feeling it early, building a 44-34 lead. Had it not been for Lowry and Powell in the first half, Toronto would have been run out of the building. Those two alone helped keep the Raptors in it, but the Bulls held the 58-49 halftime lead.
Hoping to continue their strong performance, Williams went to work early for Chicago, which was the best game of his career. His early play on the inside opened things up for Otto Porter Jr, who finally started to knock down some shots after a rough first two games back. With the Bulls continuing to build on their lead, the Raptors knew that more people needed to get involved offensively.
Terrance Davis made his presence felt early, but that was about all until Chris Boucher and Paul Watson got involved. Toronto even got some excellent contributions from Henry Ellenson down the stretch, but once again, the Bulls build on their lead, holding an 85-73 lead after three. The fourth quarter is when the Bulls put the pedal to the floor and pulled away from Toronto. Not only was a 12- point lead tough to overcome shorthanded, but the Bulls outscored Toronto 33-22 in the final quarter to put the game out of reach.
Denzel Valentine was a big part of Chicago's early offense displaying soft touch inside and deadly three-point shooting. Guys like White, Young, and Lavine followed that up as everyone was getting involved for Chicago. Toronto couldn't say the same as once again, it was Lowry running the show early but not getting enough help. Both Boucher and Powell started to chip in as the quarter went down, but it was too little too late as the Bulls cruised to the 118-95 win.
Improved defense goes a long Way
The Bulls have quietly been one of the more surprising offensive teams this season and haven't had trouble scoring. That hasn't been the case in their first two games following the all-star break, as their offense wasn't flowing all that well.
Expecting that to improve, Chicago knew that the only way to get better as a team was to get better on the ball's defensive side. Take away the Philadelphia game last on Thursday, and this team is starting to play better defense more consistently. Scoring will only get you so far in this league, but what happens when shots aren't falling? It is up to the defense to keep you in games.
Chicago realizes that, and hopefully, what fans have seen the past few games is a sign of things to come. If Chicago holds opponents to under 110 points consistently, their offense is good enough to win most games. That will result in a postseason berth this season.
Lineup change leads to balanced attack
When Donovan decided to start Satoransky and Young over Carter Jr. and White, it was met with mixed reviews. The Carter move was understandable as he has been less than overwhelming this season. Moving White to the bench, I thought, was iffy considering his ability to put the ball in the hoop.
That is why I am not a head coach, and Donovan made a move that could benefit this team long term. Not only did he insert two veterans in the lineup, but he added an excellent scoring asset in White to join Porter off the bench while adding more defense in Carter to pair with Daniel Gafford.
These moves not only make this Bulls team more challenging to defend, but I feel it makes them better in the long run. If fans noticed anything about this new-look lineup, it would be the fact it was more balanced. Not only did all five starters score double figures, but all nine players to score landed in double figures. That will be tough for any team to defend on a given night.
Nine players scored in double digits in last night's win over Toronto ??@ConstellationEG | #BullsNation pic.twitter.com/yH2RaWzpAj

— Chicago Bulls (@chicagobulls) March 15, 2021
Kick them while they are down
Not only was the win against Toronto a much-needed win, but it put the Bulls ahead of them in the playoff standings as they move back to the 10 spot. It also gives Chicago the tiebreaker over them right now, with a previously postponed game set to be rescheduled at some point in the second half.
Chicago benefitted from a Toronto team shorthanded as they have several players out due to Health and Safety protocols. That still didn't deter the Bulls from focusing on the task at hand as this became a must-win game and Chicago took care of business. Shorthanded or not, Toronto is battling for playoff positioning much like Chicago, so this was a win the Bulls desperately needed.
Ending the weekend with a W ?? pic.twitter.com/imM1mNmNN8

— Chicago Bulls (@chicagobulls) March 15, 2021

Tags: Bulls Basketball
,
Tomas Satoransky
,
Thaddeus Young
,
Coby White
,
Wendell Carter
,
Patrick Williams
,
Zach Lavine
,
Lauri Markkanen
,
Denzel Valentine
,
Daniel Gafford
,
Billy Donovan