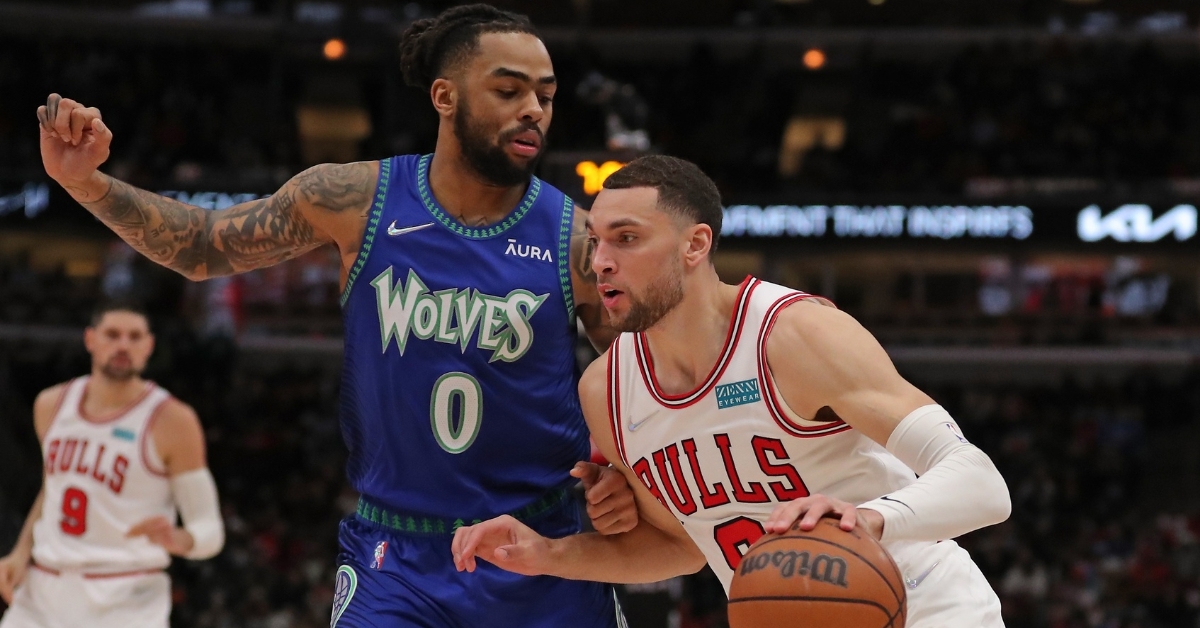 | | |
| --- | --- |
| Balanced attack powers Bulls past Timberwolves | |
---
| | | |
| --- | --- | --- |
| Saturday, February 12, 2022, 8:32 AM | | |
CHICAGO – Of all the teams that needed to make a deal at the deadline, you could argue that the Chicago Bulls (35-21) were one of those teams. After their deal to get Jakob Poeltl failed to get done, the Bulls realized they are happy with the way their roster looks and will now focus on the rest of their season.
Coming off a big win at Charlotte on Wednesday night, the Bulls looked to keep the magic rolling as they welcomed the Minnesota Timberwolves (29-27) for the first game of a lengthy homestand. For those of you who love offense, this was the game for you as the two teams combined to score nearly 260 combined points, with the Bulls coming away victors 134-122.
For the most part, this was a game in which neither team could gain the upper hand as things remained a one-point game through three quarters. A big reason for that was two quarters where the two sides tied, and a second quarter saw the Bulls outscore the Timberwolves by one, which led to their one-point advantage.
Looking to finish things off in the fourth, the Bulls offense came to life as they dropped 42 points on the Timberwolves defense. That more than made up for a defensive effort that was lackluster at best as Chicago outscored Minnesota by 12 points in that final quarter, helping them cruise to another big win.
The Bulls continue to be led by their dynamic duo, but this time it wasn't the duo you would expect. DeMar DeRozan continued to do his thing on the court, going 14-22 shooting to finish with a game-high 35 points. Remember that groove he got into earlier in the season when he was carrying this team? He is in one of those grooves now and is playing better than his early-season run.
His game was crucial for the Bulls as fellow guard Zach Lavine had a terrible night from the field, finishing with just 12 points for the lowest total among starters. With Lavine having a rare off night, it was up to others to step up, and Chicago had plenty of that, with three other players collecting at least 20 points in the win.
Nikola Vucevic had a near-perfect night shooting the ball, going 11-14 from the field to finish with 26 points and eight rebounds. Coby White joined him off the bench as he connected for six triples and connected on eight of his 12 shots. The game's biggest surprise came from Javonte Green, who is starting to assert himself on the offensive end.
Since returning from his groin injury, Green has seen his scoring nearly double as he is starting to put his full arsenal on display. Following his 23 point night on 11-14 shooting, including 3-4 from deep, no one will take Green lightly much longer. This is the type of production the Bulls have been waiting for and what they will need to remain near the top until they return to full strength.
For Minnesota, it was their dynamic duo as a pair of No. 1 picks continued to pose a problem. Last year's No. 1 selection Anthony Edwards continues to improve with every passing game as he finished with a team-high 31 points. He added eight assists and six rebounds to his name, showing he is much more than a scorer.
Joining him in having a big game was the Big KAT Karl Anthony-Towns. A fellow former No.1 pick in his own right, Towns had a very quiet 27 point effort as he added eight rebounds to go with his scoring line. Unlike the Bulls, who had four 20 point scorers, these were the long 20 point scorers for Minnesota, who did get plenty of production from other pieces.
D'Angelo Russell went about his business and put together an efficient 18 point night. He is trying to get more consistent on the offensive end as he is looking to create a big three in Minnesota. Malik Beasley continues to be one of the better options off the bench as he added 11 points for Minnesota to keep things close. Patrick Beverly added the 10 points in the losing effort as the Bulls are starting to play the way they did earlier in the season.