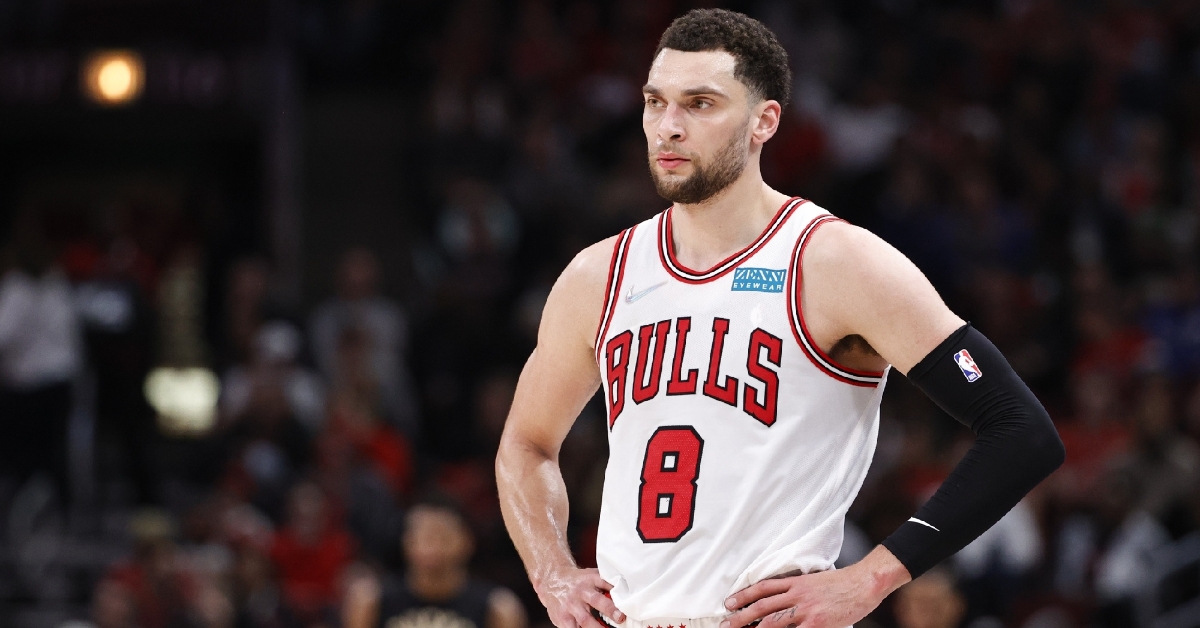 | | |
| --- | --- |
| Bucks obliterate Bulls in Game 3 loss | |
---
| | | |
| --- | --- | --- |
| Saturday, April 23, 2022, 9:11 AM | | |
CHICAGO - Heading into game three at the United Center for their first home playoff game in five years, you had to like the Bulls chances. After all, this team picked up a game two win which followed a performance that saw the Bucks take game one in the final minutes.
Add in Khris Middleton missing the rest of this series with a Sprained MCL, and things were aligning perfectly for the Bulls to upset the defending champs. With a golden opportunity to go up 2-1, the Bucks made the necessary adjustments and left no doubt in who the better team was.
In fact, Milwaukee built a 15-point lead in the first quarter and never looked back as they obliterated the Bulls on national TV 111-81 and took a 2-1 series lead. While that loss was ugly, what made it sting even worse was that it was the worst home playoff loss in Bulls history. The bottom line, the Bucks were ready, and the Bulls weren't, as they didn't show up.
Even without Middleton, the Bucks still have plenty of firepower, but it was the most hated player on the floor that set the tone. I am talking about Grayson Allen, who fractured Alex Caruso's wrist earlier this season. If there were ever a player for Bulls fans to hate, it would be him as he continues to torment this team.
It wasn't a hard foul that caused an injury this time, but instead, his sharpshooting off the bench knocking down five triples to lead all scorers with 22 points. If he keeps that up, this Bucks team will be tough to beat. While Allen was a surprise, the rest of the Bucks lineup was not, with Giannis Antetokoumpo having a quiet 18 points, but nearly finishing with a triple-double adding nine rebounds and seven assists. The Bulls have done a good job guarding him this series, but haven't done well enough.
Making the start for Middleton was the former Bull himself, Bobby Portis, who got off to a blistering start. Not only did he pour in eight first-quarter points, but he finished with 18 points while adding 16 rebounds. Add in 16 points from Jrue Holiday and 11 by Pat Connaughton, and the Bucks had a balanced scoring attack that gave the Bulls fits.
On the other side, you had a Bulls offense that looked eerily similar to game one. Chicago's big three shot 21-71 combined in that game, which led to DeMar DeRozan coming out and saying he would not shoot that poorly again. After combining to go 18-39 in game three with DeRozan going 4-9, it may be time to rethink that, as Holiday did a phenomenal job taking DeRozan out of the game.
Looking at the Bulls performances as a whole, Nikola Vucevic continues to impress as he led the way again. Like Portis, Vucevic came out guns-a-blazing as he knocked down a pair of first-quarter threes. He has been the only one to be consistent all series and led the way for Chicago again with 19 points to go with six rebounds.
His fellow big-three counterparts were not so lucky as Zach Lavine dropped a quiet 15 points, with DeRozan finishing with 11. Credit the Bucks defense for the way they played and taking two of the Bulls big-time stars out of the game early. Alex Caruso has to be considered the MVP of the Bulls over the first two games, and he was hoping to continue that trend in game three.
His nine points were an excellent addition, but unlike in the previous two games, the Bulls defense was so bad that he didn't make a difference on that end of the floor. Given how much the Bulls were down by in the fourth, Tony Bradly Jr was given some rare playing time and didn't disappoint. Not only did he finish with 10 points in six minutes off the bench, but he did that on a perfect 5-5 shooting. That is something the Bulls needed as Patrick Williams finished with just one point going 0-9 from the field.
Going a bit further on that, you had Coby White (6) and Ayo Dosunmu (4) combine for 10 points. Add that to what Williams did, and the only draft picks on their roster finished with 11 points on 4-24 shooting. That will not get it done, as Chicago needs way more production from everyone across the board to take this series.
Game four is a must-win for the Bulls as they will be back on the court Sunday at the United Center. Tip-off is set for Noon CDT as Chicago looks to even things back up.