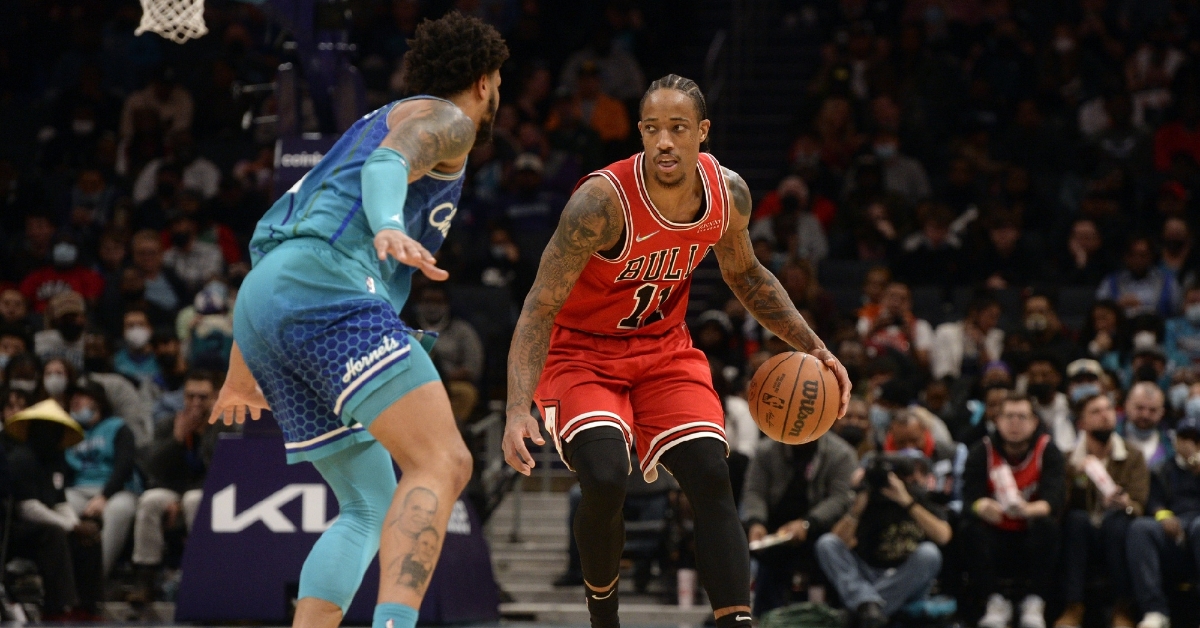 | | |
| --- | --- |
| Bulls back to winning ways with road win against Hornets | |
---
CHARLOTTE – With the all-star break approaching fast, teams are trying to put themselves in a position where they can gain some momentum heading into the second half and the final push of the regular season. For the Chicago Bulls (34-21), that is no different as a favorable schedule over the next week could lead to some momentum if they can take care of business.
That started with a road trip to Charlotte to take on a Hornets (28-28) team fighting for a playoff spot. This team has been one of the bigger surprises this season, and they continue to be a tough out for a lot of talented clubs. It was another slow start for the Bulls, but this time they managed to overcome that start to stay within striking distance after one-quarter of play.
In the second quarter, the Bulls began to impose their will, as that proved to be the difference in the game. Not only did the Bulls offense come away with 30 points in that quarter, but defensively speaking, it was one of their best showings in quite a while as they held the Hornets to just 16 points paving the way for a 13-point halftime lead. Chicago was able to play well enough in the second half to maintain that lead as they came away with a 121-109 victory.
As expected, the Bulls were led by their talented guard duo, with DeMar DeRozan leading the way again. Not only did he drop a game-high 36 points, but he was 13-19 from the field, including 3-4 from deep. That is about as efficient as you can be as Derozan has got back to being the player he was the first two months of the season.
Having Zach Lavine back is a huge help as he takes the pressure off Derozan. Lavine wasn't as efficient from the field, going 8-18, but still managed to come away with 27 points as that duo continues to wreak havoc most nights. Those two may have been the starts, but the Bulls had a balanced effort throughout, with four of their five starters coming away with double-digit points.
Nikola Vucevic followed a terrible night shooting on Monday with an impressive 18 point 15 rebound performance. Despite having little to no help behind him, Vucevic continues to go about his business churning in quality performance after quality performance. Filling in for the injured Ayo Dosunmu was Coby White, who returned to the starting lineup after moving back to the bench.
Capable of scoring plenty of points on his own, White endured a 3-10 night from distance and a 6-14 night overall as he rounded out the double-digit scorers for Chicago with 15 points. Outside of that, Troy Brown Jr added eight points off the bench, with Javonte Green and Malcolm Hill adding six in what was a total team effort win.
For the Hornets, it was the LaMelo Ball show as their offense continues to run through him. The younger brother of Lonzo Ball, LaMelo, has put together a very impressive second season in the league and dropped a team-high 33 points to go with nine assists. Like the Bulls, the Hornets also had a bevy of double-digit scorers as they too had four starters land in double figures.
Joining Ball in scoring at least 20 points was Miles Bridges, who continues his outstanding season. The former Villanova star not only added 22 points, but collected five rebounds and five assists as his full arsenal was on display. The Hornets also saw great games from Kelly Oubre Jr and Terry Rozier as they landed in double figures.
For Oubre, it was his 19 points that helped keep the Hornets in the game, while Rozier added 16 points to go with his six assists in what was a very efficient game for him. Charlotte was missing several pieces, which forced them to go with an eight-man rotation. They will not make excuses, but you could argue that a shortened lineup against this team is never easy, and the Bulls made sure to take care of business, picking up a nice win against a playoff-caliber opponent.