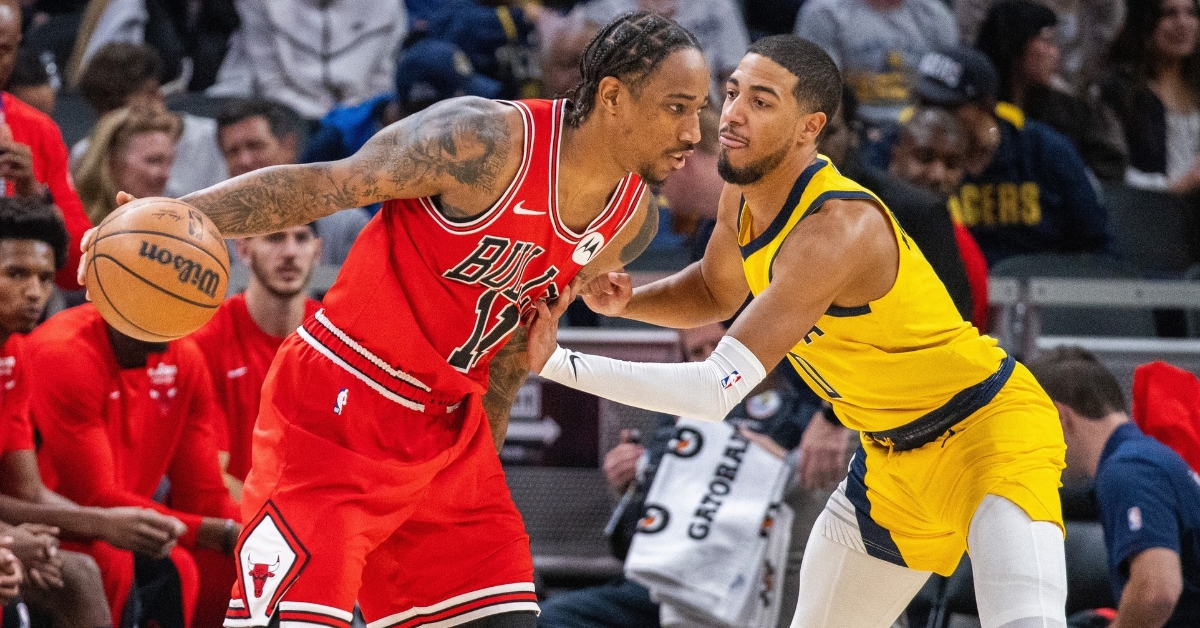 | | |
| --- | --- |
| Bulls clutch late in win over Pacers | |
---
INDIANAPOLIS - The Chicago Bulls (2-2) and Indiana Pacers (2-1) rivalry is one of the more overlooked rivalries in the sport, but one that should be talked about a lot more. Going back to the 1990s when Reggie Miller and Michael Jordan were squaring off, these two teams have been in some classic matchups, including their 2011 playoff series that went five games, but three came in overtime.
Some of those close matchups have continued in recent seasons, but these two franchises haven't had the best of luck for the better part of five seasons now, but it does seem like the Pacers are trending in the right direction compared to the Bulls stuck in neutral. A big reason for that was bringing back long-time Head Coach Rick Carlisle to take the reigns once again while acquiring tons of young pieces to build around. Compare that to the Bulls, who have virtually run out the same roster the past three years with similar results, and it has been frustrating to watch.
Speaking of being frustrating, the Bulls have been very frustrating across their first three games, as they came within one possession of starting 0-3. Despite hanging with the Pacers throughout the first three quarters, Indiana dominated the pace of the play but only held a four-point lead entering the fourth. That is when the Bulls started to look like the Bulls everyone hoped they would as the big three took over down the stretch to outscore Indiana 34-22 in the final 12 minutes as they rallied from behind 112-105.
Credit the big three for that, as all three turned in a 20-plus point performance in the win. Anytime that happens, the Bulls love their chances, as big man Nikola Vucevic had a game. For the most part, Vucevic has been quiet this season, but on this night, he was the most productive player on the court, picking up a game-high 24 points while also adding 17 rebounds. For the Bulls to be at their best, they will need this consistently from him as he takes the pressure off Zach Lavine and Demar Derozan.
Regarding Lavine and Derozan, both continue to go about business as usual, but it has been Lavine, the past few games, finally starting to get out of his early funk. Coming off a career-high 51 points against the Pistons, Lavine put down 23 points but wasn't very efficient from the field, with most of his damage coming from the line. DeRozan, on the other hand, continues to battle through something as he doesn't seem as explosive as he has been the past two years. Whether that is father time or not catching up to him remains to be seen, but with 20 points on 6-19 shooting, the Bulls will take that as long as that shooting performance doesn't linger.
Anytime you have Coby White and Patrick Williams doing next to nothing in the starting lineup, with those two combining for just 16 points on 6-12 shooting, it becomes essential for the bench to pick them up, and that they did, which was a pleasant surprise. Jevon Carter had his best game since joining the Bulls, knocking down five of his seven shots to finish with 11 points. You also got eight points from Alex Caruso, including a thunderous tomahawk dunk, while Torrey Craig and Andre Drummond added five points in a shorter rotation than usual for Billy Donovan.
Considering how poorly Lavine and Derozan shot, the Bulls have to consider themselves fortunate that they were still in this game, as the Pacers somehow shot even worse from the field. Even with Myles Turner leading the way with 20 points and 11 rebounds, he shot under 50%, which is a rarity for him. The same can be said for Tyrese Haliburton, who overcame a 6-16 night, including 1-8 from distance, to add 19 points while also dishing out 13 assists.
Those two have been the biggest reasons the Pacers have improved so much in the past two seasons, but Indiana is loaded with young talent that will only get better. Bennedict Mathurin is another one of those names as he is looking to build off a strong rookie campaign last season and added 15 points. Free agent pickup Bruce Brown is adding a veteran presence to this team that they lack, as he also added 15 points to help pace the Pacers lineup.
Indiana also saw Buddy Hield drop 11 points off the bench as the Pacers are still trying to figure out where he will fit in this year's rotation. Despite the Bulls struggles offensively so far this year, especially when it comes to shooting they continue to be one of the better defensive teams in the game. Should that continue, they may do better than many expect this season, as they have more than enough scoring to make things happen. The Bulls will be back on the court Wednesday as they wrap up this three-game trip with a trip to Dallas.