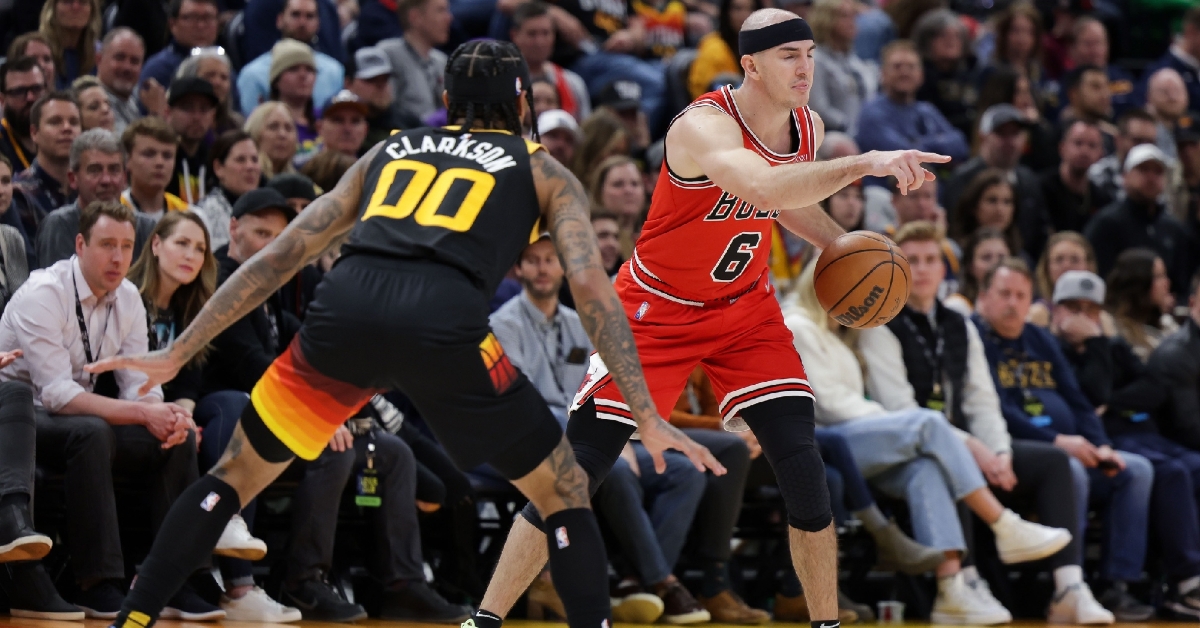 | | |
| --- | --- |
| Bulls continue to struggle in loss to Jazz | |
---
| | | |
| --- | --- | --- |
| Thursday, March 17, 2022, 11:21 AM | | |
SALT LAKE CITY – Thank God the Chicago Bulls (41-28) got off to the start they did because things have not gone well since. After racing out of the gates to a 27-10 record, good for the top spot in the East at that point, Chicago has gone 14-18 since and are in danger of falling closer to the play-in line. Injuries have been a big reason for their struggles, but their defense has also struggled as this team hasn't played well in roughly two months.
Fortunately for them, their hot start may be enough to get them into the postseason, but this team had much higher expectations, and now they are searching for answers. As if winning games wasn't hard enough for this team lately, Chicago continued their west coast swing with a trip to Salt Lake City to take on the Utah Jazz (43-26).
Not only do the Jazz have one of the best homecourt environments, but this has also been a house of horrors for Chicago as they have had a tough time winning games in Utah for the past decade. Winners of their first meeting earlier in the season by eight points, it was time for the Jazz to turn the tables. They used a massive 14-minute kick in the second half to take what was a competitive game and turned it into a 125-110 victory as they continue to surge in the West while the Bulls fade in the East.
Whether it is the elevation or the insane crowd noise, Utah has never been an easy place for anyone to play in. Add in their psychedelic court design, and it made things a challenging atmosphere again last night. Even with that, the Bulls were able to keep things close up until the final 14 minutes of the game when the Jazz started to pull away.
Zach Lavine had a phenomenal night from the field, shooting 55% overall and 50% from deep to finish with a team-high 33 points. After taking a back seat to DeMar DeRozan most of the year, Lavine has been carrying the team offensively lately, and that can work if the Bulls win games. With Lavine playing at the level he has been, you may be wondering what has happened to DeRozan.
He has gone into a bit of a shooting slump, but that doesn't mean he isn't playing well. A 25 point night on 50% shooting would be good for just about every other player out there, but this season, it was a quiet game when you look at his overall numbers. Those two combined for 58 points and more than half of the Bulls scoring, with the rest of the team doing next to nothing offensively.
Ayo Dosunmu had a decent outing with 15 points to go with six assists, but it would take more than that for the Bulls to win. Coby White added 12 points off the bench, with Nikola Vucevic adding 10 as those were your double-digit scorers. You had to feel for Vucevic in this one as he went up against Rudy Gobert and went 5-14 shooting, including 0-6 from deep. Players like Gobert expose the Bulls and their lack of size as Vucevic can only do so much.
For the Jazz, it was all about the Spyda, as Donovan Mitchell put on a show. Not only did he shoot 12-22, but he connected for nine triples to lead the way with 37 points as the Bulls had no answers for him. Not only was Mitchell tough to guard, but so was Jordan Clarkson as he dropped 26 points off the bench, with Nickel Alexander-Walker adding 16 more off the bench as those two combined for 42 points to give the Jazz a considerable boost.
Speaking of Gobert and the issues he gave Vucevic on the offensive end, he continues to do his thing as he remains a top 10 center. Not much of an offensive threat as he finished with just 14 points, Gobert added four blocks and a ridiculous 20 rebounds. He is this generation's version of Dennis Rodman, just more gifted offensively.
As if that wasn't enough scoring for the Bulls to deal with, the savvy veteran Mike Conley Jr had a solid game as he dropped 14 points of his own. Not the scorer he once was, Conley is still a valuable asset to any team. His ability to control the tempo and lead an offense creates open shot opportunities for other guys who knock down those shots more often than not.
The Bulls will look to end their West Coast trip on a positive note Friday when they head to Phoenix to take on the League Best Phoenix Suns.