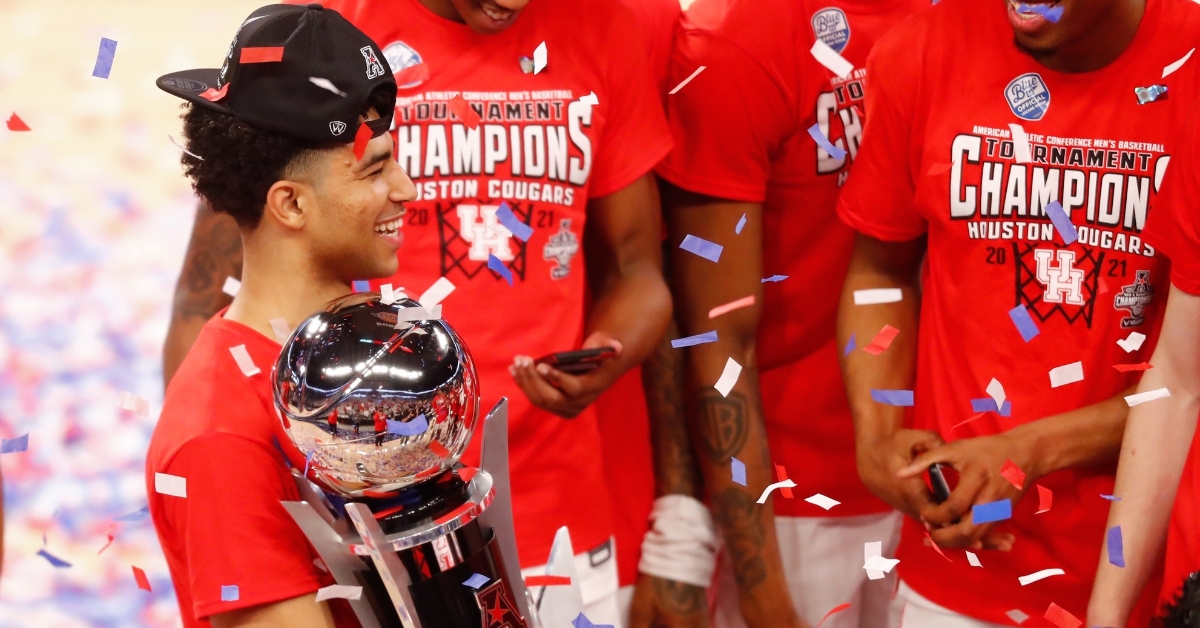 | | |
| --- | --- |
| Bulls could look to add sharpshooter in second round | |
---
| | | |
| --- | --- | --- |
| Monday, July 26, 2021, 9:32 AM | | |
Over the last several days, we have looked back at some of the Bulls options should they stay at Pick 38 in the 2021 NBA draft. That continues today as not just another option is on the table for Chicago but another potential PG option that could really help the Bulls in various ways.
Today I would like to discuss the Houston guard Quentin Grimes and what he brings to the table. Grimes should be a household name to you by now for those of you who are casual college basketball fans. Not only has he played for one of the better teams in the nation the past couple of seasons, but he is one, if not the best pure shooter in this year's draft class.
Grimes helped lead Houston to their first final four since 1984 this past season and did so by sinking better than 40% of his outside shots. That alone helped him achieve a career-high 17.8 PPG to go with 5.7 RPG and 1.4 SPG. The Bulls did improve on their overall shooting last season, but they still lack an elite shooting presence that hurts this team at times.
Grimes is someone who not only brings the shooting ability the Bulls would love to have, but someone you could plug into any role on this team to watch him succeed. You would think a shooter like Grimes would be a little higher on Mock boards to the point where he would be a first-round talent. While he may have the skills of some of the first-rounders, he is a bit older than most prospects and lacks some of the overall athletic ability.
While Grimes is a terrific three-point shooter, he is a one-trick pony and struggles to generate much offense inside the arc. That is perhaps the biggest knock on his overall game despite being an excellent passer to set up other shooters. Focusing on that passing for a little bit, Grimes is a big guard who can play either the point or two guard spots.
His deadly three-point shot will force defenders to get out on him, while his great vision will create better shots for teammates on the offensive end. He has all the solid tools you look for in an NBA player, and he should have no trouble developing into a serviceable pro at the next level.
Grimes not only uses his size to his advantage, but has incredibly fast hands with the ball, which he uses to make up for a lack of overall athleticism. Not only does his outside touch help keep the defense honest, but Grimes has a terrific first step and has the quickness to get by a defender and take it to the hole. Given the way he plays with an attacking mindset, he would be someone who would like to push the tempo on offense which could help guys like Zach Lavine and Coby White.
Offensively, Grimes is what he is, and that won't change, but it is on the defensive side of the ball where he needs to improve. Scouts have noticed so far that he tends to lack effort and intensity on the defensive end. That can't happen if you're looking to stop other teams from scoring.
Along with that, he tends to swipe at the ball too much instead of trusting his instincts when guarding a defender. That leaves him vulnerable on the floor, and teams can get him to lean one way and beat him the other. Essentially, this all comes down to his effort on the defensive end of the floor, which is something he will need to get better at.
Grimes draws many comparisons, but the two players I think he best resembles would be Emmanuel Mudiay and JJ Redick. Both are great shooting guards beyond the perimeter and have improved their overall game since coming to the NBA.