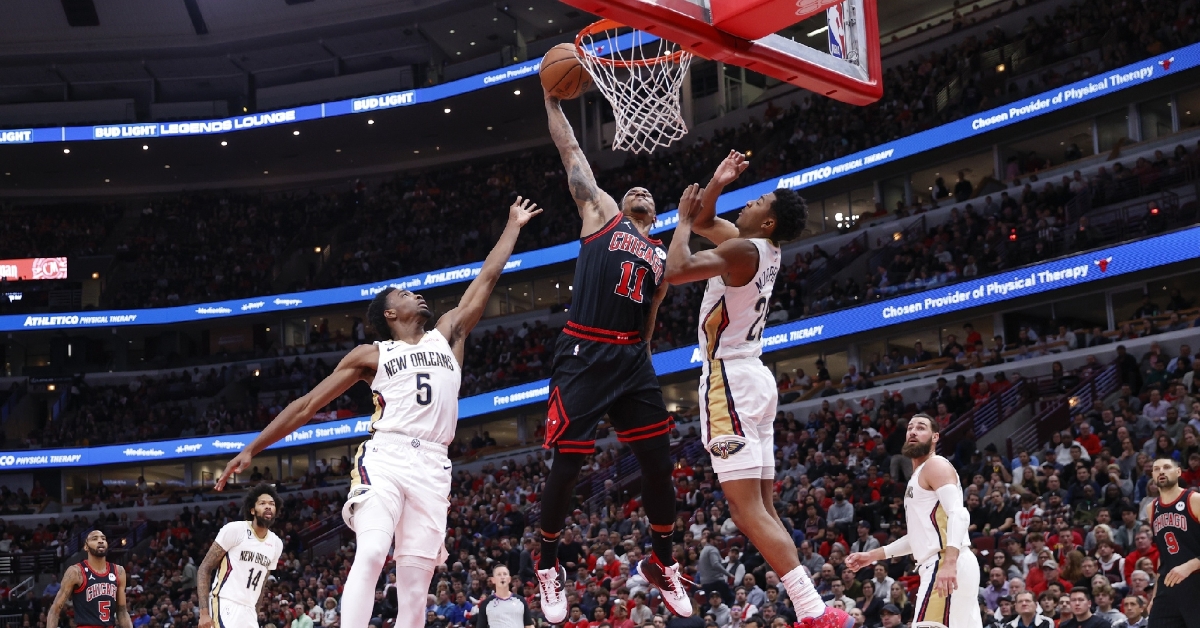 | | |
| --- | --- |
| Bulls defense let another late lead slip away against Pelicans | |
---
CHICAGO - Now that the Chicago Bulls (6-7) are seeing their schedule lighten up a little bit, they are about to get a massive lift in a big way. With fewer games coming as frequently, the result means more of Zach Lavine, as this could be the stretch he needs to get back to 100%.
The more he is on the court, the better this team will be, and they will have to be on top of their game, as the rest of November is brutal for the Bulls. First on the docket is one of the more intriguing teams in the NBA as the New Orleans Pelicans (6-5) came to the United Center for some Wednesday night action.
New Orleans has quickly developed the reputation of road warriors this season as they have played eight of their 11 games away from home. Add in how they finished the season a year ago, and Zion Williamson back and healthy; this Pelicans team could be very dangerous this season as they are one of the sleeper teams to come out of the Wast.
Wednesday saw the starts show up in a big way at the United Center as the leaders from both sides set the tone. This game was primarily played in a single-digit window apart from a stretch early in the third where the Pelicans opened an 11-point lead. Holding a slim lead late in the fourth, the Bulls defense let another game get away as New Orleans came through in the clutch to take things 115-111.
Coming off one of his worst performances of the season, DeMar DeRozan was back at it and kicked things off with a massive first quarter. He set the tone for the Bulls offense for much of the night and finished 14-26 shooting for a game-high 33 points. To go with him, the other two members of the Bulls big three came through as they all had great nights.
Lavine may have struggled to shoot the ball, but you must give him credit for fighting to make something happen. He still finished with 23 points to complement DeRozan, as these two need to start playing together more. Nikola Vucevic also had a magnificent night on the floor as he added 18 points of his own, but only seven rebounds as his double-doubles ended.
Apart from those three, none of the other starts for the Bulls landed in double figures, with only one other person scoring more than nine. That happened to be Goran Dragic, who continues to shine off the bench with 14 points and six assists. Chicago also saw Andre Drummond return from a shoulder strain, but he was rusty at best, finishing with just two points, as he will need time to get back into the floor.
While the Bulls big three put on a show for the home team, New Orleans has a big three of their own that has been anxious to play an entire season together. That all starts with Williamson, who will be looking to stay healthy this year. Granted, he got off to a slow start offensively, but Williamson heated up when it mattered, as his strong second half helped him finish with 19 points.
Leading the way for New Orleans was another part of the big three, as Brandon Ingram put together a great game. His 22 points are about what the team expects from him, but his nine rebounds were an element of his game that is often overlooked. CJ McCollum is the other part of the Pelicans big three, but with just seven points, someone else needed to step up.
That someone was big man Jonas Valanciunas who put together a strong night. Not only did he finish second on the team with 21 points, but he added 13 rebounds to control the paint while dominating the Bulls on the inside on both ends of the floor. His play made up for McCollum's lack of scoring; some argue that he was the biggest difference.
Herbert Jones also got in on the action for New Orleans, as he added 17 points to give the Pelicans four starters in double figures. Despite the Pelicans bench struggling, they did slightly better than the Bulls and held a 29-23 advantage from their second unit. Naji Marshall led the way with nine points, while Willy Hernangomez (8) and Jose Alvarado (7) chipped in with solid games to give New Orleans another big road win.