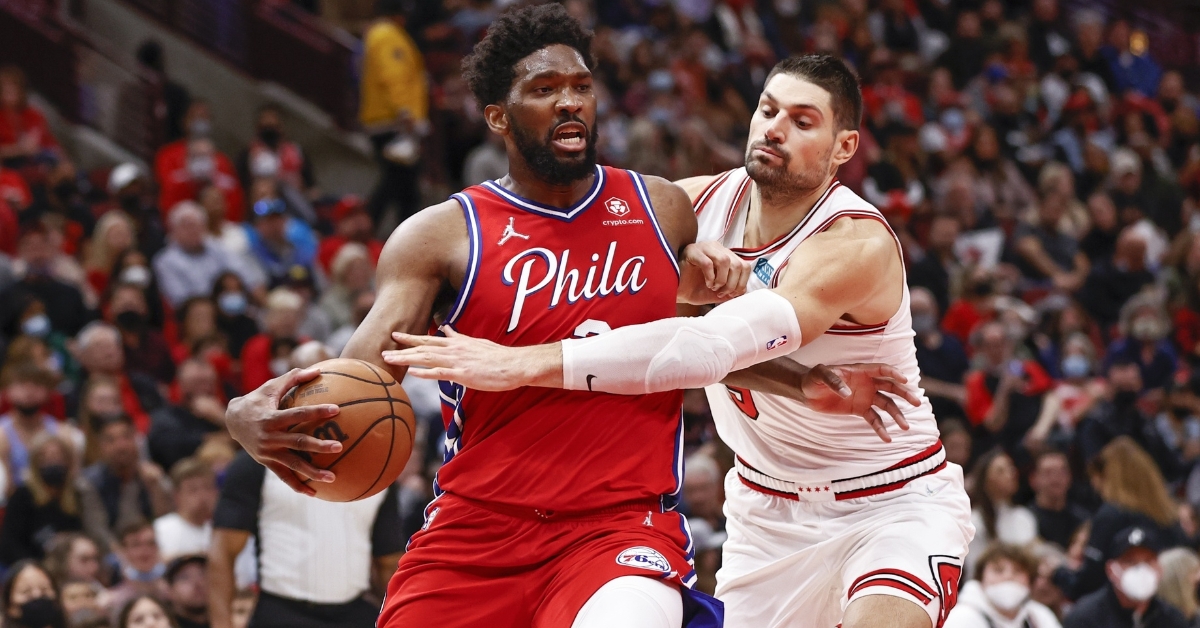 | | |
| --- | --- |
| Bulls drop another game to Sixers | |
---
| | | |
| --- | --- | --- |
| Sunday, November 7, 2021, 12:07 PM | | |
CHICAGO – Despite going through plenty of drama surrounding Ben Simmons, the Philadelphia Sixers (8-2) continue to go about their business as they have one of the best teams in the Eastern Conference. That is coming off a season in which they secured the top seed in the East last year only to come up short in the postseason. This season looks more like last year as they continue to be a tough out for everyone.
The Chicago Bulls (6-3) especially have found it difficult to beat the Sixers, and that is going back a few years now. Even with all the drastic improvements this Bulls team has made, they have a long way to go to reach the level of the Sixers, and that showed again last night following their second loss of the week against them 114-105.
Still, without Simmons and Tobias Harris, the Sixers have plenty of firepower, anchored by Joel Embiid, an MVP candidate last season. After struggling Wednesday night against Chicago in terms of shooting, Embiid went back to playing the way he is used to dropping 30 points to go with 15 rebounds as his size inside was an issue for Chicago all night.
Add in Shake Milton and his 13 points, Seth Curry (11), Tyrese Maxey (10), and Paul Reed (10) all five of the Sixers starters landed in double figures, but it didn't stop there. Georges Niang and Furkan Korkmaz added double-figure games off the bench, with Niang dropping 12 and Korkmaz busting out for 25. That type of balanced scoring was more than enough as the Sixers built another double-digit first-half lead on Chicago and maintained that advantage.
It was more of the same for the Bulls as their two go-to scorers continued to shoulder the load. After some up and down nights shooting the ball, Zach Lavine got back to playing at the level Chicago expects him to play, dropping a game-high 32 points in the loss. DeMar DeRozan cooled off slightly with 25, but even that is better production than what he has shown over the past several years.
Outside of them, the Bulls didn't get many contributions from anyone else as Derrick Jones Jr and his 12 points off the bench to go with Nikola Vucevic and his 11 points were the only other players to land in double figures in what was another tough loss to swallow.
Playing from behind is a recipe for disaster
I love how this Bulls team has played this season as they have gotten off their best start in a decade. Despite that, there is one big issue that this team continues to deal with, and if they want to achieve their goals, this issue needs to be fixed. We are talking about playing from behind, as the Bulls have been behind in seven of the nine games this season.
Not only have the Bulls been playing from behind, but playing from behind in a big way as they have often found themselves behind by double digits during the first half only to rally late. This team is good, and they have plenty of scoring, but playing from behind, especially by double digits, is not a recipe for long-term success. They can get away with against bad teams, but when you are facing elite teams like Philadelphia, you can't get away with that over and over again.
Concern for Vucevic
Off all the trades made at the deadline last season, the Bulls acquiring Vucevic was the biggest surprise of them all and one of the best. The perennial all-star with the Orlando Magic has been a walking double-double since coming into the league and continued to show how good he was after joining the Bulls.
Still producing double-double figures this season, there are a lot of concerns surrounding Vucevic this season as his production isn't much better than what Wendell Carter Jr was giving Chicago prior to the trade. Not only is his production down nearly 10 points from where it was with the Magic, but he has struggled shooting the ball all season and preseason long, and that doesn't bode well for a team lacking size.
Some fans are starting to question how Vucevic fits with this team, especially when looking at the offense Billy Donovan created. As a player who was used to the offense running through him in Orlando, Vucevic is now the Bulls third scoring option as they look to integrate him in different ways to keep him involved.
Not to mention he has been a defensive liability, and he doesn't seem comfortable on the floor this year. I am not ready to give up on him yet because everyone knows what kind of player he can be, but he has to pick it up soon.
Nikola Vucevic refuses to put even a hand up on one of the best Big Men in the last decade???? pic.twitter.com/FXwMDOmmay

— Patty G?? #BullsNation (@BlckedByGafford) November 7, 2021
Sixers could be the favorites in the East
Philadelphia has come close to reaching the NBA finals for the first time since the Allen Iverson days. Last year, they appeared to have the team to do that, landing the top seed in the Eastern Conference only to come up short in the end. With Doc Rivers now in his second season on the bench, Philadelphia is looking like a team on a mission right now as they could be the favorites in the East at this point in the season.
Not only do they have an MVP candidate in Embiid, but the Sixers have done a great job assembling complementary pieces, which include Curry. Add in plenty of firepower off the bench, and this could be the deepest roster in the game. At 8-2 right now, the Sixers have shown how good they can be, and they are doing this without Simmons and Harris.
At some point, Harris will be back to make this team better, but the jury is still out on Simmons and his future. Regardless, this team will get better as more players return, and this could be a team that is aggressive come the deadline and will look to improve every aspect of their team.
High level trolling of the Bulls crowd by Embiid after knocking down the game sealing 3 pic.twitter.com/oAxpHVFFvJ

— Leigh Ellis (@LeighEllis) November 7, 2021