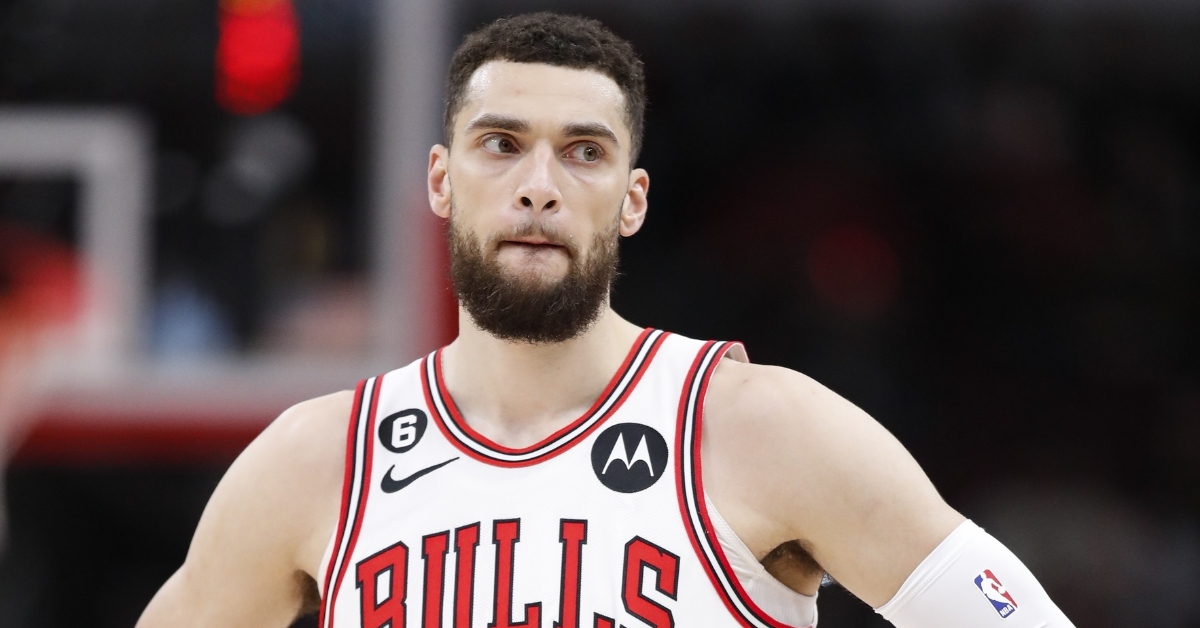 | | |
| --- | --- |
| Bulls fall to Pistons despite LaVine's 51 points | |
---
DETROIT - It is no secret that the Chicago Bulls (1-2) offensive struggles to start the season have been frustrating as they very easily could have been 0-2 to start the season. Perhaps a game against their Central Division rival, the Detroit Pistons (2-1), would be the game to get them going, as there is just too much talent on this team to be this poor offensively.
Zach Lavine certainly did his part with a career-high 51 points, but apart from him, the rest of the team struggled to score as the Bulls had just 51 points from the rest of their roster. To make matters worse, it was the defense that let them down in this one as the Bulls dropped the back end of their back-to-back as they fell to the Pistons 118-102.
Getting back to Lavine for a minute, there was a lot of talk about the Bulls sitting him on Saturday, especially after dealing with back pain Friday night. Instead, he was not only ready to play, but put forth the best game of his career, dropping 51 points on 19-33 from the field. Lavine also connected on 7-13 triples after hitting just three triples in his first two games.
While Lavine may have stolen the show, Demar Derozan has been as consistent as they come since the start of the season, and he put together another good game. Once again, he shot better than 50% from the field to come away with 20 points. Rounding out the Bulls big three was Nikola Vucevic, who has yet to live up to his offensive billing this season but still managed to finish with 12 points. That is a combined 83 points from those three, and anytime that happens, you have to like your chances to come away with a victory.
Leave it to the Bulls to find a way to lose despite having that kind of production. Having Coby White and Patrick Williams go the entire game without scoring a point won't help your cause, and you could argue that was the difference between winning and losing. Had either of these guys done close to what they have done throughout the early part of the season, the Bulls would have added 18-20 points to their starting lineup, which would have been good enough to win.
Not only did those two struggle, but the Bulls bench continues to be an issue as they only finished with a combined 17 points. Ayo Dosunmu led the way with five points, with Torrey Craig picking up four. Dalen Terry and Jevon Carter chipped in with three, but once again, the Bulls offense continues to struggle, and it is starting to become a concern just three games into the season.
The Pistons had to consider themselves fortunate, especially after watching Lavine torch them for 51 points. Cade Cunningham and Jalen Duran did their part by combing for 48 points, with Cunningham finishing with 25 and Duran with 23. However, it wasn't just the points that made the biggest difference for them, as both of these guys delivered a double-double and made life difficult for the Bulls.
Cunningham continues to be a walking bucket every time he touches the court, but he also picked up 10 assists to help distribute the basketball to the rest of his teammates. Duran was a monster in the middle, as he shot 9-11 from the field and added an impressive 15 rebounds to his 23 points. The Bulls had no answers for either of these guys, and both played a massive role in taking this team down.
Along with those two, the Pistons had three more players land in double figures, with two coming off the bench. Alec Burks played the most prominent role coming off the bench as he connected on 6-12 shots, with all six coming from distance to finish with 18 points. He single-handedly outscored the Bulls bench by himself, and anytime that happens, you are asking for trouble, as the Bulls are having a hard enough time scoring.
Isaiah Stewart got in on the fun in the starting lineup as his 14 points gave the Pistons their third and final starter in double figures. Stewart also added nine rebounds, which was another issue the Bulls had throughout. Marvin Bagley III was the last player to land in double figures for the Pistons as he chipped in with 11 points off the bench to help pave the way for the victory.
It only took one game this season for the frustrations to boil as the Bulls called a players-only meeting after their first loss. Apparently, that meeting doesn't seem to have mattered, as the problems with this roster remain. The next 17 games for this team will be crucial as there could be wholesale changes coming to this team should they not improve over the next month plus.