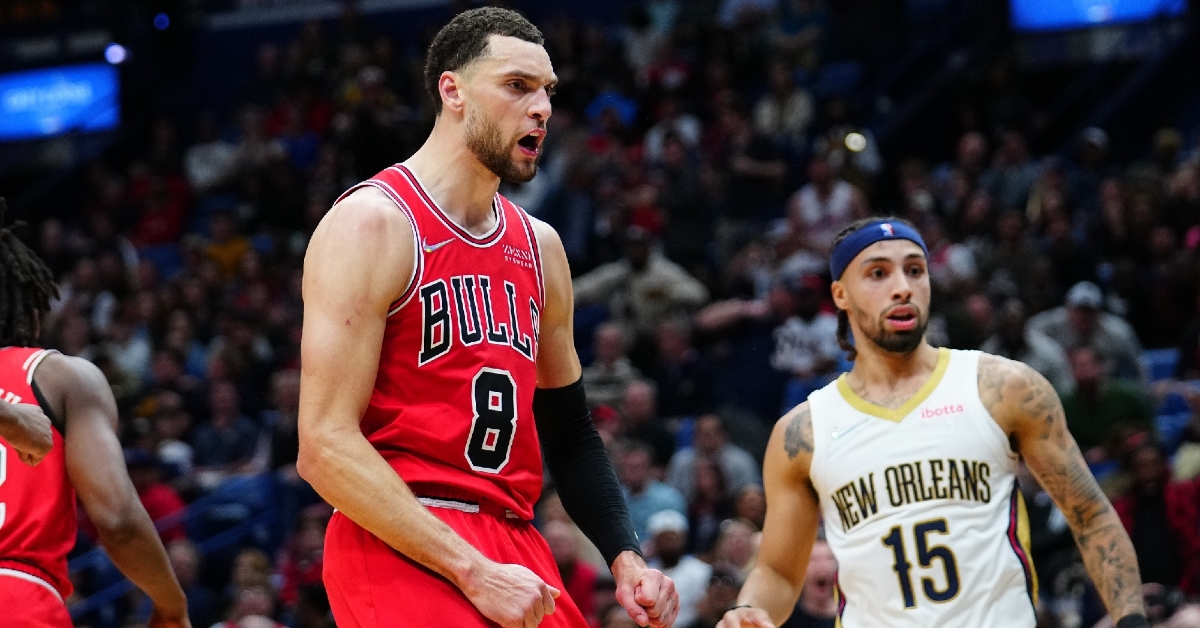 | | |
| --- | --- |
| Bulls hit rock bottom with late meltdown against Pelicans | |
---
| | | |
| --- | --- | --- |
| Friday, March 25, 2022, 8:41 AM | | |
NEW ORLEANS - It was fun while it last Chicago Bulls (42-31) fans, but it appears that this team is running out of gas at the worst time. After opening the season on a 27-10 start and leading the Eastern Conference, it has been a struggle ever since as this team has gone 15-21 and is showing little signs of recovering.
Amid their final five-game road trip of the season, the Bulls took on a New Orleans Pelicans (31-42) are battling for a playoff spot in their own right as they occupy the 10th seed in the West. One of the constants for this Bulls team has been DeMar DeRozan, as he has played in 68 of the 73 games this season.
He was out of the lineup last night dealing with an abductor strain, and now fans are wondering how serious of an injury that is. Despite that, the Bulls had plenty of firepower and erupted for a massive first quarter that saw them jump out to a 39-31 lead. The team looked great from an offensive side, but defensively was a different story.
Once the second quarter began, the Pelicans started to have their way with Chicago as they dropped 32 points on offense while holding the Chicago offense to just 23. That alone gave the Pelicans a one-point lead at the half, and they maintained that one-point lead through three quarters as they led Chicago 86-85 after three-quarters of play.
Things completely went South for the Bulls in the fourth quarter as their two-month stretch of struggles came full surface. They could not score, but their defense was non-existent as the Pelicans raced out to a 21-7 run to open the quarter and took a commanding lead. That was too much for this team to overcome as the free fall continues with a 126-109 loss.
With DeRozan out of the lineup, the Bulls were without their leading scorer, but have another viable option in Zach Lavine. Most of the year, Lavine has taken a back seat to DeRozan, but erupted for a game-high 39 points on Thursday and put the team on his back to try and deliver Chicago a win.
He was joined by Coby White, who seems to play his best when one of the big two is out as he connected for 23 points off the bench and connected for five triples on the night. While those two did more than enough to help this team win, the rest of the offense struggled as the offense was non-existent from the rest of the team.
Nikola Vucevic was third on the team with 16 points to go with nine rebounds as he continues to play well, but frequently at an inconsistent level. Needing more than what they have been getting from Alex Caruso, the Bulls got more as he was the final double-digit scorer on the team with 11 points as the Bulls are starting to panic.
Even without the names Zion Williamson and Brandon Ingram, the Hornets continue to play inspired basketball and have found themselves in the play in picture for a reason. Devonte Graham had the hot hand all night for New Orleans as he drained five three-pointers of his own to finish with a team-high 30 points in the win.
He wasn't alone when it came to having a big game as four players landed in double-figures, with three coming as starters. One of those players was the newest Pelican, CJ McCollum, as he continues to give this team some much-needed punch.
Despite going just 1-6 from distance, McCollum shot 50% from the field and finished with 25 points in the game. It will be interesting to see how this team looks with Ingram, Williamson, and McCollum together, and that could be a force to be reckoned with for years to come.
Joining them in having a huge game was the big man Jonas Valanciunas. Often lost in the conversation of the game's best centers, Valanciunas is an underrated player who would get more recognition in a different market. After dropping 16 points to go with 19 rebounds, it is hard to argue that other centers provide you as he may not give you the points, but he does all the little things right.
Jose Alverado capped off the double-digit outputs by the Pelicans, as he led the second unit with 15 points giving New Orleans more than enough firepower to secure the win. With the loss, the Bulls continue their freefall in the Eastern Conference standings and have been blown out in back-to-back games to start this road trip.
Chicago is one game ahead of Cleveland for the No. 5 seed and will face them Saturday for what should be a game with huge seeding implications.