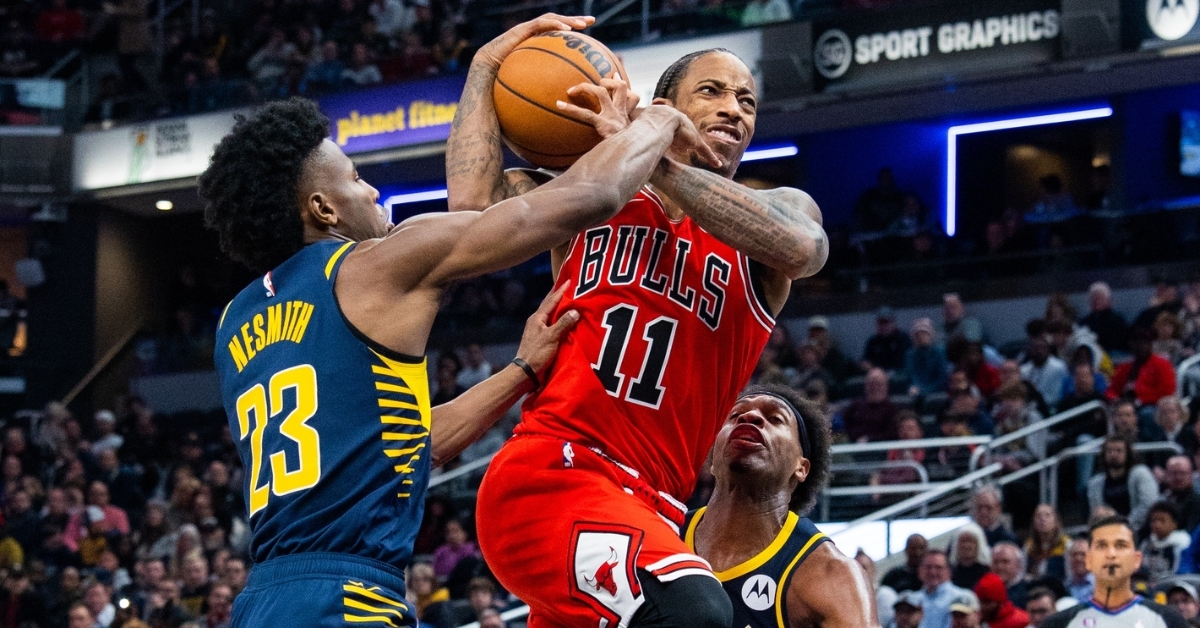 | | |
| --- | --- |
| Bulls let one get away against Pacers | |
---
| | | |
| --- | --- | --- |
| 2023-01-25 07:48:45.0 | | |
INDIANAPOLIS - Just when you think the Chicago Bulls (22-25) have started to figure things out and turn things around, they put forth a showing as they did on Tuesday. This is what has made this team so frustrating this season, as they can't seem to get over the hump of playing consistently.
Looking for a fourth straight win, the Bulls traveled to Indiana to take on a shorthanded Indiana Pacers (24-25) down Tyrese Haliburton. What looked like another win throughout the first half, Chicago built a 16-point halftime lead anchored by their 33-21 first quarter. Then came the third quarter, which continued to be an issue for this team as Indiana started to mount a comeback and cut the Bulls deficit down to seven.
To make matters worse, Chicago was unable to recover in the fourth as their poor play in the third quarter continued throughout the second half as their once 16-point halftime lead completely vanished. The massive fourth quarter by the Pacers saw the Bulls get outscored 36-23 and gave Indiana a 116-110 victory.
While the Bulls as a team didn't play well in the second half, you can't say that about DeMar DeRozan, who put the team on his back and nearly carried them to a win. As if his game-high 33 points were not good enough, he shot 66% from the field as he had one of his patented games against the Pacers.
However, he was the only real scoring threat in this one, although Nikola Vucevic came through with 20 points while adding eight rebounds to his line. Amid his best month this season, Zach Lavine picked a horrible time to have an off night, as he finished with just 14 points on a dismal 4-14 shooting. That included an 0-7 night from distance. Add in seven points a piece from Ayo Dosunmu and Patrick Williams, and the Bulls starters gave little help to DeRozan, and they still almost won.
Any time you get nearly 30 points of production from your bench, something is going right, and the Bulls bench continued to play well in this one. Derrick Jones Jr delivered with an excellent 10-point showing, while Coby White and Andre Drummond combined for 15 additional points in the loss. Chicago was again without Goran Dragic as he continues to be a day-to-day decision.
While the Bulls starters couldn't get much of anything going consistently, the Pacers didn't have that problem, as they were a very balanced scoring bunch. Myles Turner picked up the slack that was left with no Haliburton as he led the way with 26 points and eight rebounds. You also had rookie sensation Bennedict Mathurin continuing to play well off the bench as he added 26 points from the bench. Anytime you get that type of production from a second-unit scorer, you are difficult to defend, and the Pacers proved that, especially during the second half.
Those two may have been the heavy lifters, but two more players put forth great showings on the floor. TJ McConnell made it three 20-point scorers for Indiana as he finished with 20 points. McConnell also dished out 10 assists for a massive double-double and was a huge part of the Pacers offense.
Despite his rough shooting night from the field, Buddy Hield still knocked down four triples and came away with another solid 19-point performance. Hield has been a pleasant surprise this season, as he is playing his most complete season thus far. The Pacers also had Chris Duarte (11 points) and Terry Taylor (11 points) land in double figures as six of their players hit that mark in the comeback win.
While this was not a good loss for Chicago, they remain in the middle of the playoff picture as they are holding on to the 10th seed in the East. That would put them as the last team into the postseason, where they would be in the play-in tournament against the New York Knicks. With a pair of winnable games later this week, the Bulls can continue climbing up the standings as they are not far off the seventh seed.