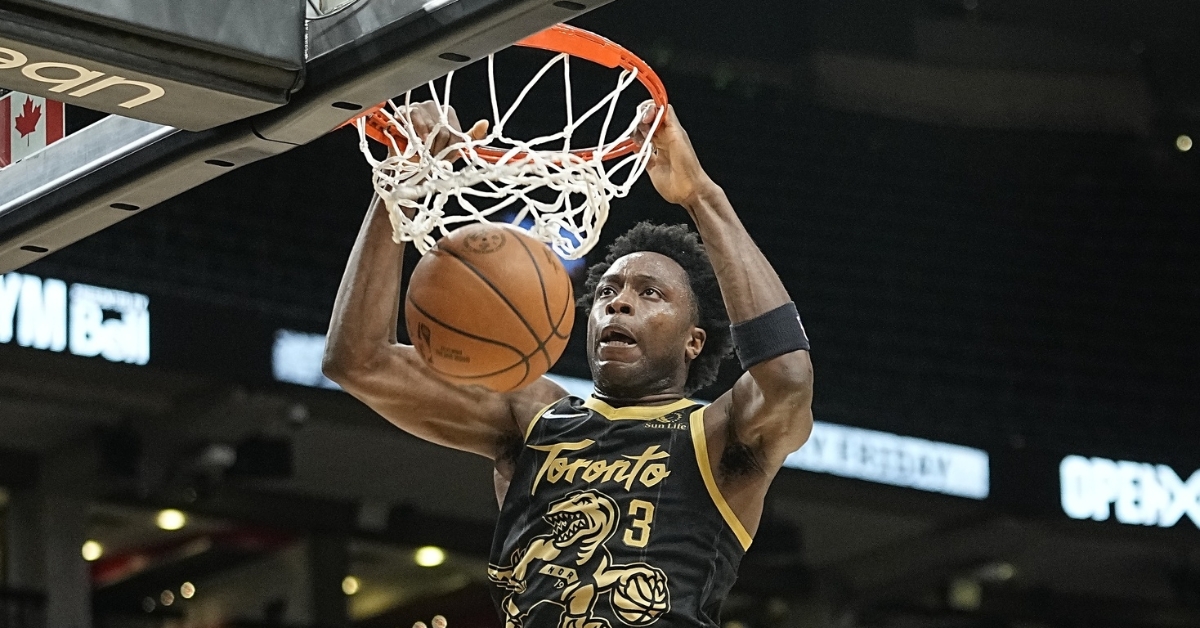 | | |
| --- | --- |
| Bulls linked to another trade rumor | |
---
| | | |
| --- | --- | --- |
| Monday, June 13, 2022, 11:52 AM | | |
As we press along through the Bulls offseason, the biggest question still surrounds Zach Lavine and his future. Outside of that, the other big question remains how the Bulls can improve their roster with little to no cap space available.
Having the 18th pick in the NBA draft will help them improve their roster, but also look for the Bulls to hit the trade market as that may be the best opportunity to improve. If the Bulls are willing to hit the trade market, they must decide what players are worth going after and who they would be willing to give up from their roster.
According to several Eastern Conference GMs, the Bulls are starting to be linked to the Toronto Raptors and their star forward, OG Anunoby. When it comes to the Bulls and the Raptors, both teams have plenty of veterans who don't need to develop anymore as they are who they are as players.
On the flip side, both teams have plenty of young pieces they would like to build around, but you have to wonder if Patrick Williams will be one of those pieces that Arturas Karnisovas is willing to part ways with. Anunoby is the type of two-way player the Bulls roster could use, and getting him won't be easy, which is why Williams may be the critical piece to get a deal done if these reports are legit.
Anunoby is coming off an outstanding 2021-22 season that saw him average 17.1 PPG, 5.5 RPG, and 2.6 APG. Keep in mind he saw an increase in minutes once Pascal Siakam went down and continued to play a vital role in the Raptors success in the second half of the season. Not the best shooter at just 44.3%, Anunoby did shoot nearly 37% from distance as that part of his game was on point.
While Williams is just 21 years old, and the sky is the limit for him, Anunoby is also a young piece at just 24 years old and is starting to come into his own as a player. Not to mention he has grown frustrated with his role in Toronto. It may be best for the Raptors to move on from him before this situation worsens.
Even with one of his best seasons, Anunoby saw his role diminish during the second half of the year as Scottie Barnes emerged as a big-time threat. Because of that, he has been listed as a trade candidate this summer, and the Bulls, among other teams, make a ton of sense to pursue him, especially if he wants an increased role with someone.
Given that Barnes is younger and coming off the standout season he had, Anunoby is becoming expendable and is now someone who Toronto is willing to move on from. Although he has yet to voice his frustrations with his role publically, he is not the only one who is becoming frustrated with a lack of role in Toronto, and that is something to keep an eye on.
Given that Anunoby has a fifth-year option remaining on his rookie deal, it would be an excellent get for the Bulls as they could get him cheap this season and then extend him for multiple years after. Adding a young, defensive-minded wing who can make life easier on Chicago's stars would put them in a better position to compete.
If this is something the Bulls are interested in doing, Williams is most likely on the way out despite the Bulls being attached to him the way they are. Williams may be seen as a crucial piece to the Bulls future, but the reality is that Anunoby is the more polished player right now.
Coby White is also a player that could be on the move in a trade like this, as his name has been surrounding trade talks for a while. As tough as it would be to see a guy like Williams go, Anunoby is very close to being a similar player to Williams, so that is a win-win scenario.
However, losing White in the deal is a bit concerning as he provides the Bulls with good shooting and scoring off the bench. They would need to figure out how to replace his production, and given their limited spending, and it would be difficult to find a valued option.
Keep in mind that all this talk is just rumors at the moment, so nothing is official. However, we know the Bulls will be active this offseason one way or another, so expect plenty more rumors to come to the surface as the offseason continues.