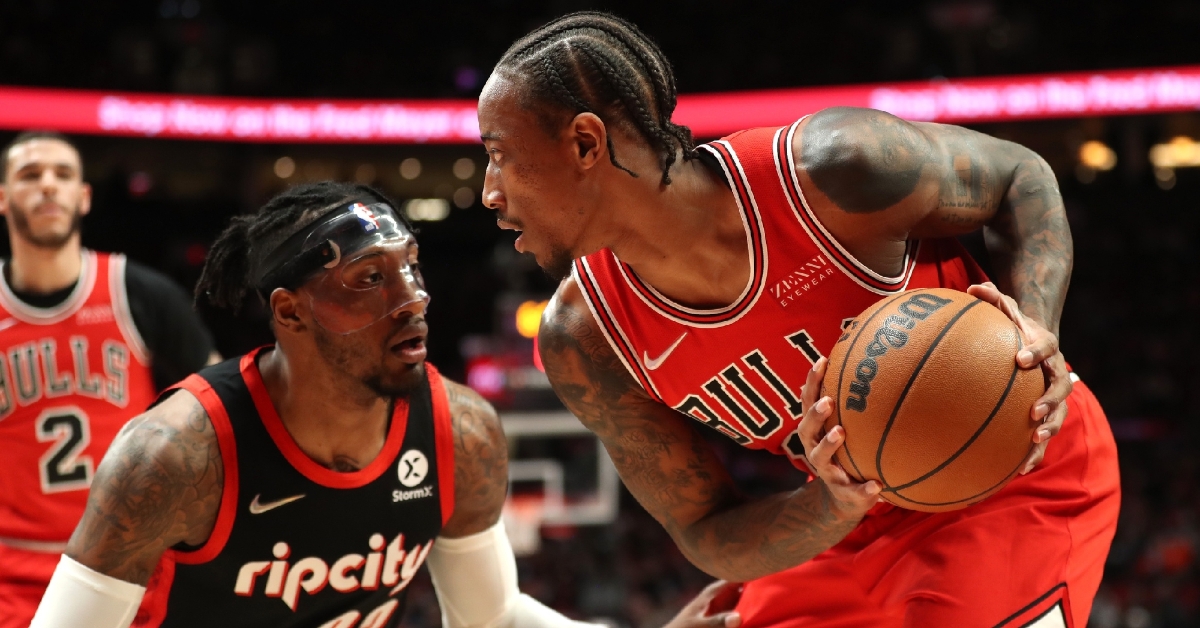 | | |
| --- | --- |
| Bulls lose close game against Blazers | |
---
| | | |
| --- | --- | --- |
| Thursday, November 18, 2021, 11:51 AM | | |
PORTLAND – When this five-game road trip for the Chicago Bulls (10-5) started, many felt it could balance out the great start to the season. Instead, entering Wednesday's game with the Portland Trail Blazers (8-8), the Bulls needed to win just one of their final two games on the trip to secure a winning record.
Things looked promising once again for this team, especially over the first half of play when the Bulls raced out to a commanding 63-48 lead at the half courtesy of consecutive 30-point quarters. DeMar DeRozan was being his usual self, getting to his spot and seemingly knocking down every mid-range shot he attempted. He was 6-9 of shooting at one point, but finished just 1-10 the rest of the way to end the game with 22 points.
His counterpart Zach Lavine continues to do what he does best, which is score leading all scorers with 30 points. Whether from deep, where he was 7-12 from long-range, or in the paint, Lavine made 11 shots in the game and continues to play at the all-star level people have expected from him for the better part of the last two seasons.
Speaking of players playing at an all-star level, Lonzo Ball is putting together an excellent little season for himself. Coming off a season high-27 points against the Lakers on Monday, Ball was at it again, dropping in 17 points on 7-13 shooting. His improved three-point shooting has made him one of the best shooters in the game as he continues to lead the Bulls offense in terms of the engine that makes it go. Alex Caruso added 12 points as the Bulls looked to be in great shape to win their third straight on the trip.
That was until the second half got underway, as Portland was a completely different team. In his first season as head coach, Chauncey Billups is doing a fine job with this group, and they continue to be a tough out at home, where they have sported a 7-1 mark thus far. They have proven no deficit is too large at home, and the Bulls were about to find out the hard way why.
Norman Powell and Larry Nance Jr played significant roles in this game, especially in the first half as Powell finished with 18 points and Nance Jr 16. As the game wore on, players like Jusuf Nurkic and Robert Covington started to get involved, but the excellent guard duo of Portland was the ultimate X-factor late. Despite just nine points, CJ McCollum scored most of those points in the fourth quarter as he paired with Damian Lillard to mount a furious second-half run.
The inspired play got the home crowd into which had the Blazers feeding off that momentum. After outscoring the Bulls 33-22 in the third to pull within single digits, the Blazers defense put the clamps on late to pull away from Chicago as they ended the Bulls quest at a third straight win with a 112-107 victory.
Dame Time
For the most part, the Bulls defense did a great job containing Lillard during the game. That was until the fourth quarter when Lillard went into his signature Dame Time mode. Although he finished with just 22 points to lead the way for his team, it was the way he played in the fourth quarter that mattered the most.
Not only was he able to get the Blazers offense into more of a rhythm, but his lethal range from deep was on full display. When I saw deep, I mean deep as he had several shots fall from the logo at center court. Lillard is one of those players who will get his points based on the types of shots he takes. It all comes down to containing him, which the Bulls did for three quarters, but not when it mattered most.
Please don't burn out too quickly
Over the last several seasons, we have seen more coaches go with a load management type of schedule to rest some of their star players. The Bulls haven't gone with that type of approach in recent years, but one has to wonder if they might consider doing it as the season goes on.
Not only are the Bulls down Patrick Williams for the remainder of the season, but Nikola Vucevic is in the Health and safety protocols and will likely be back Sunday at the earliest. That makes an already small Bulls team that much smaller, with Caruso playing the forward spot and Tony Bradley Jr at the C.
The Bulls also have a smaller bench in terms of options as they are down players right now and three if you count Coby White, who is slowly being worked into consistent minutes. Caruso, Ball, Lavine, and DeRozan have had to pick up the slack with the team having fewer bodies to work with, as all four of them played at least 36 minutes last night.
Considering the production they are getting from these four, no one is complaining, but at some point, you have to consider giving them a few more minutes off per game to save their legs for the season. The problem with that becomes scoring, as the Bulls may not have enough scoring to make up for their time off the court. For now, the Bulls have a formula that is working for them, and they need to stick with it.
A winning trip can still be had
Even with the loss to Portland, the Bulls can still walk away with a winning trip should they beat Denver on Friday. That is impressive when you consider that Vucevic was out this entire trip, and many thought the Bulls would be doomed in terms of the size of some of these teams and the quality of players.
Not only is Chicago continuing to win, but they are doing so different ways every night, which is a great sign. Chicago did let one slip away last night, and they really should be 3-1 on this trip instead of 2-2. Denver will be no easy task, and if they lose that game, a 2-3 trip is not great, but still better than what those trips have been in the past. The Bulls know what is at stake, and any winning record on a west coast swing is a positive to take with you going forward.