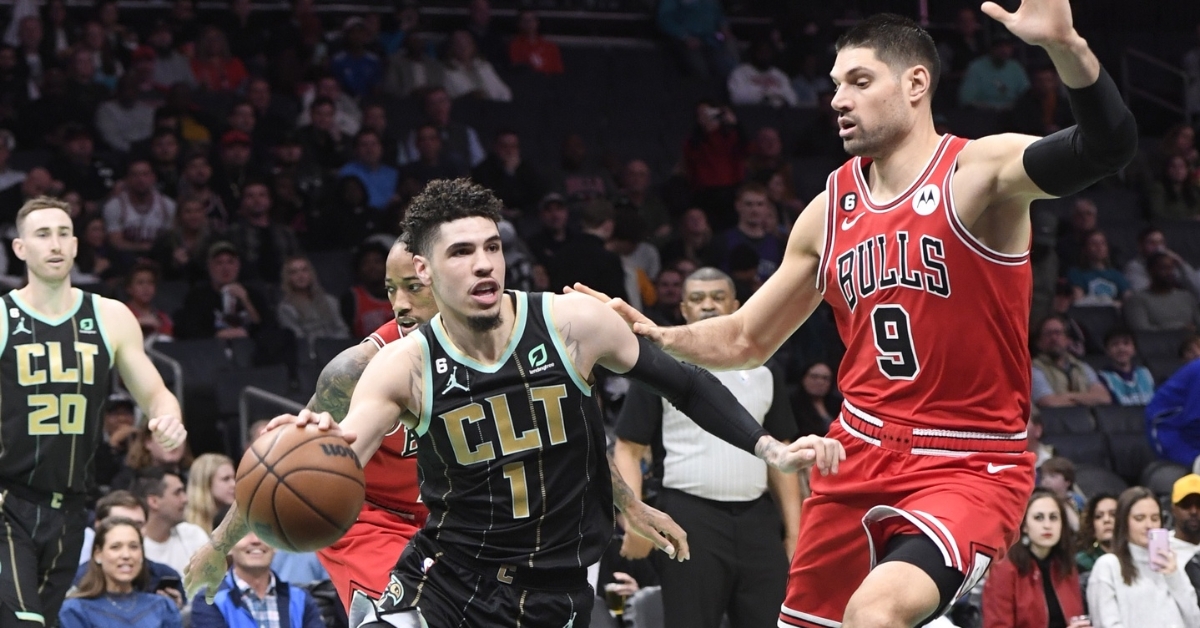 | | |
| --- | --- |
| Bulls lose focus in fourth quarter against Hornets | |
---
| | | |
| --- | --- | --- |
| Friday, January 27, 2023, 7:41 AM | | |
CHARLOTTE - Some losses are inexcusable at this point, and the Chicago Bulls (22-26) had one on Thursday. Facing off against one of the worst teams in the league, the Charlotte Hornets (14-36), the Bulls had a great opportunity to not only gain a game in the standings but to get back to their winnings ways after a tough loss earlier in the week.
Instead, the same inconsistency has hampered this team all season to the point where they are teetering on an overhaul. Not even their closed-door players meeting on Wednesday couldn't save them, and you have to wonder how long Arturas Karnisovas will ride it out with this roster before making some changes.
Despite holding an eight-point lead at the half, it was not the greatest of halves for the Bulls as they scored 36 points in the first quarter and just 19 in the second. Fortunately, their defense showed up in the second quarter by holding the Hornets to just 15 points, but that was the only good thing coming from it.
Not only did they drop 30 points in the third to pull within two, but they doubled up the Bulls in the fourth quarter 34-17 to pull away for the 111-96 win. Chicago was held to just 41 points in the second half while allowing 64, as things couldn't have gone much worse for them over those final 24 minutes.
The most frustrating part of this team is that they have one of the best records in the league against teams with a winning record and one of the worst against bad teams. It seems like they are losing focus against teams they should beat, and that is starting to become an even bigger issue than people may realize.
While most of the team struggled to do much of anything, DeMar DeRozan continues to pick up the slack even if he is starting to show frustration. He tied for a game-high 28 points, but on 9-21, shooting had to work for everything. For the most part, Zach Lavine was quiet, but he still picked up 18 points and nine rebounds for a near double-double. That makes two subpar games in a row now for Lavine, and they have come at a time when the Bulls could have used him.
Ironically, the Bulls saw all five starters land in double figures, which is hard to believe when you look at their final score. That is mainly partly due to most of them having mediocre games at best, although Patrick Williams and his 15 points showed up. You also had Ayo Dosunmu and Nikola Vucevic score 12 points, although Vucevic suffered one of his worst shooting nights of the season.
Outside of them, the Bulls offense was sluggish at best, as they got next to nothing from their second unit. In total, the Bulls bench scored just 11 points, with Coby White leading the way with six points on 2-9 shooting. You will not win many games like that, especially when you shoot 40% as a team.
While most of the attention goes to LaMelo Ball, and rightfully so, it was Terry Rozier cashing in for a monster game for Charlotte. The veteran guard matched DeRozan with 28 points and connected on four triples. Not only was he the spark plug, but the Hornets benefitted from a pair of double-doubles, including one from Ball.
The third-year guard may have scored just 15 points, but he ran the offense perfectly, adding eight assists and 11 boards for a near triple-double. You also had Mason Plumlee putting together a massive game and finished with 21 points and 12 rebounds to help set the tone for the Hornets offense.
Throw in 17 points from Gordon Hayward, and the Hornets offense was Buzzing right along with the Bulls struggling to match up. Like the Bulls, their bench didn't do much of anything, but they did outscore the Bulls by 10. That was ultimately one of the biggest differences in the game, as rookie Mark Williams picked up 10 points and six rebounds in 18 minutes. Chicago returns to the court on Saturday when they travel to Orlando for what should be a must-win game for them.