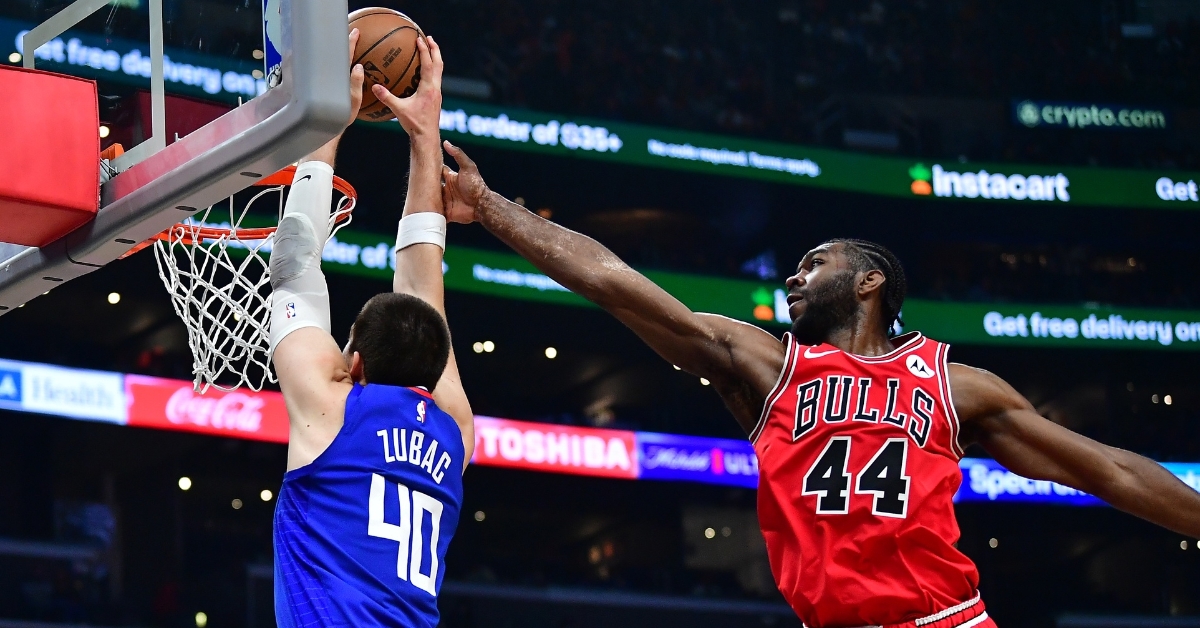 | | |
| --- | --- |
| Bulls luck runs out in loss to Clippers | |
---
| | | |
| --- | --- | --- |
| Tuesday, March 28, 2023, 8:32 AM | | |
LOS ANGELES - No one can argue the positive effect that Patrick Beverley has had on the Chicago Bulls (36-39) since joining the team. While he may not be the best scorer or the best at his position, something about him feeds off onto the rest of his teammates, hence the Beverley effect.
Since joining the Bulls, Chicago has seen their season turn around as they are five games above .500 since his arrival, and they have climbed back into the playoff picture. Not only that, but they are only one game back of the No. 8 seed, which seemed like an impossible task one month ago.
Looking for the rare West-Coast sweep, the Bulls were back at it on Monday for the second leg of a back-to-back against the Los Angeles Clippers (40-36). Even without Paul George, the Clippers are a good team and find themselves in the Western Conference playoff picture. Led by a strong opening quarter, the Bulls built a five-point lead, and things looked great.
Then came the second and third quarters, where Chicago was outscored 72-45 and found themselves down 22 points entering the final 12 minutes. Chicago did a great job battling back in the fourth, but they dug themselves a hole they couldn't climb out of and fell to the Clippers 124-112.
Despite the losing effort, Chicago continues to get great production from a lot of their players, especially Zach Lavine. Granted, this wasn't one of his better games when you look at how things have gone for him recently, but he still managed to lead the team with 23 points on a night where he shot above 50%. Two other players that put forth strong efforts were Demar DeRozan and Nikola Vucevic, as they both scored 20 plus points on 50% shooting.
DeRozan finished second on the team with 21 points, while Vooch added 20 points and eight rebounds. That was coming off a night where he was ejected in the second quarter for a double technical, so you could sense some extra energy from him on the floor. While those three garnered the most attention, you also had Patrick Williams land in double figures as he was back in the starting lineup.
Starting in place of Alex Caruso, who continues to battle a foot injury, Williams had one of his better games in weeks as he finished with 16 points. Since moving to the bench, Williams has been playing with much more confidence and seems more comfortable with the team's offensive flow. Rounding out the double-digit scorers for the Bulls was Andre Drummond, who has now had two strong games in a row.
Coming off a night where he scored 13 points in place of Vooch, the big man was at it again as he led the Bulls bench with 11 points. Drummond added eight rebounds in 14 minutes as he continues to play inspired basketball the past month. Credit the Clippers and their defense for getting in Coby White's head as he struggled to find his rhythm and was held to just seven points in the loss.
Even without George on the floor, who is still nursing that ankle injury, there is plenty of scoring to go around, and that all starts with Kawhi Leonard. Leonard had another solid night, scoring 22 points and bringing in seven rebounds, but he wasn't the story in the game. That goes to the savvy veteran Nicholas Batum as the Frenchman knocked down eight of 10 shots, with all of them coming from deep to lead the way for the Clippers with 24 points.
Los Angeles had another surprising showing from a fellow veteran as Eric Gordon got things started during the second quarter. He finished with 22 points and knocked down five triples as the Clippers went 20-40 from distance in the game while the Bulls went 9-23. That is a 33-point advantage which was the difference in the game.
Like Chicago, you take away those 20-point games, and there was plenty of offense to go around with several more players landing in double figures. Much like what Beverley has meant to Chicago, you could say the same about Russell Westbrook and what he means to Los Angeles. Rumored to be in play for him during the buyout market phase, Westbrook elected to go with the Clippers and has done a great job fitting into their rotation.
He finished with 12 points while picking up 10 assists for another double-double. Ivica Zubac picked up 11 points to give the Clippers five starters in double figures, with Bones Hyland (13 points) and Mason Plumlee (10 points) having great games off the bench. Chicago will return on the floor Wednesday when they host the Lakers for the second time in four days.