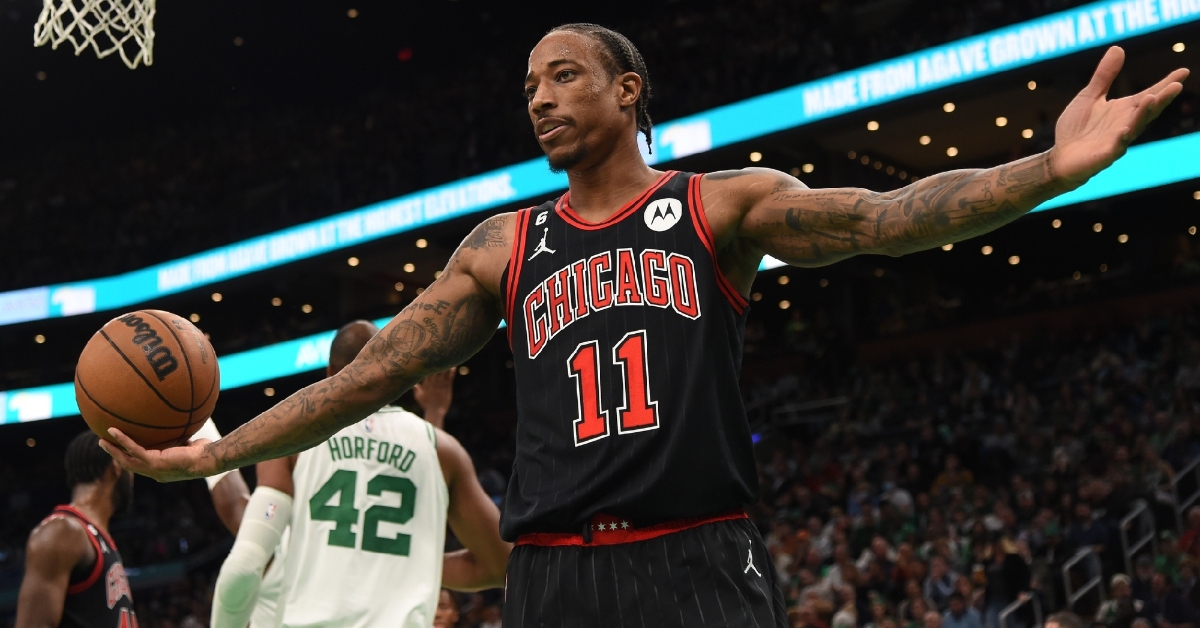 | | |
| --- | --- |
| Bulls News: DeRozan drops 46 points in loss to Celtics | |
---
| | | |
| --- | --- | --- |
| Saturday, November 5, 2022, 9:10 AM | | |
BOSTON - Over the next several weeks, the Chicago Bulls (5-5) will learn a lot about their team, as this will be a difficult stretch to maneuver through. Not only are there potential playoff teams looming for the Bulls, but a handful of postseason teams from a year ago, including the Boston Celtics (5-3), who went on to the NBA Finals.
That was one of the most significant issues for Chicago last season as they beat up on the teams they needed to, but couldn't figure out a way to beat the top teams. If Chicago wants to be taken seriously, they need to find ways to beat some of these elite teams, and with a win against Boston earlier this season, it does look like Chicago has more confidence.
Looking to make it two in a row against Boston this season, the Bulls wasted a fantastic performance from DeMar DeRozan that saw him make 13 of his 23 shots while shooting 20-22 from the free throw line. His 46-point effort was one of the best games of his career, but it was all for nothing as the Bulls defense let them down again 123-119.
Some people expected DeRozan to fall off a little bit this season, but he has proven he has no intention of declining. At least not yet, as DeRozan looks even better this season than he did a season ago. With him shouldering the load again, the Bulls were able to get plenty of balance across the board, as all, but 15 points came from their starters.
After a series of rough games offensively, Nikola Vucevic got back to playing great basketball, knocking down 10-14 shots to finish with 24 points. He also added 12 rebounds as he continues to play at a double-double pace this season. While those two carried the Bulls offense, two other players landed in double figures, including Zach Lavine.
In the early portion of the season, Chicago has been watching Lavine's surgically repaired knee as they continue to give him as much rest as possible. While I understand the thought process behind it, it takes away some of his rhythm, as he finished with just 16 points. Ayo Dosunmu capped off the double-digit scorers with 11 points, while Patrick Williams came in with seven.
One game after the Bulls bench carried the way; it was a struggle all night for the second unit as they scored just 15 points. Javonte Green, Alex Caruso, and Goran Dragic each had five points, as the absence of Coby White and Andre Drummond is starting to have lasting implications.
Boston has gone through a whirlwind of emotions this week as the suspended Ime Udoka appears to be leaving Boston and latching on with the Brooklyn Nets. Despite that, this team is still loaded with talent, and that all starts with the rising star Jason Tatum. One season ago, Tatum had a coming-out party that had him in the middle of the MVP conversation during the year's second half. After dropping 36 points to go with 12 rebounds, you have to think he is again playing his way into those talks.
While Tatum is the engine that makes the Celtics cook, Jaylen Brown is the other half of that duo, as he really came into his own last season. With just 16 points, Brown had a rough night shooting the ball, but he still did what he needed to do to give the Celtics a chance.
With Brown having an off night from the field, Malcolm Brogden played hero as he came off the bench to deliver a huge message. Not only does he continue to play strong defense, but he has proven without a dought that he can start or come off the bench as he dropped 25 points on 9-10 shooting. Should those numbers continue, the Celtics would move him into the starting role as long as the consistency is there.
Boston saw Marcus Smart pick up 12 points, with Al Horford adding 11 in what was a very impressive win for the defending Eastern Conference champions. Next on the docket for Chicago will be a home-and-home scenario against Toronto that begins on Sunday and will continue into Tuesday.