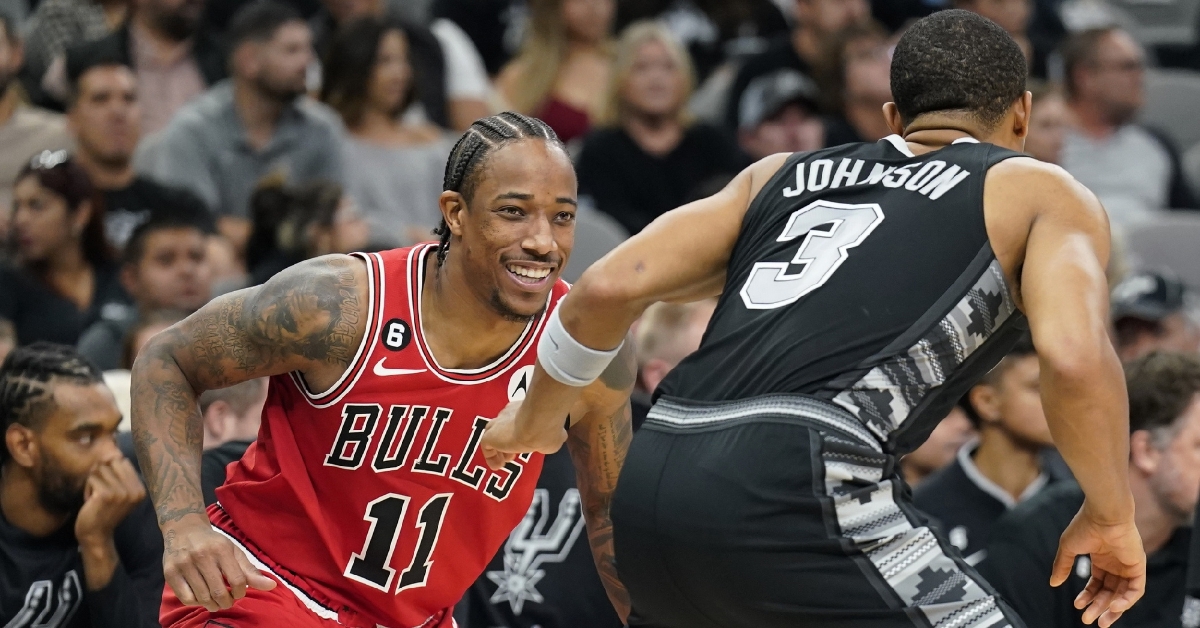 | | |
| --- | --- |
| Bulls News: DeRozan surpasses 20K points in loss to Spurs | |
---
SAN ANTONIO - 20,000 points in the NBA may not seem like a lot when you look at other players, but to reach that number, you need two things. First, you need to be around long enough to reach that milestone. Second, you need to be productive enough over that time and remain consistent.
For Demar DeRozan, he has both of those things going for him as he entered Friday's contest with the San Antonio Spurs (4-2) just seven points shy of 20k for his career. DeRozan went on record to say he wanted to reach that milestone against Gregg Popovich, and not only did he do that, but he surpassed 20K in the first quarter before finishing with a game-high 33 points.
Unfortunately for the Chicago Bulls (3-3), their defense let them down when it mattered the most, as the Spurs spoiled the celebration with a 129-124 win. DeRozan has been one of the best and most consistent scorers in the NBA since coming to the Bulls last season, and with 33 more points on 55% shooting, you can see why. This game meant a lot to him as the Spurs practically let him go without trying to retain him, as Popovich never seemed to believe in DeRozan.
With Zach Lavine out of the lineup again with what the team is calling Knee Moderation, DeRozan would need a lot of help in the scoring department, and there was plenty of support to go around. However, most of that help came from the bench, where Coby White and Andre Drummond had their best efforts of the season.
For White, he finally seemed to settle into a bit of a shooting groove, as he connected for three triples and 19 points to lead the second unit and finish second on the team. On the other hand, Drummond was downright impressive and continues to show the value he brings to the table. Not only did he finish with 17 points, but he added 14 rebounds. If he continues to play like this with Patrick Williams struggling, it won't shock anyone to see Drummond in the starting lineup and Williams on the bench.
Speaking of Williams, the third-year man out of Florida State is starting to provide the Bulls with a bit more offense, although he has a long way to go. Williams finished with 10 points, but with only two rebounds, the defensive side of his game is lacking. Ayo Dosunmu wrapped up the double-digit outputs for the Bulls as he dropped another solid 12-point showing from the field. Had it not been for a season-worst performance from Nikola Vucevic, who finished with just nine points, the Bulls probably walk away with a win instead of a loss.
Looking at the Spurs, Popovich has long been regarded as one of the best, if not the best, head coach of all time. Granted, he has had plenty of talented players to work with, but over the last five years, most of that talent has left. Still, he has them constantly competing for a playoff spot which is a testament to him as a head coach.
Entering the season, the Spurs were predicted to be one of the worst teams in the league, but through six games, this team continues to show plenty of grit and toughness. They were led by Keldon Johnson, who tied DeRozan with 33 points, with better than half of those coming behind the three-point line.
Jakob Poeltl is a name Bulls fans are familiar with, as they nearly traded for the big man last season. Had they made that trade, it would have helped the Bulls out significantly last season, as he went to work on Vucevic all night to finish with 21 points and 13 rebounds. Those two were the primary scoring options for the Spurs, but they had plenty more contributions on their roster.
That started with the bench and Zach Collins, who finished with 16 points on an impressive 7-9 shooting. Add in Jeremy Sochan (13), Josh Richardson (12), and Tre Jones (11), and all five of the Spurs starters landed in double figures, which was the biggest difference in the game. Blake Wesley added 10 points off the bench to give the Spurs seven players in double figures as they managed to withstand another high-scoring performance from the Bulls and picked up the win.
The Bulls will remain on the road Saturday when they head to Philadelphia to take on the 2-4 Sixers. Despite their record, this is a team loaded with talent and one that has had the Bulls number in recent seasons.