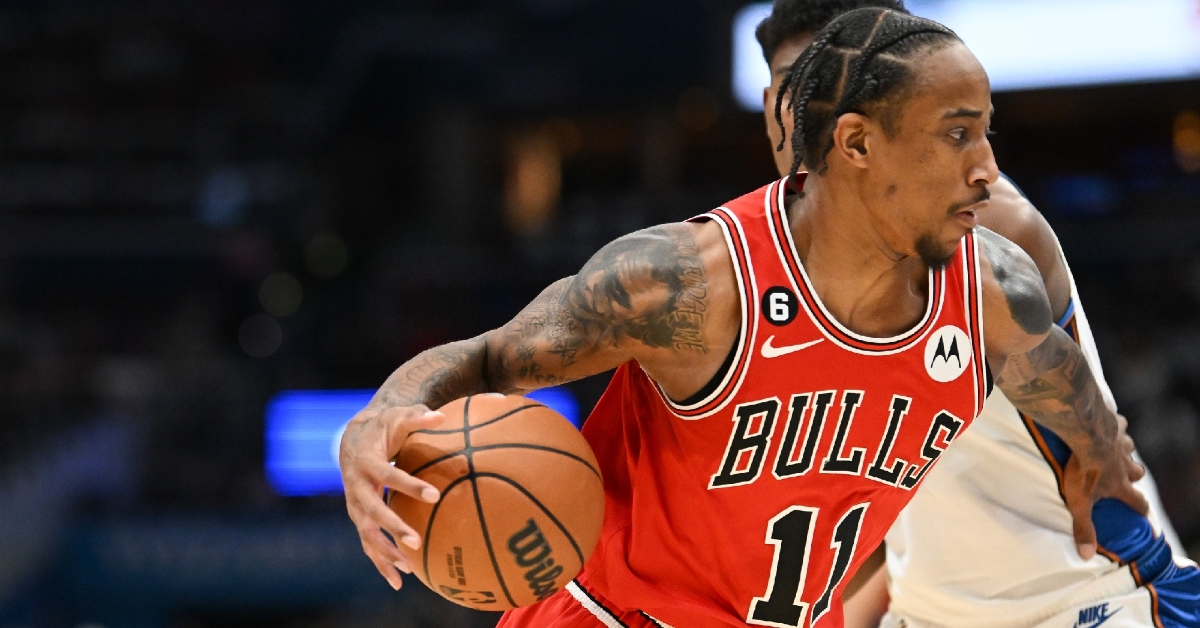 | | |
| --- | --- |
| Bulls News: DeRozan's game-winner falls short against Wizards | |
---
| | | |
| --- | --- | --- |
| Saturday, October 22, 2022, 11:50 AM | | |
WASHINGTON DC - We are two games into the Chicago Bulls (1-1) 2022-23 NBA season, and we have yet to see Zach Lavine on the court. Lavine signed a massive five-year contract extension this offseason, but is also coming off of offseason knee surgery. Billy Donovan continues to downplay the injury and say it is load management, but why did he play the first three preseason games?
As it is early in the season, fans are giving him a small pass, but the more games he misses, the more they grow uneasy, especially when you look at the Lonzo Ball situation. Coming off of a massive win against Miami on Wednesday night, the Bulls traveled to the Nation's capital, where the Washington Wizards (2-0) were waiting. Another one of the intriguing teams in the East that could make some noise this season was the Wizards grabbing a big lead toward the end of the first half and carrying that over into the second.
Once the Bulls started to chip away, you sensed that there might be magic coming as Chicago trailed 102-100 late. With the ball in his hands, DeMar DeRozan took a potential game-winning three after knocking one down in Washington a year prior. At first, the shot looked good off his hands, only to come up short in the end as the Wizards escaped the Bulls for the 102-100 win.
Any concerns about DeRozan possibly slowing down this season have been put to rest, especially early on with Lavine out of the lineup. DeRozan led all scorers with 32 points for the second straight game and has opened the season with back-to-back 30-point games. Apart from him, Lavine was supposed to provide a lot of offense, but in his absence, the Bulls need to get contributions from other players.
Nikola Vucevic has taken that message to heart and looks like a completely different player this season. Not only will he give you the double-double as he did on Wednesday, but he can still be an offensive force as he finished with 24 points and seven rebounds to give DeRozan an excellent scoring duo. Apart from them, the rest of the starting lineup struggled to score, as Patrick Williams (7), Ayo Dosunmu (7), and Alex Caruso (3) combined for just 17 points.
The Bulls will need a lot more production from those three to make up for the loss of Lavine and Ball, but thankfully the bench has done an excellent job chipping in. Friday, it was Andre Drummond putting in the work with a 10-point, 10-rebound performance. He was joined by Coby White and his 10 points, with Goran Dragic coming away with seven points in the highly competitive loss.
What makes the Wizards such an intriguing team this season was their midseason position last year and knowing how they finished. At one point, Washington was a playoff team holding the fifth seed in the East. They ended up 12th and will now look for more consistency this season.
Should Kyle Kuzma average 26 points a game like he did tonight, this team will be scary as he has shown the potential to put up those kinds of games, just not consistently enough. Chicago knows how good Kuzma can be, as he averaged more than 29 points per contest against them last season.
While he may have been the lone 20-point scorer, Bradley Beal had a quietly effective night and finished with 19 points and eight assists. Think about that for a minute. The team's best player and most complete scorer didn't even top 20 points, and this team still won. Kristaps Porzingis rounded out the double-digit scorers among the starting lineup as he finished with 14 points.
Like the Bulls, Washington didn't get as much out of their starting lineup as they would have liked, but they still managed to outscore the Bulls starters. That is why having valuable scoring assets off the bench like Rui Hachimura comes in handy, as he came up clutch with 12 points off the bench. Former Denver Nugget Will Barton added six points off the bench and could be a real X-factor for this team as the Wizards withstood a Bulls comeback to hold on for the win.
Chicago will be back on the floor Saturday when they face the Cleveland Cavaliers for their home opener. Tip-off is set for 7 PM, and this will be another tough test for Chicago, especially if Lavine is down again.