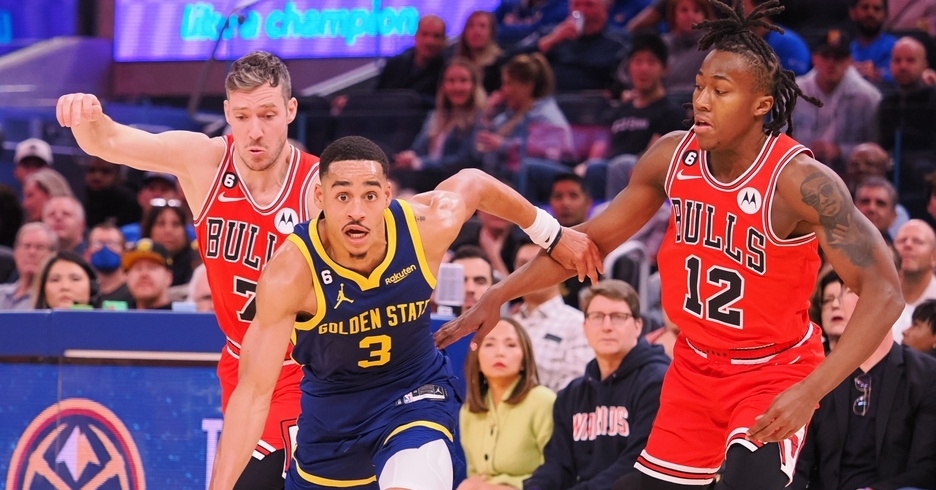 | | |
| --- | --- |
| Bulls News: Fourth quarter rally comes up short against Warriors | |
---
SAN FRANCISCO - West Coast trips are challenging for any team in the NBA, and the Chicago Bulls (9-13) are finishing up one of their two West Coast trips this season. Needing to win their final two games to ensure a winning record, the Bulls took on a Golden State Warriors (12-11) team that has struggled this season, but plays much better at home.
Not only is this the same Warriors team that won the NBA title a season ago, but this team has had the Bulls number as they entered play on Friday, riding a 10-game winning streak against Chicago. For a majority of the game, it looked as if the Warriors would not only make it 11-straight, but would do so relatively comfortably.
That was until a furious fourth-quarter rally by the Bulls pulled them within one point late in the quarter. Unfortunately, that was as close as they would get as another big first-half hole did them in as they fell to the Warriors 119-111. In case you missed it, earlier in the day, there was a report that the Bulls and Los Angeles Lakers have been discussing a trade that would send Nikola Vucevic and Demar Derozan out west.
While nothing has materialized to this point, you have to wonder how many more games this team can lose before those talks become a reality. Vucevic has long been one of those players who was expected to be shopped this season, and he continues to add to his trade value as he led the way for Chicago with 23 points and 11 rebounds. Compare that to Derozan and his 16 points on just 4-15 shooting, and Vucevic seems to be responding to the trade talks.
With DeRozan having a not-so-Derozan night, someone had to step up for Chicago, which has been an issue this season. Fortunately, Zach Lavine is starting to play more consistently, as he finished with 21 points. Even at that, he continues to struggle with his shot, which is beginning to become a concern for the Bulls and their fans.
One of the bigger surprises came before the game started, as Patrick Williams was removed from the starting lineup in favor of Javonte Green. Given Williams's struggles this season, you had to think that move was coming, and Green responded by dropping 13 points on 5-7 shooting in his first start. Alex Caruso also saw his name in the starting lineup as he took over for Ayo Dosunmu.
This was an even bigger shocker than the Williams move, and after he put forth a two-point effort, you have to wonder why Billy Donovan made that decision. Adding Williams and Dosunmu to the bench was aimed at generating more offense as they combined for 16 points. That is on par with what they have been doing much of the season, but the 14-point night from Goran Dragic led the Bulls second unit in a losing effort.
When you talk dynasties in the NBA, the Chicago Bulls can say they were one of the last teams to have a lengthy dynasty. However, over the past decade, the Warriors have been putting together a dynasty of their own, as their mix of talent, depth, and coaching is borderline unfair.
Not only do they have the greatest shooter of all time in Stephen Curry, but Klay Thompson, Draymond Green, and the suddenly emerging Jordan Poole are all-star caliber players making the Warriors nearly impossible to defend. The Bulls did what they had to on defense, taking away three of the better options for Golden State.
They held Curry to 19 points, while Green and Andrew Wiggins combined for 25 points. Any time you see those numbers, you have to like your chances, but the Warriors have more than just those two men, and the Bulls were about to find that out the hard way. Leading all starters for the Warriors was Thompson, as he finished with 26 points, despite going 3-13 from distance.
When it comes to the hot hand in this one, look no further than Poole off the bench, as he was the X-Factor in this one. Going back to the last postseason when Poole broke out to help him earn a lengthy extension, Poole is a much better player than what people give him credit for, and teams are starting to pay for that.
Although he doesn't start, he is a legitimate scoring option off the bench. So much so that in just 23 minutes of playing time, Poole connected on seven triples to finish with a game-high 30 points. Should that continue with Curry and Thompson doing their thing, you have to like the Warriors chances to potentially repeat as champs yet again.