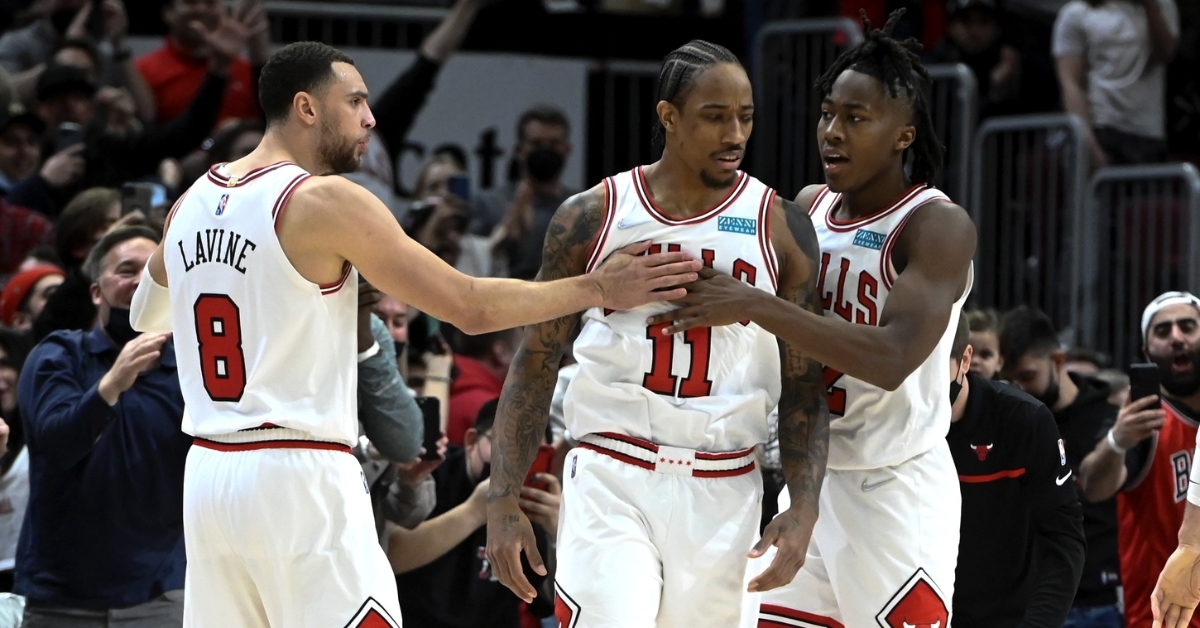 | | |
| --- | --- |
| Bulls News: DeRozan continues historic scoring streak in win over Hawks | |
---
There are three things certain in life right now with death, taxes, and DeMar DeRozan coming up with clutch shots when it matters. That has been a theme for him all season as he has helped the Chicago Bulls (39-21) move into the top spot in the Eastern Conference. Fresh off their all-star break and getting some much-needed rest, the Bulls returned to the floor, looking to keep their five-game winning streak going.
Standing in their way was an Atlanta Hawks (28-31) team that, although is under .500, currently sits in the playoff picture. This is also a team that has given the Bulls plenty of fits and tough battles, with Trae Young carving up the Bulls defense. As expected, Atlanta gave the Bulls everything they could handle and more as they erased an early 10-0 deficit and started to play like the team everyone thought they would be.
Even with Young not having his typical scoring game, the Hawks had plenty of contributions from the top down and managed to grab a fourth-quarter lead. Once that happened, the two sides went back and forth, with Atlanta holding a late lead. That was until Mr. 4th quarter showed up when they needed him the most connecting for a tough fadeaway jumper to draw the foul. Not only did he make the shot, but it gave the Bulls the lead for good as they went on to win their sixth straight 112-108.
With every passing game, DeRozan is garnering more MVP considerations as he led the way again with 37 points on a ridiculous 15-21 shooting. That not only makes nine straight games of 30 plus, but nine straight-shooting over 50% as he continues to add on to his NBA record. Zach Lavine was back in the lineup after missing a few games with an ailing knee, as he will be critical down the stretch.
Expecting to potentially be a little rusty, Lavine wasn't rusty during the all-star game and followed that up with a quiet 20 point effort on Thursday. Although he was 7-17 shooting, nothing was forced as he eased his way into a rhythm. Expect that to happen over the next several weeks as the Bulls will ride DeRozan until that knee is 100%.
Looking to add to his run of play which includes 18 double-doubles in 20 games, was Nikola Vucevic. Although he only gave Chicago 12 points, he picked up 10 boards for another double-double effort. That has been the norm from him the last two months, and it needs to continue for the Bulls to have long-term success.
Speaking of someone who continues to play well, the rookie Ayo Dosunmu has made the Bulls forget that Lonzo Ball is injured as he continued to do his thing. 12 points is nothing to write home about, but the way he gets those points and the defense he plays shows up on the floor. Joining those four was Tristan Thompson, who made his Bulls debut worth it by securing 11 points to go with six boards. His emergence off the bench will be massive for this team as they are suddenly deeper than a month ago.
As always, the Hawks offense will go as far as Young takes it, and the Bulls made sure he didn't beat them as they held him to just 14 points. Young did add 10 assists, though, as he continued to move the ball at a frantic pace and helped find open shooters. Two of those shooters were Danillo Gallinari and Bojan Bogdanovic, who combined for 53 points. With 27 points off the bench, Bogdanovic led the way, with Gallinari adding 26 points to go with eight rebounds.
The Hawks also got some excellent contribution for Clint Capela, who joined Young with 14 points, but it still wasn't enough for the Hawks. Even with the loss, the Hawks have to like the way they played as they took it to the Bulls without their best player having his typical game.