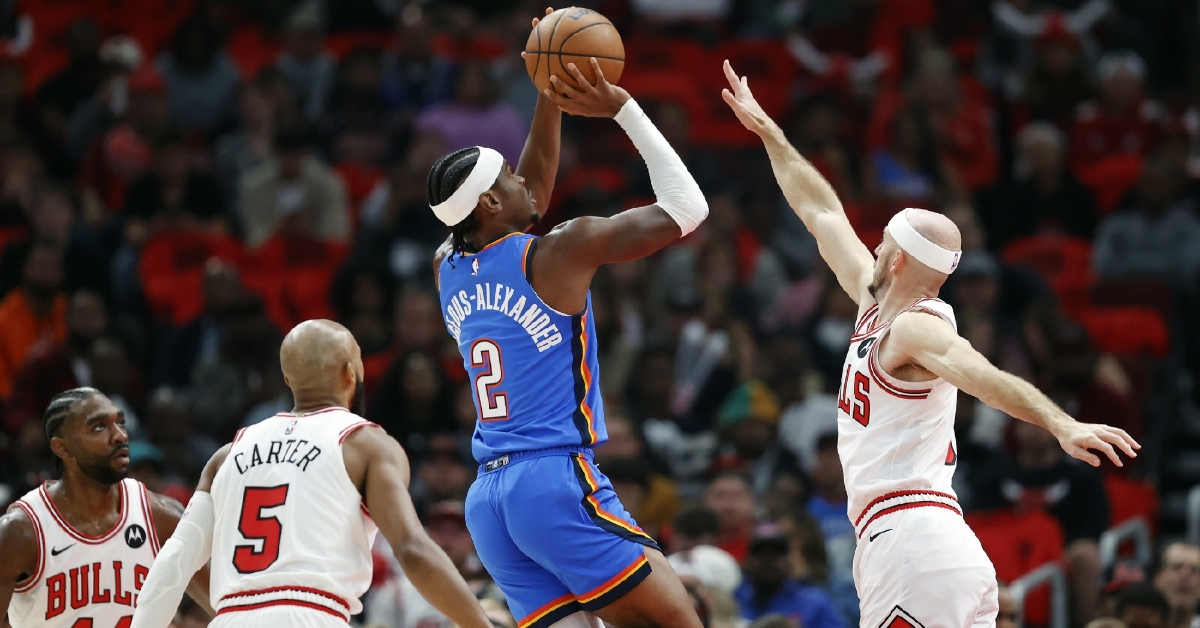 | | |
| --- | --- |
| Bulls no match for Thunder in season-opening loss | |
---
CHICAGO - One down and 81 to go as the Chicago Bulls (0-1) kicked off their 2023-24 season at the United Center Wednesday night. Looking to crash the party was the Oklahoma City Thunder (1-0), as they will be one of the teams to watch this season. Like the Bulls, Oklahoma City was a play-in team a season ago, earning the No. 10 seed in the West.
That isn't what people are paying attention to, as they have as bright of a future as anyone. Not only did they land Chet Holmgren with the No. 1 overall pick last season, but the Thunder have 13 first-round picks in the next five NBA drafts, which will come in handy soon. Not only do they have the ability to draft an entirely new roster should they want to, but they can package some of these picks up in an effort to land more talented players around what they already have in place.
The Bulls don't have that luxury, so running it back with virtually the same roster made more sense than what people realize. Despite the Bulls keeping things close throughout the first half only to fall behind by six at the break, Chicago came out swinging to begin the second half and used a 7-0 run to quickly retake the lead. That was about all of the excitement the Bulls had in this one as their lack of shooting from the outside paired with the Thunder bench that dropped more than 40 points on the Bulls, and it was Oklahoma City getting the win 124-104 on the road.
Shooting has been an issue for the Bulls over the past two seasons, and that played a factor in their struggles yet again. Sure, Demar Derozan picked up where he left off as he led the Bulls with 20 points, but with 9-20 shooting, you could see it wasn't going to be the Bulls night. He was joined by a quartet of starters who landed in double figures, including Zach Lavine (16) and Coby White (15), who combined for 31 points.
Those 31 points didn't come easy as they combined to shoot 8-30 from the floor and just 4-16 from deep as the Bulls shot collectively 12-42 from distance. If that doesn't change quickly, the Bulls have no shot this season, as you need to be able to knock down the three-point shot to win in this league consistently.
Rounding out the solid games for the Bulls were Nikola Vucevic and Torrey Craig, who each had 11 points. Vucevic had a very efficient 5-8 night from the field and was having his way with Holmgren all night. Yet, for whatever reason, Billy Donovan didn't exploit that matchup enough, and you saw those two get into on the sidelines over it. When it comes to Craig, this was why the Bulls brought him over, as he connected for three triples off the bench to finish with 11 points. Considering Patrick Williams only had eight points in the starting lineup, his days could be numbered if Craig continues to play this way.
Per usual, the Thunder will only go as far as Shai Gilgeous-Alexander takes them, and he wanted to take them very far on Wednesday. Not only did he lead all scorers with 31 points, but he did it on 12-18 shooting while also adding 10 assists for the double-double. That is all you can ask from your PG, and a lot of his passes were to open guys on the perimeter as the Thunder knocked down 19 triples in the game, which was another deciding factor in the win.
Ten triples came from the starting five, as they all knocked down two in the game. While Alexander may have stolen the show, his running mate Josh Giddey picked off where he left off last season with 16 points, as did Jalen Williams and his 16. Despite this being his second year in the league, Holmgren could be considered a rookie, as he missed his entire rookie season with a foot injury.
Even with him getting bullied around by Andre Drummond and Vucevic throughout the game, Holmgren battled through it to give the Thunder 11 points and showed his potential on the floor. What is most impressive about this 20-point win was that they accomplished that with Luguentz Dort only coming away with eight points, as he was one of their more trusted options last year.
With him having a down game, the Thunder were hoping for others to step up, and if having four starters with double figures wasn't enough, why not make it six total players as Isaiah Joe (14) and Cason Wallace (13) combined for 27 points off of the bench to spark a second unit that dropped 42 points and nine three's in the win. The Bulls will look to pick up their first win of the season on Friday when they host the new-look Toronto Raptors. Chicago ended the Raptors season last year in the play-in round, so you know there will be added motivation in this one.