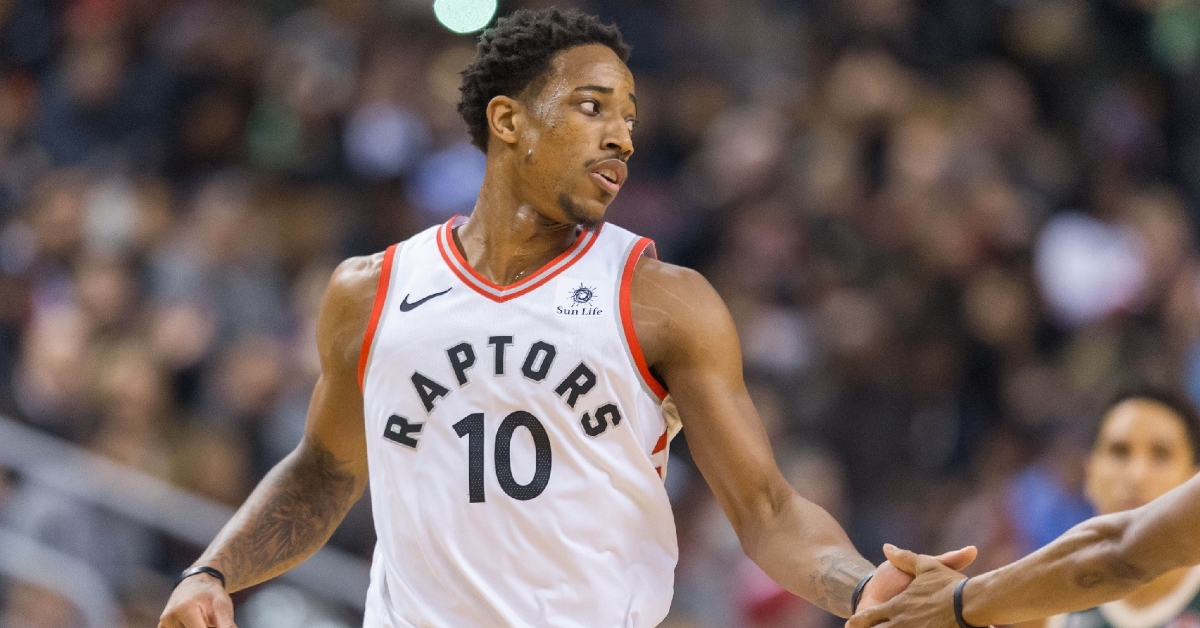 | | |
| --- | --- |
| Bulls reportedly showing interest in DeMar DeRozan | |
---
| | | |
| --- | --- | --- |
| Wednesday, July 28, 2021, 11:35 AM | | |
As we approach 24 hours before the NBA draft, the sports world for one night will revolve around the NBA. This is when teams begin to plan for their futures, which starts with selecting a player in this year's draft. While the Bulls do have a pick in this year's draft, it isn't until the second round, so unless Arturas Karnisovas trades into the first round, I don't know what to expect.
However, experts across the league not only expect this season to be one of the more active trade seasons in recent memories, but one of the more active free agency periods also. The Bulls are one of those teams who will be active, but the question remains how active and what positions will they target?
In case you haven't been following along at home, the Bulls have been linked to several big-name players in this year's free-agent class, and all would instantly make this team better. While it is 99% likely the Bulls don't win most of these players over other organizations, the fact that they are mentioned with these players shows how aggressive Karnisovas plans to be this offseason.
One name that continues to surface around Bulls camp is former San Antonio and Toronto guard DeMar DeRozan as he is now a free agent to be had. DeRozan is an all-star caliber player, but he isn't the elite status that some of this year's names are. However, that doesn't mean he isn't worth taking a swing at, as he would make this Bulls team better.
Of all the names the Bulls have been linked to, DeRozan should be the least shocking to hear as the Bulls tried to get him ahead of the March 25th trade deadline last season. They instead ended up with Nikola Vucevic and now move forward with him and Zach Lavine as their key players. With his contract in San Antonio over, DeRozan is viewed as a possible weapon for teams to consider looking to make a playoff surge. The Bulls are one of those teams who doesn't appear to be too far away, and adding someone like DeRozan could be a great move.
Given that DeRozan is a ball-dominant guard with a less than ideal outside shot, pairing him with LaVine is an odd choice. However, it could work as that pickup could lead to LaVine getting more open shots. At 31 years old, DeRozan is getting to that point where all he wants to do is win. That means he will most likely take less money to land on a winning organization. He experienced firsthand what winning feels like in Toronto, but was traded away before the Raptors won the title.
Chicago may not be a winning organization right now, but they are close, and one has to wonder if that will factor into DeRozan's decision. However, with two all-stars in LaVine and Vucevic, winning may not be as far away as some think, and DeRozan could speed up that process. While DeRozan's interest may not be that high, you also must consider the Bulls interest in him.
Outside of his production, where he still scored 21.6 PPG, 6.9 APG, and 4.2 RPG last season, what other qualities would he bring to this team? Well, for starters, DeRozan is a veteran presence who has been in the league for over 10 years. Chicago is a young team and could use all the veteran help they can get. Not only that, but DeRozan is also a veteran with a winning mentality, and the Bulls need to add players who have experienced winning and know how to win.
While DeRozan has always been seen as a ball dominant scoring first guard, his near seven assists this season was a career-high. He not only showed the willingness to pass the ball more this year, but that could go a long way to landing a new role with a different team. If he is willing to continue his pass-first approach, DeRozan could take on a less significant role in an offense which could help him thrive as a player.
Spending the money on a guy like DeRozan makes sense for many reasons, but there are also plenty of reasons why it doesn't make sense. Another reason why the Bulls like the fit is he does a great job getting to the free-throw line, which is something the Bulls ranked dead last in last season. Regardless of how fans feel, there is interest between both sides, and it is worth watching this offseason.